E China's Nanjing City to place 1,000 AEDs in public spaces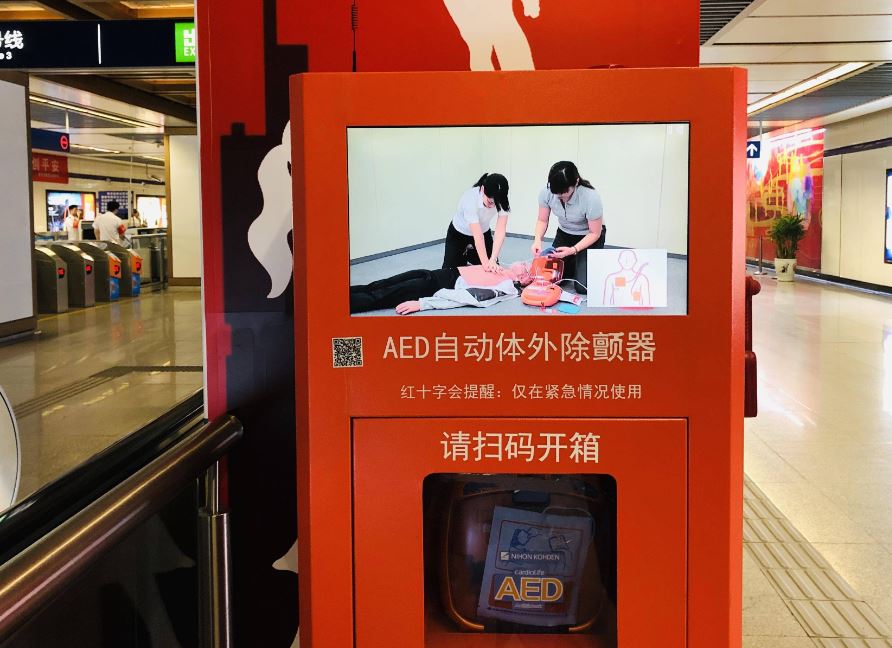 Nanjing plans to place 1,000 automated external defibrillators in public spaces. (Photo: CGTN)
An automated external defibrillator (AED) is an easy-to-use medical device that can restore a normal heart rhythm during sudden cardiac arrest. Having access to an AED, and knowing how to use it, is crucial to saving a life in an emergency.
This week, Nanjing, the capital city of east China's Jiangsu Province announced a plan to add 1,000 AEDs in public spaces in response to requests from society.
First batch already in place
The first batch of 100 AEDs has already been placed in parks, gyms and public transportation stations, and the city's government will carry out training sessions to teach residents aged from 18 to 65 to use the devices.
"Till now, we have 120,000 certified rescuers and over 800,000 residents who have participated in the training sessions," Li Jian, the president of Red Cross in Nanjing, told The Paper.
With the number of available AEDs in China far less than in developed countries, the Chinese government has been working hard to close the gap and promote AED training.
More devices and training needed
According to the National Center for Cardiovascular Diseases, China reports more than 540,000 cases of sudden cardiac death a year, most of which occur outside of a hospital, Xinhua reported in August last year.
Responding concerns about AED availability in China, the National Health Commission promised to continuous support for the promotion of AEDs as it answered questions from netizens online last October.
The commission said the plan to place enough AEDs in public spaces has been carried out in multiple cities.
As of early 2018, 800 AEDs have been allocated in Shanghai, and the government in Shenzhen, a city in southern China, purchased 5,000 AED in the same year. However, the country only had about 15,000 AEDs installed at medical institutions and public places such as gymnasiums, airports and subways by 2018, according to Xinhua, citing the National Health Commission.
The Red Cross Society of China also cooperated with technology company Tencent to launching an AED Map for mobile phones to help people find the nearest AED in an emergency.
"When someone suffers a heart attack, the nearest person should administer first aid at once, instead of merely waiting for the ambulance," said Jia Dacheng, an expert from Beijing Emergency Center told Xinhua. "Using an AED will significantly increase the survival rate."
"In America and Japan, every 100,000 residents owns 300 AEDs, while the number is less than 10 in China. The shortage of AEDs is a critical problem in the country," Zhang Yuanchun, a specialist in emergency rescue, told The Paper.
China's National Health Commission has committed to conducting numerous AED and cardiopulmonary resuscitation training sessions in the near future.