Podcast: Story in the Story (6/8/2020 Mon.)
People's Daily app
1591550934000
The Chinese writing system is among the oldest in the world, stretching from the script carved on oracle bones during the Shang Dynasty (c.16th century-11th century BC) to text typed on today's computers.
There are about 1,000 Chinese typefaces, perhaps the most commonly used being Songti, as well known and recognizable among Chinese as the Latin typeface Times New Roman is among Westerners.

Its name comes from the Song Dynasty (960-1279), when woodblock printing was no longer limited to printing Buddhist sutras, but also used for the large-scale publication of books on the classics, books of literature, and school textbooks.

Although the characters have evolved from pictograms to become more simplified, most Chinese would have no difficulty in recognizing many of the progenitors of current characters that go back hundreds of years.

Today's Story in the Story looks at how Chinese character designs are emerging in the new Digital Era.
Chinese topography (Photo: China Daily)
Post-90s designer Ye Tianyu has always had a keen interest in reviving classical Chinese culture. he's using that passion for addressing the shortage of Chinese digital character types by creating a high-value digital character bank.
Ye has designed 13,982 characters packaged into two types of Chinese font in different styles - classic and sporty- for personal use. The classic design won him the Special Mention Prize at the 2016 Granshan Competition, a renowned international type design competition.
After working around 14 hours every day for the last two years, Ye launched his products for only $15.77 for indefinite use - a wallet-friendly price for those unable to afford the typefaces developed by the industry's leading companies.

Passionate about promoting China and the origin of Chinese characters, Ye was determined to become a leading player in the typeface-design industry.

"I'm determined to change the face of shop signboards along Chinese streets. The younger generation usually complains that these signboards have failed to inherit the true aesthetics of Chinese writing," Ye declared.

"There are thousands of typeface designs for Chinese characters designed in Japan in the computer system, but those designed in China are only a few hundred," he said.

While his peers are going out to party in the evenings, Ye's only dates for the past few months have been with his "characters."

Ye quit his high-paying job at an internet company and committed himself to reinvigorating the legacy of Chinese type-designing.

"When I decided to quit my job and become a full-time type designer, everybody around me thought I was crazy, including my parents, who had always been very understanding," said Ye.
"Creating a complete Chinese typeface requires a template of at least 6,763 characters which takes designers a few years to polish. This is precisely why there are so few people willing to be involved in such a labor-intensive project," he said.

To speed up his program, Ye works for 14 hours a day, raising concerns from his parents about his mental health.

During sleepless nights, he enjoys opening up his design drafts and listening to romantic music, prompting his friends to tease him by saying that "others spend nights making love, but you spend them making fonts."

The high fines attached to copyright violations are another reason behind Ye's dedication.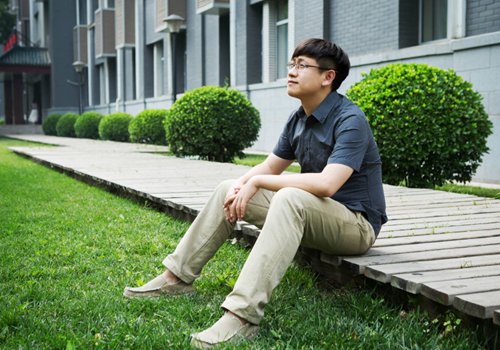 Courtesy of Ye Tianyu. (Photo: Global Times)
Many vendors in China face a struggle when using digital characters for commercial purposes: a poster that costs a few hundred yuan to produce may require tens of thousands of yuan to purchase the characters on it. Those unaware of the law could end up facing lawsuits from license holders.
To help with these concerns, Ye charges lower than average for his products to attract ordinary vendors and fledgling designers with a limited budget.

"It will help them avoid the hassle of dealing with illegal use without license and credit for commercial purposes. What's more, it will encourage people to become aware of copyright issues with the fonts," said Ye.

The praise from mainstream media and government organs also helps bring a high traffic flow to his Taobao online shop.

"It seems dull for many people born in the 1990s, but it is a daily routine I find fascinating. It is not profitable, and I have to pay for it out of my pocket, but it really pays off when I see it benefiting people," said Ye.

(Produced by Nancy Yan Xu, Lance Crayon, Brian Lowe and Da Hang. Music by: bensound.com. Text from China Daily)