People's health most important thing amid COIVD19 outbreak: ambassador (2)
People's Daily app
1581735207000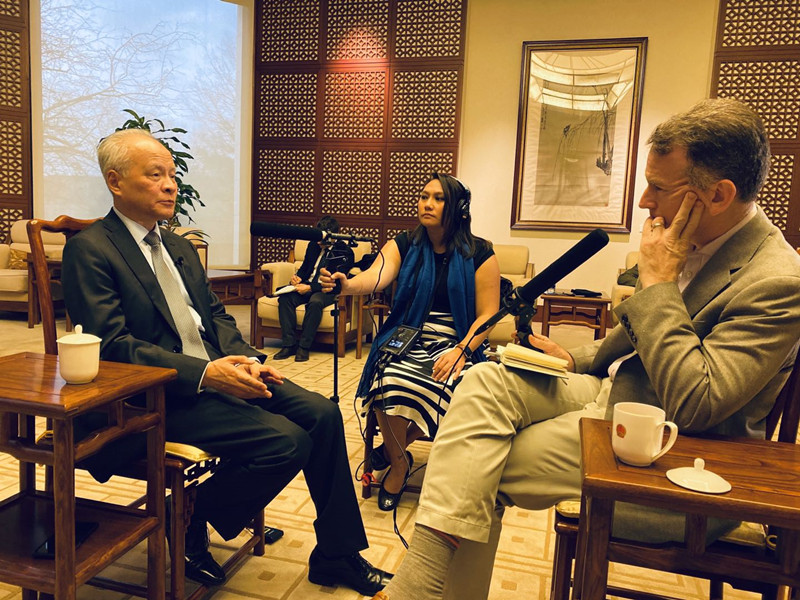 On February 13, 2020, China's ambassador to the U.S. Cui Tiankai had an interview with NPR Morning Edition's Steve Inskeep on fighting against Novel Coronavirus outbreak, China-US relations and more.
Part of the interview was aired on February 14 and a full transcript was published on NPR's website.
Here is the full transcript of the interview:
Steve Inskeep: I'm thinking of the UK's recent decision to use Huawei 5G equipment at portions of its network despite American request not to do that. Is that an example of following economic logic as you see it?
Ambassador Cui: Well, I don't want to make any comment on people of other countries. But I think maybe you should learn something from the United Kingdom. On some of the issues, I think they made smarter decisions. For instance, they joined the Asian Infrastructure Investment Bank very early, and now they're benefiting from it. They also took their own decision on 5G technology on Huawei. I think they are smart people. They are smart people.
Steve Inskeep: Because you mentioned the trade agreement, I'd like to ask about the general direction of U.S.-China relations. I think that we could have thought of them in the last couple of years on the way down. After that trade agreement, are they on the way up? Or would you point in some other direction?
Ambassador Cui: I think the phase one trade agreement is part of the achievement of efforts by both sides to develop a stronger and more stable relationship between China and the United States. I certainly hope that this agreement will be implemented effectively, and it will be a big plus for the overall relations. Of course, we have other problems to solve, other issues to address, political, security and others. What we have learned from the trade negotiation could also be useful for other areas. I don't think the phase one trade agreement would have been possible without the principle of mutual respect and equality. The two sides made genuine efforts to understand the other side, to respect the other side's legitimate needs and concerns, and try to address the issues with a balanced approach and with a good sense of equality. If these principles could be applied in our efforts to address other issues in other areas, we could be equally successful.
Steve Inskeep: Just one other thing to ask about, Ambassador. I'm sure that you followed the President's impeachment and acquittal here in the United States. And there was a part of this that touched on China. The President was criticized for seeking investigation of a political rival Joe Biden in Ukraine. When he was criticized for this, he said that was correct, that he sought that investigation and urged China also to investigate Joe Biden or his son Hunter Biden for investments he was involved in in China. What did your government make of that remark?
Ambassador Cui: We never get ourselves involved in American domestic politics. And we will never do that.
Steve Inskeep: Does that mean when the President of the United States says China should investigate Joe Biden, China is not going to take that advice one way or the other?
Ambassador Cui: I don't think this is included in any official communication between the two governments.
Steve Inskeep: So if the US through official channels made a request, China would give that some thought? Otherwise it's not anything for you to address?
Ambassador Cui: I understand the whole process is part of the domestic political drama that's being played out here. So we are just observers.
Steve Inskeep: Forgive me, I know our time is about up. But I know you've been an observer of the United States for a very long time. And so now sitting with you, I have to ask what you thought about as you watched this drama of American politics the last few months?
Ambassador Cui: You see, our two countries, China and the United States, we are big countries, major powers in the world, and we are the two largest economies. So I think we do have some similarities. As big countries, you have great responsibilities, and very often you set great goals for yourselves. This is only natural for any major power. And we also have our roots in different civilizations. But we both could run into some problems, big challenges from time to time. You have your own problems and challenges. We have our own problems and challenges. I always believe whether China or the United States can really grow stronger and have a better future very much depends on our domestic governance. Now you may have problems to solve to enhance your domestic governance. We have our own challenges to meet to modernize our governance system and capacity. So, if each of us can do a good job at home, you will always have a good future. So we are watching, of course, we wish American people good luck and a better future.
Steve Inskeep: Ambassador, it's always a pleasure talking with you. Thank you very much.
Ambassador Cui: My pleasure. Thank you.
(Source: website of Chinese embassy in the US)
People's health most important thing amid COIVD19 outbreak: ambassador (1)