Heilongjiang to reward residents who report on illegal migrants amid risk of imported COVID-19 cases
Global Times
1586804101000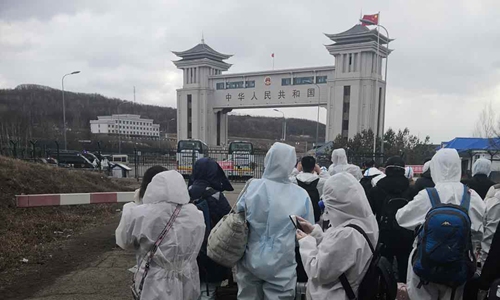 Working staff wearing protective suits wait at the entrance to Suifenhe port. (Photo: Global Times)
Northeast China's Heilongjiang Province has mobilized local residents in the fight against the epidemic by offering a reward of 3,000 yuan ($425) for those living in border areas who report on illegal migrants, with a reward of 5,000 yuan for those who capture illegal arrivals by themselves.

The local epidemic command center in the province, which borders Russia, wants residents to play a role in reporting relevant cases during the battle against the novel coronavirus pneumonia (COVID-19) epidemic, targeting those who illegally cross the borders through land and sea ports to the province, which could increase the risks of bringing in imported infections.

The Chinese immigration authority said on Monday that the country is now strictly controlling entry-exit tourist visas in border areas, including visits by relatives or friends and other non-essential entries and exits as imported cases continue growing.

Also, authorities are now adopting various measures in preventing imported infection including forbidding entry from a third country, maintaining the closed border entry shutdown, inspecting illegal cross-border activities, offering legal knowledge to border residents and cooperating with bordering countries.

Heilongjiang has been striving to fight imported infections in recent days, especially after the province neighboring Russia recorded a rapid spike in confirmed cases. The country's health authority said on Monday that 98 of the new cases were imported, which set a new daily record, within which a total 49 Chinese nationals entering the province from Russia tested positive.

Harbin, the capital city of Heilongjiang, has also stepped up efforts to curb the virus, implementing a 28-day quarantine period for all arrivals from abroad.

Those entering the capital city of the province will be held at a quarantine center for 14 days, followed by another 14 days at home.