Frontline photographer: Wuhan stories to be continued
People's Daily app
1586837096000
Editor's note: Liu Yu is a frontline photographer designated by China Photography Association to take pictures in Wuhan during the COVID-19 outbreak.

It's been over two months since Liu Yu, a photographer, came to Wuhan. After 76 days of lockdown, the previous epicenter is gradually waking up from its darkest moments of the COVID-19 outbreak, transportation has resumed, and travel restrictions lifted.

"Now that the city is getting back on track, we are running out of new stories," Liu says. "My readers have to chew on the old ones."
But there are always only two reasons for retelling any story: either it has not been fully explored, or it is yet to reach an end.
Hometown
Hou is from Shandong Province. He was stranded in Wuhan after the lockdown, and has since turned into a volunteer. He plans to get back after April 20. Liu has previously posted several articles about him, but none of them has been shared by Hou on his own social media, like those are remote stories about some stranger. Yet the young man frequently greets Liu on Wechat, inviting the photographer to have drinks together when he gets time. The other day he messaged Liu, asking if he still had any spare protective gear. After the situation in Wuhan improved, many assisting workers have returned home, but Hou and his colleagues are still there to ensure the improvement.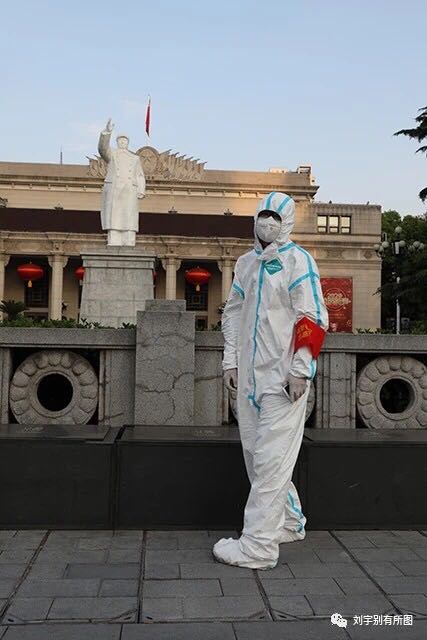 (Hou stands in front of Wuhan Theatre)
Zhu, a street singer that Hou had once accommodated, has recently found a job as a janitor and moved out of Hou's dorm. He's got real talent, but the world has got its fair share of under-recognized talents anyway.
Zhu has blocked Liu several times on Wechat, and, according to Hou, this is his way of avoiding getting attached. When Liu first came across him on the street, he was always singing some optimistic song, which doesn't quite match up to the story he told Liu later.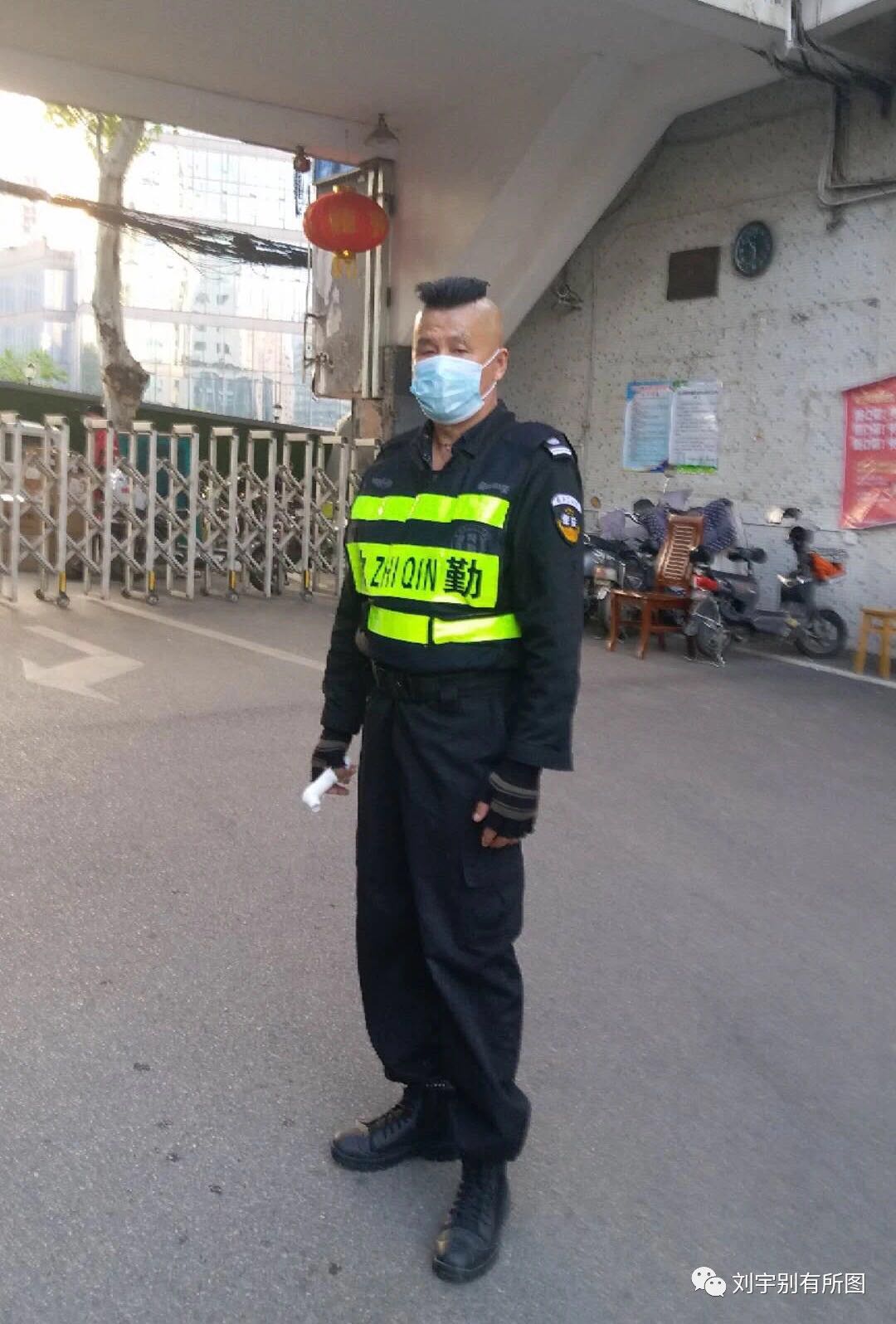 (Zhu has found a job as a janitor)
"When we met, I just lost my job, couldn't find a way to get back home, and was having inter-personal issues at work. I had no money, and even if I had, it wouldn't have been possible to get any food with it at that time," Zhu recalls. Later, he learned that his brother had died from the coronavirus. But life left him with little time to grieve. He had to strive to get his overdue pay after getting fired.
"I might look as bright as the sun, but inside I was just feeling terrible. If men were allowed to weep, my tears could run as long as the Yangtze river. I was deeply devastated, and so was my self-esteem."
Now, with a new job, Zhu's life seems to be getting sorted out again. But on the flip side of a fresh new life is a past that can never be retrieved. "Sometimes I think of my hometown, the bricks, flowers, dogs and rivulets, all chimeras now. Nothing is ever going to be the same. There's no getting back. I've become a strayed soul."
Nowhere can Zhu feel a sense of belonging. Not in the city, nor in a totally transformed hometown.
Reflections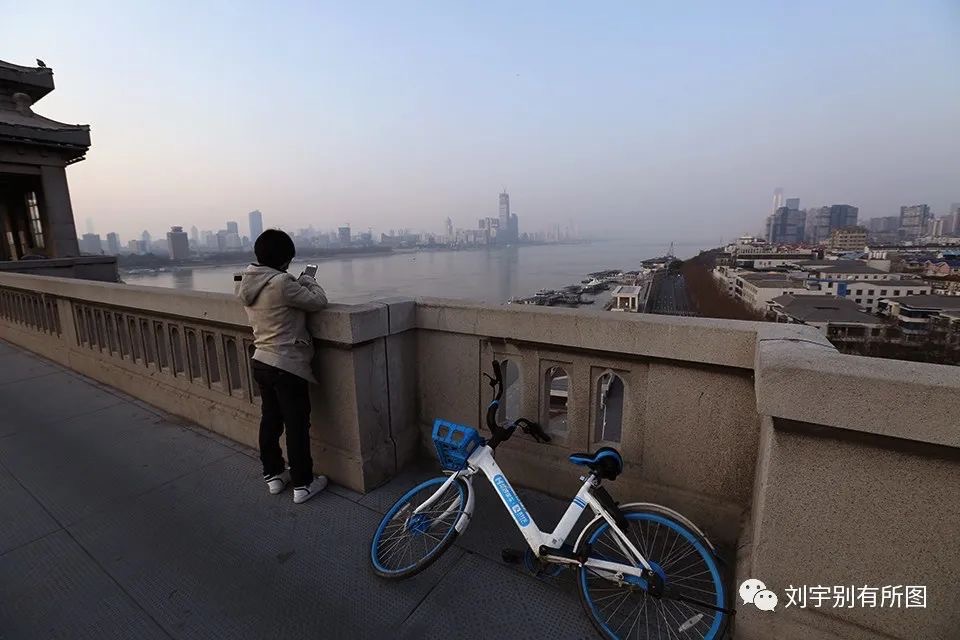 One of Liu's previous stories is about a young man he came across on the Wuhan Yangtze River Bridge. The boy surnamed Ma managed to get a train ticket and has already left Wuhan. At first he called Liu "Honorable Reporter" and later shifted to "Uncle Liu" as they got more familiar with each other.
Read previous story on Ma: No strangers amid outbreak
"I'm used to wearing a mask in public, not just for the coronavirus. I love the feeling of moving through throngs without merging with them. People used to be curious about why I wear a mask, and I would say that I love feeling slightly detached from the rest of the world."
They exchange many of their thoughts online. "Uncle Liu has helped me find answers from inside. That's at least what I've gained from the outbreak." He said he would come back to Wuhan soon.
"If the opportunity arises, I'd like to tell Uncle Liu another story when we meet again."
The first group of people who reacted to Liu's photos include Mrs. Sima, Liu's 75-year-old college teacher, who he has always admired. "People must have something guiding them, otherwise they could collapse at the slightest setback." She wrote this on Wechat the other day. The words stirred something inside of Liu, and he quoted it in his most recent post.
First home-cooked meal
When Liu parted ways with Mrs. Xiong at the train station, he didn't expect them to ever meet again. But days later, he received a message from her asking if he could help pick up her parents at the train station, who were about to take a train from Suzhou to Wuhan. Mrs. Xiong was not allowed inside the station, and her brother could not come with their parents as he wouldn't be able to go back home if he did.
"It is completely OK if you can't go. Thanks anyway," the end of the message reads.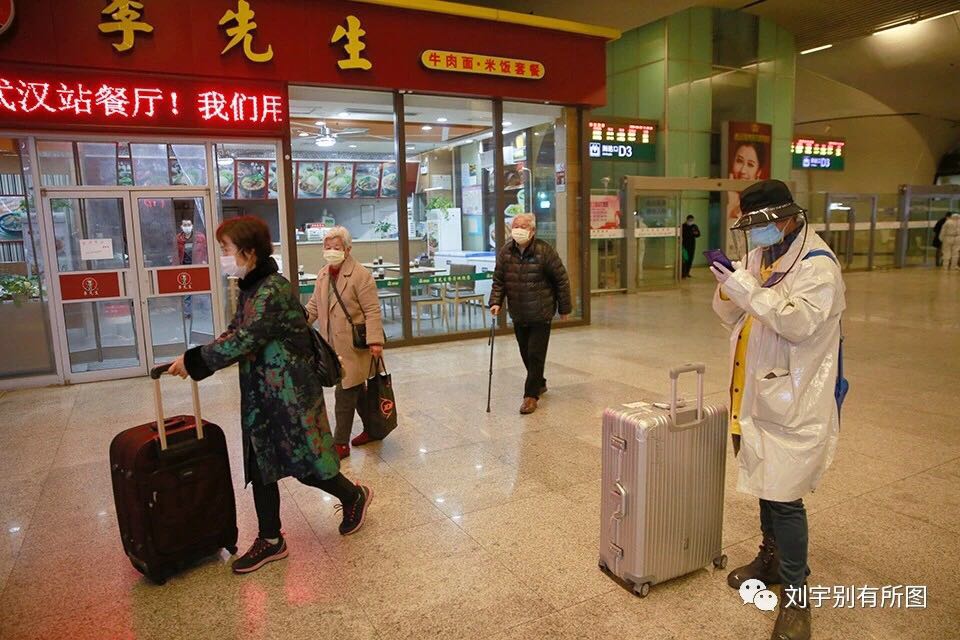 (Liu Yu picks up Mrs.Xiong's parents at Wuhan Station)
When Liu drove her parents home the next day, he was greeted by great hospitality. Mrs. Xiong's mother got him a cup a tea, and, to ensure that the guest can enjoy it as soon as possible, she repeatedly poured it from one cup to another in order to cool it down. There, Liu also enjoyed the first home-cooked meal since he came to Wuhan.
Medics and dogs
Xu Can, a nurse from the Second Xiangya Hospital, has almost finished her 14-day quarantine after returning from Wuhan. Liu just came to know that she has journaled over 50,000 words during the quarantine. "I wanted to record the unusual time. During these days, I might have experienced more than what I will go through for the rest of my life. " (Read previous story on Xu Can: Angels with loving hearts)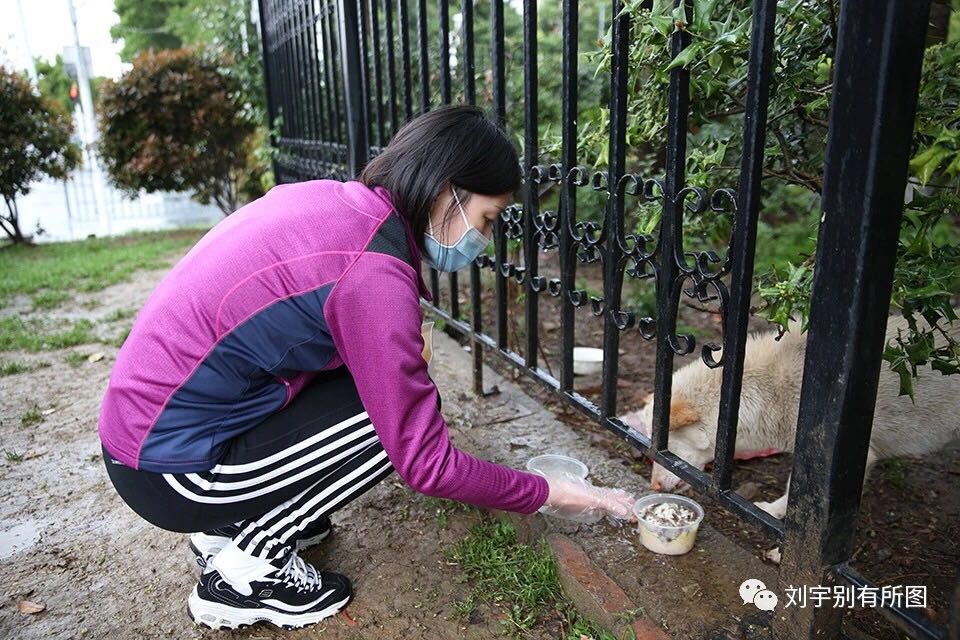 (Xu feeds strayed dogs)
Liu suggested that she should get the journals published. However, after mulling over the idea for some time, she eventually decided not to, as she would rather be seen as a normal person than a hero.
"We were just doing the same job in a different environment. The friendships we gained during the outbreak, including those with patients, other medical workers and with journalists like you, are what we truly value," she told Liu.
Aside from COVID-19 patients, Xu's medical team was also taking care of the strayed dogs around the hospital. Before leaving Wuhan, they visited the dogs for the last time, and put some gloves between the bars in case anyone else might need them when feeding the dogs.
Mr. Zhu is one of the recovered COVID-19 patients who had been treated by Xu's team. He expressed his willingness to adopt one of the dogs in memory of his experience with the medical workers.
Liu helped him contact Mrs. Luo, who had been taking care of those dogs for years. During the outbreak, when she was confined at home, the medical workers had been such a relief for her as they took over feeding the dogs. The medical workers also gave them names. One of them is called "Zhanyi", which means "fight the outbreak" in Chinese, and Mr. Zhu is especially into him.
When Luo grabbed Zhanyi and handed him over to Mr. Zhu, the adopter repeatedly promised to take good care of the puppy. When Mr. Zhu got home, the whole family was excited at the arrival of the newcomer. After a few days, Zhu said that he also wanted to adopt another dog called "Bisheng", and together the two dogs can make "Zhan Yi Bi Sheng", which means "the battle against the outbreak will eventually be won".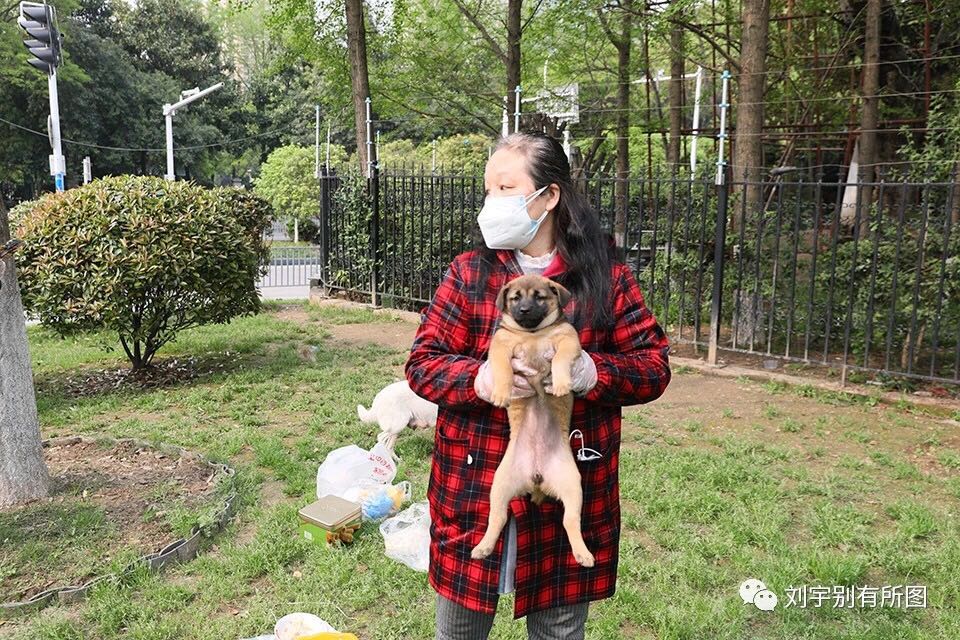 (Mrs.Luo grabs "Zhanyi" for Mr.Zhu)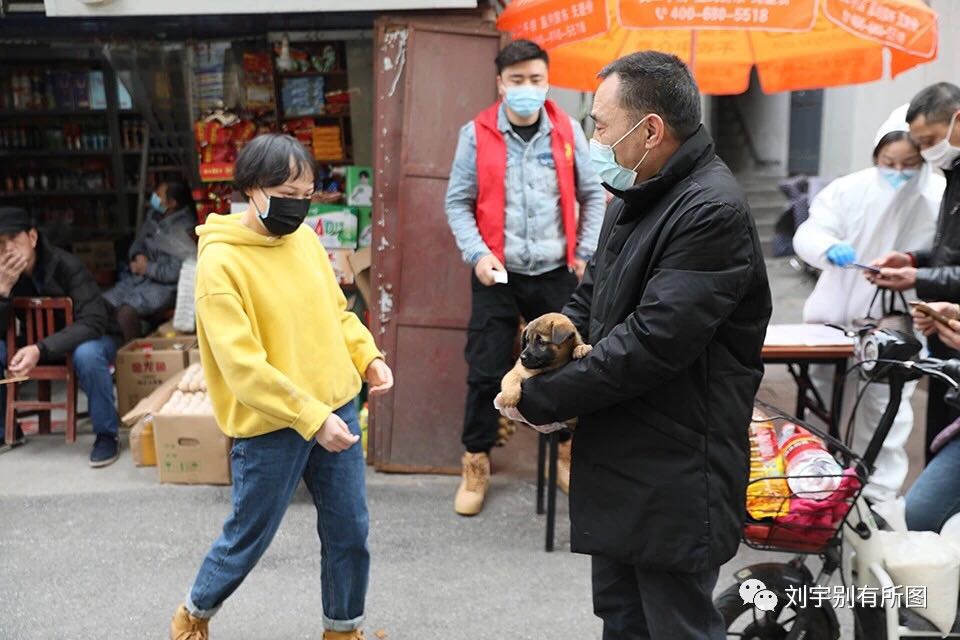 (Zhu's family members are happy to see "Zhanyi")
However, when Mrs. Luo tried to get "Bisheng" for him, the dogs who used to be quite close with her were all hiding under the tree. In the end, Luo didn't manage to get "Bisheng".
When Liu last came across the place where the strayed dogs used to huddle, there was no sign of any dogs anymore. For a moment, Liu was confused. He didn't know whether he had done something wrong. He only recalled what a nurse said before leaving Wuhan: "I really love the dogs. I wish I had a big house to adopt them altogether. I'll definitely come back to visit them."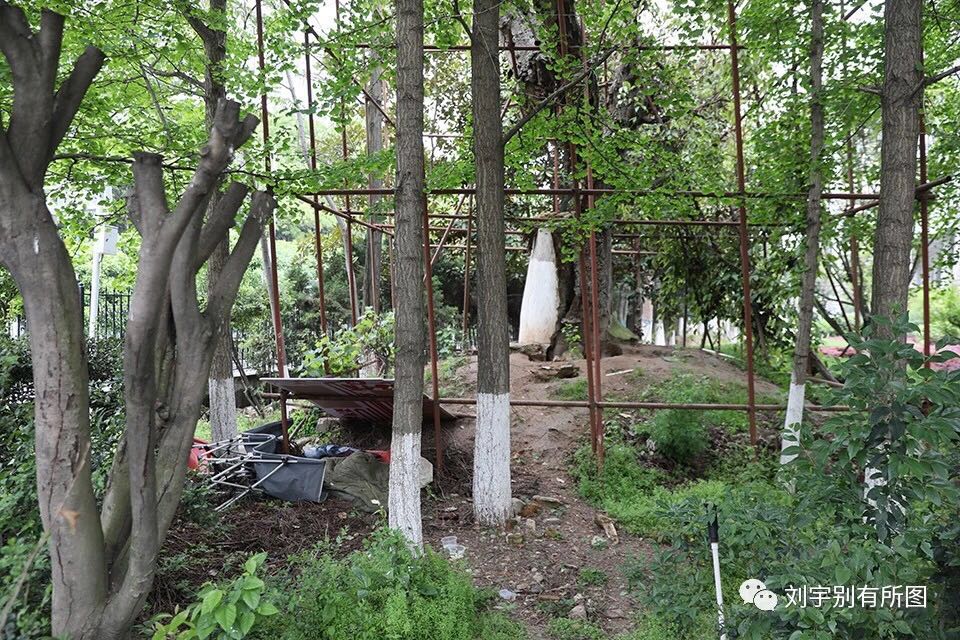 (The place where the strayed dogs used to live)
(Complied by Wang Jinhong)