Barring HRW head from HK entry 'a reasonable decision': analysts
Global Times
1578901500000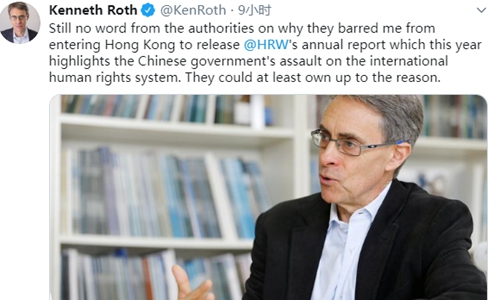 (Photo: A screenshot of Kenneth Roth Twitter account)
The decision to bar the executive director of Human Rights Watch (HRW) from entering Hong Kong is a reasonable move, as his presence would likely instigate riots which have rocked the city for months and the Chinese authorities have decided to sanction several US-based non-governmental organizations (NGOs) including HRW for their interference in China's domestic affairs in the city.
A widely circulating video on Twitter on Sunday night posted by Kenneth Roth, executive director of HRW, claimed after arriving in the protest-stricken city on Sunday night from New York, local authorities would not allow him to pass customs. He was scheduled to launch the NGO's World Report 2020 on human rights abuses in the city.
Roth said in a Tweet that he purposely chose Hong Kong to release the report. "I wanted to spotlight Beijing's deepening assault on international efforts to uphold human right." He said the decision to bar him from entering the city "vividly illustrates the problem."
The move came after China decided in December to sanction US-headquartered NGOs including HRW for their "horrible activities" in instigating months-long turmoil in Hong Kong.
Chinese Foreign Ministry Spokesperson Hua Chunying said at a routine press conference in December that China will sanction a number of NGOs including the National Endowment for Democracy (NED) , the National Democratic Institute for International Affairs (NDI), the International Republican Institute (IRI), Freedom House and HRW, as evidence shows these NGOs have supported anti-China forces that have created chaos in the city, and encouraged those forces to engage in extreme violent criminal acts and hyped separatist activities in Hong Kong.
The Immigration Department (ImmD) of Hong Kong told the Global Times on Monday that the department does not comment on individual cases but fully considers all relevant factors and circumstances of a case according to the laws before deciding whether the entry should be allowed or not.
"I believed the decision was made based on the current situation in Hong Kong, as the city has been recovering from the chaos. The upcoming report will criticize the Hong Kong SAR government and police, which would send a wrong signal and give rioters another excuse to descend to streets to commit radical acts," Joe Chan Cho-kwong, former chairman of Junior Police Officers' Association in Hong Kong, told the Global Times on Monday.
"Considering the need for public security, it's very reasonable to bar him from entry," he said.