China's Hebei reports 20 new locally transmitted confirmed COVID-19 cases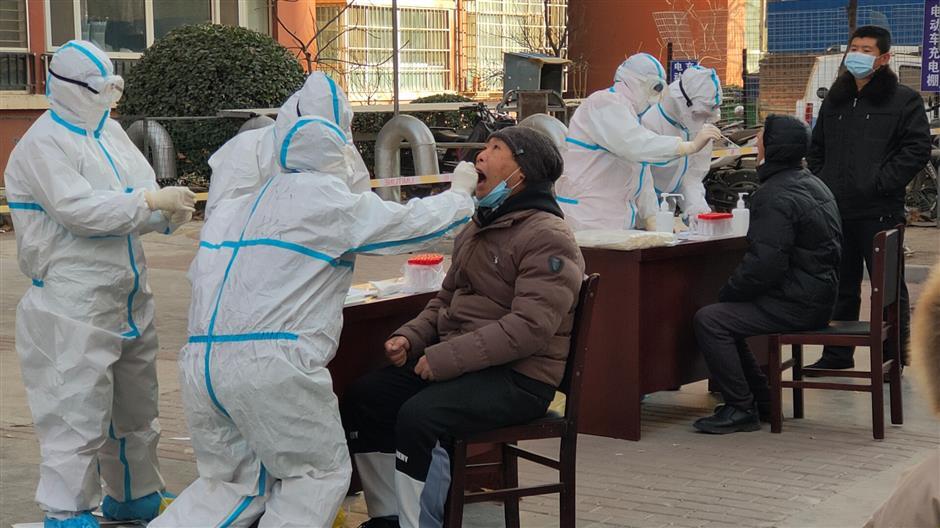 SHIJIAZHUANG, Jan. 6 (Xinhua) -- China's Hebei Province on Tuesday reported 20 locally transmitted confirmed COVID-19 cases, bringing the total number of existing confirmed cases to 39 in the province.
Among the new confirmed cases, 19 were reported in the provincial capital Shijiazhuang and one in the city of Xingtai, the provincial health commission said on Wednesday.
Also on Tuesday, the province reported 43 asymptomatic cases, two of them were reported in Xingtai and the others were all in Shijiazhuang, the commission said.
Apart from the above local cases, the province also reported five imported asymptomatic cases on Tuesday.
According to the commission, the entire Gaocheng District of Shijiazhuang was on Wednesday classified as a high-risk area for COVID-19, and three areas in the city of Xingtai, including two residential communities, were designated as medium-risk areas.
In response to the latest situation, the Hebei Airport Management Holding Co., Ltd. said on Wednesday that every passenger departing from the Shijiazhuang airport should present his or her negative nucleic acid test result acquired within 72 hours of boarding.
Shijiazhuang airport shuttle bus services have been suspended, as have the operations of the city's passenger coach terminal station, according to their operating company, Jiyun Group Co., Ltd.
Traffic control measures have been taken on the Shijiazhuang sections of multiple expressways, with vehicles forbidden to enter the expressways from the gates of the city. Personnel will be stationed on both sides of the gates to dissuade vehicles from passing through, said the Hebei Expressway Group Limited.
Wang Jianfeng, deputy secretary-general of the Shijiazhuang municipal government, said on Tuesday at a press conference that the city has organized 104 teams to conduct epidemiological investigations, covering more than 18,000 people from the Xinhua and Gaocheng districts, Zhengding County and Xinle City.
By Tuesday, there were 39 confirmed cases hospitalized in Hebei, with four in severe conditions. In total, Hebei has recorded 378 locally transmitted confirmed cases and 34 imported cases.
There are 78 locally transmitted and five imported asymptomatic cases under medical observation, the commission said.