Hong Kong volunteers praised for contributions
More than 2,100 volunteer workers and 200 volunteer worker groups were praised for their contributions in the past year at the sixth Hong Kong Volunteers Federation Outstanding Volunteers Award Presentation Ceremony held at the Queen Elizabeth Stadium in the Hong Kong Special Administrative Region (HKSAR) on Saturday.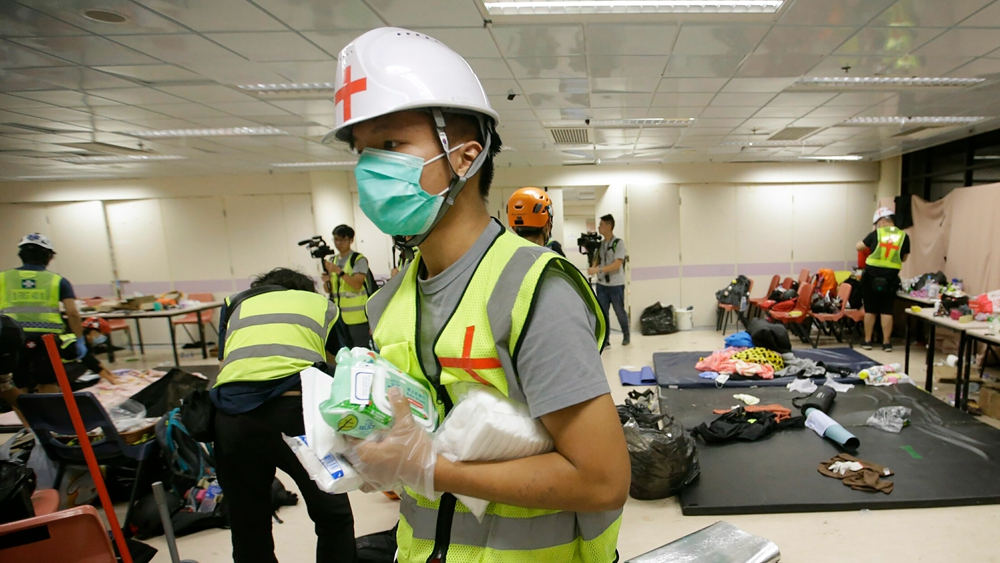 Volunteer medical workers gather up supplies inside the Hong Kong Polytechnic University, HKSAR, November 19, 2019. (Photo: AP)
The federation used light bulbs to represent volunteers, encouraging them to continue serving the HKSAR residents and helping each other.
Since its establishment, the federation has organized a series of activities at the grass-roots level for children, teenagers, the elderly living on their own and residents with chronic illnesses, said HKSAR Chief Executive Carrie Lam at the ceremony.
Lam hoped that Hong Kong residents will carry on with mutual caring and help to build a harmonious and lovable Hong Kong.
Along with Lam, other officials including He Jing, deputy director of the Liaison Office of the Central People's Government in the HKSAR, attended the ceremony.
Founded on June 15, 2014, the federation abides by the principles of promoting the volunteer spirit, supporting vulnerable groups and advocating people to love and help each other.