Hong Kong court ruling unconvincing, unhelpful for stopping violence: legal experts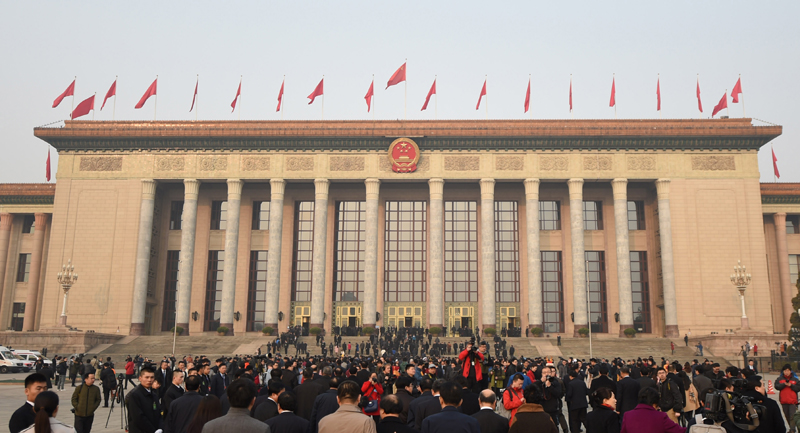 (Photo: Xinhua)
HONG KONG, Nov. 19 (Xinhua) -- Hong Kong legal experts said on Tuesday that Hong Kong's High Court ruling related to the Emergency Regulations Ordinance was "surprising and unconvincing" and unhelpful for stopping violence and restoring order in Hong Kong.
The Hong Kong Special Administrative Region (HKSAR) government invoked the power under the Emergency Regulations Ordinance to put in place the Prohibition on Face Covering Regulation in October.
The Court of First Instance of the High Court of the HKSAR ruled on Monday that some provisions of the ordinance were incompatible with the Basic Law of the HKSAR and therefore were invalid.
A spokesperson of the Legislative Affairs Commission of the Standing Committee of the National People's Congress (NPC) expressed deep concern over the ruling on Tuesday, saying the ordinance is consistent with the Basic Law and whether a law of the HKSAR is in conformity with the Basic Law can only be judged and decided by the NPC Standing Committee.
Legal experts here supported the remarks of the spokesperson and urged early correction of the ruling of the High Court.
Tam Yiu-chung, a member of the NPC Standing Committee, said the ruling challenged the legitimate power of the chief executive to govern in accordance with the law and will exert negative influence on Hong Kong in the long run.
The ruling actually winked at violent acts of masked rioters and made Hong Kong residents disappointed, he said.
Leung Mei-fun, a member of the HKSAR Basic Law Committee under the NPC Standing Committee, said the Emergency Regulations Ordinance was adopted as the law of the HKSAR, in accordance with Article 160 of the Basic Law of the HKSAR.
The chief executive has the obligation and power to refer to the ordinance in social unrest in Hong Kong, which is written into the Basic Law, Leung said, calling on the HKSAR government to appeal against the ruling.
Gu Minkang, former deputy dean of the law school of City University of Hong Kong, said the decision of the High Court was unconvincing amid the current grave situation in which public safety is in peril.
Gu also called on the HKSAR government to appeal to a higher court for correction and said that the NPC Standing Committee could actually make legal interpretation even before the self-correction of Hong Kong judiciary.
Ma Yan-kwok, barrister and chairman of the Hong Kong Legal Exchange Foundation, said the ruling only paid attention to the need of a small number of demonstrators but ignored the rights of the public to live a normal life free from masked rioters.
Hong Kong should put more emphasis on stopping violence and restoring order, Ma said.
Solicitor Wong Ying-ho said the ruling actually cheered on the rioters. He suggested the authorities set up special court to accelerate the handling of cases related to violent incidents.