750,000-volt electricity grid covers Northwest China's Xinjiang
People's Daily app
1602810331000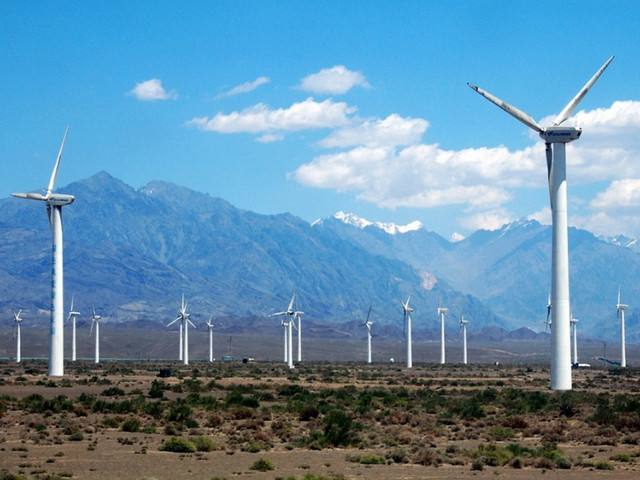 Wind power stations in Daban District, Urumqi City, Xinjiang Uygur Autonomous Region. (File Photo)
On Saturday in Northwest China's Xinjiang Uygur Autonomous Region, the 750,000-volt Altay-Zhunbei electricity grid was put into trial and will soon be in operation, which will cover the entire region. The Xinjiang electricity grid will be the largest provincial-level one in China.
Altay region is on the north of Xinjiang, gifted with abundant wind and solar power. To enhance the electrical output of Altay, the Xinjiang branch of the State Grid Corporation of China invested 1.67 billion yuan in the Altay-Zhunbei power transformation project in September 2018.
The Altay electricity network's output will rise to 2,000,000 kilowatts, freeing Altay from the frustration in power transmission and curtailment of wind. The electricity grid project will also expand transmission channels, fostering the construction of clean energy stations and attracting equipment manufacturers.
With Urumqi as the center, the Xinjiang electricity grid will cover the entire Xinjiang. Stretching 2,200 kilometers from west to east and 3,300 kilometers from north to south, covering 1,300,000 square kilometers, it will become the largest provincial electricity grid.
Xinjiang is not only developing its internal electricity network but also accelerating to transmit electricity outside.
In 2010, the Xinjiang electricity grid was connected to China's northwestern major electricity network. In 2014, electricity was transmitted from Hami, Xinjiang to Zhengzhou, Central China's Henan Province. In 2019, Xinjiang was able to transmit electricity to Central China's Anhui Province, with an output of 25 million kilowatts.
The external output of Xinjiang's electricity has benefitted from the policy of supporting Xinjiang through electricity purchases. Xinjiang has contracted with many provinces on inter-provincial electricity transmission. Clean energy from Xinjiang has infused 19 provinces in China.
(Compiled by Wang Qin)