Pneumonia cases could rise in Wuhan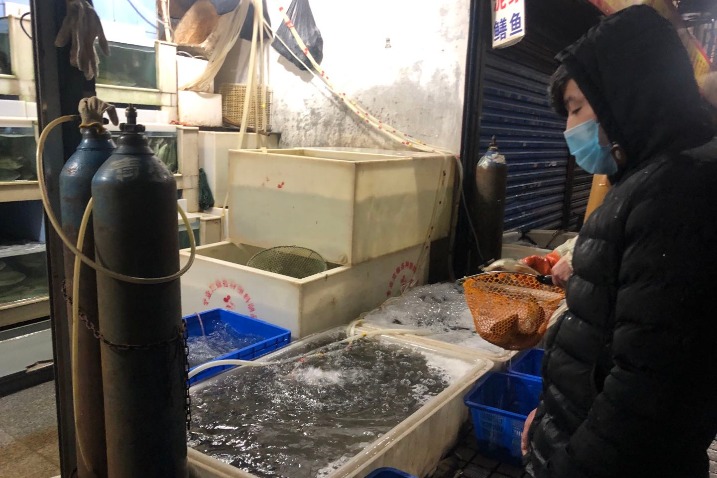 Some infected are business operators at a seafood market in Wuhan. (File photo: China Daily)
The number of cases of unknown viral pneumonia in Wuhan, Hubei province, is expected to continue rising as expanded efforts are made to identify suspected victims, local authorities said on Monday, adding disease prevention and control measures will be improved with more knowledge of the virus.
On Sunday, the Wuhan Health Commission said in a statement that the pneumonia was not Severe Acute Respiratory Syndrome, Middle East Respiratory Syndrome or bird flu, and they were still working to identify the source and cause of the outbreak. There is no evidence that the disease could be transmitted among humans, it said.
The commission said 59 cases had been reported as of Sunday-with the earliest case on Dec 12-and seven victims are in critical condition.
All the patients are under quarantine and receiving treatment in medical institutions in the city.
The commission had traced 163 people who had close contact with the patients as of Sunday and put them under medical observation. Efforts to trace others who have had close contact with the patients are ongoing, it said.
A local seafood market, where some of the patients worked, was closed by local authorities on Jan 1.
In a statement released on Monday by Wuhan Internet Information Office, Li Gang, head of the Wuhan Center for Disease Control and Prevention, said health authorities in Wuhan have been searching for suspected cases in all medical institutions in the city since the first cases were reported last month.
Expansion of the search is the major cause for the increased number of cases, he said, adding more cases could be reported.
The patients display symptoms such as fever and fatigue, and some display cough and have difficulty breathing, he said.
Although no evidence has been found to prove the virus could be transmitted between humans, the source of the virus has yet to be determined, so strict quarantine measures and disease prevention and control measures are necessary as a precaution to protect public health, he said.
In a statement released on Sunday, the World Health Organization said it is closely monitoring the situation and is in close contact with national authorities.
"WHO does not recommend any specific measures for travelers," the statement said. "In case of symptoms suggestive of respiratory illness either during or after travel, travelers are encouraged to seek medical attention and share travel history with their healthcare provider."
"WHO advises against the application of any travel or trade restrictions on China based on the current information available on this event," it said.
A visit to Wuhan's Tianhe Airport by a China Daily reporter on Sunday found that the airport was operating normally.
In Terminal 3, routine security procedures were being applied, and there was no requirement to take passengers' temperatures.
In two railway stations in the city, no temperature measuring was required for passengers.
Zhang Qi, a publicity officer at China Railway's Wuhan branch, said the company has not received orders from local health authorities to take specific measures.