China committed to peaceful role amid Middle East tension
People's Daily app
1578358913000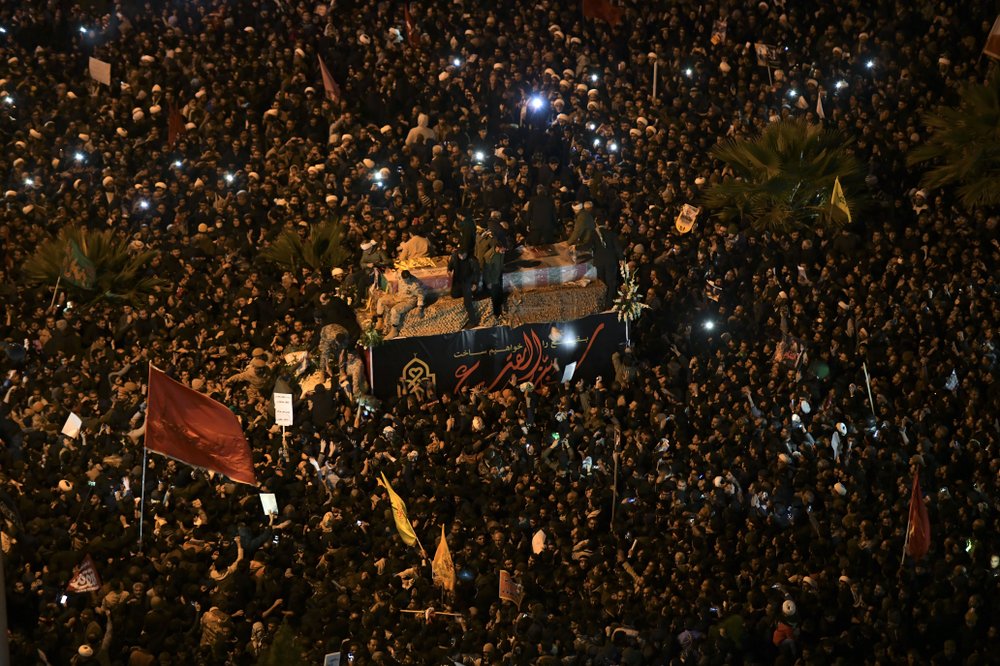 Mourners surround a truck carrying the flag draped coffins of Gen. Qassem Soleimani and his comrades in the holy city of Qom south of the capital Tehran, Iran, Monday, Jan. 6, 2020. (Photo: AP)
United Nations (People's Daily) - Tensions escalated Monday between the US and Iran, and within the Middle East and the Gulf regions. China's UN Ambassador Zhang Jun said during a press conference that they have been monitoring events and the task at hand is to prevent the situations from spreading and spinning out of control.
As a member of the Security Council, China has conducted diplomatic efforts. State Councilor and Foreign Minister Wang Yi held phone conferences Russian, French, and Iranian foreign ministers committed to regional peace and stability.
Zhang reminded reporters that China has always opposed arbitrary force when dealing with international relations.
"We urge the US side not to abuse force and call on relevant parties to exercise restraint and seek solution through dialogue. At the same time, the sovereignty, independence, unity and territorial integrity of Iraq should be respected," Zhang said.
Zhang stressed how the Council shoulders the responsibility of maintaining international peace and security. The international community, including the Council, should work together to deescalate tension.
Zhang also pointed out that China acknowledged Iran's UN ambassador who presented a letter to the Security Council president asking for the group to pay closer attention to US actions and uphold responsibilities.
China is prepared to maintain close communication with relevant parties, uphold a fair and objective position, stand for international law, and maintain peace and stability in the Gulf region and the Middle East, Zhang explained.
When addressing US demand for a statement on the US Embassy attack in Iraq, Zhang said China does not accept US accusations.
China supports safeguarding foreign missions in accordance with international law. US unilateral military actions have caused drastic regional changes. Actions taken by the Council should reflect ongoing developments and help prevent tensions from escalating further.