Mainland reports smallest daily increase in infections in 32 days
Global Times
1587286535000
Chinese mainland recorded 16 new confirmed COVID-19 cases on Saturday, including nine imported cases and seven domestic cases, marking the smallest daily increase in the past 32 days. The newly confirmed imported cases from overseas dropped below 10 for the first time within a month.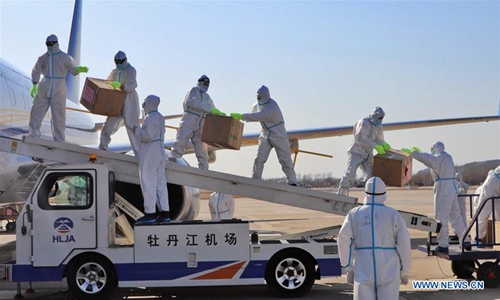 Staff transport medical supplies at the airport in Mudanjiang, northeast China's Heilongjiang Province, April 15, 2020. Hubei has sent medical supplies to the border province of Heilongjiang in northeast China amid the rising pressure of imported COVID-19 cases. (Photo: Xinhua)
Northeast China's Suifenhe in Heilongjiang Province bordering Russia recorded zero imported cases and zero asymptomatic infections on Saturday. A total of 371 imported cases have been reported in Suifenhe as of Saturday, with one cured.
The result was believed to be due to the closure of the border port, the dispatch of medical missions and strict management measures within the small city.
China's National Health Commission also reported zero deaths and two suspected cases, together with 33 recovered cases. Among the seven new domestic infections, six were form Heilongjiang Province.
Some analysts believe that the rebound of infections in Heilongjiang, especially in Harbin, which reported four cases on Saturday, was caused by the imported cases and lack of effective and strict epidemic prevention and control management.
Ding Fengshu, the head of the Harbin health authority and 17 other officials, including the vice mayor of the city, were recently held accountable for the rebound.
Wang Yongkang, vice governor of Heilongjiang and the head of Harbin's epidemic control guiding mission, said on Saturday that the prevention of domestic rebound and imported infections are currently the biggest task, and stricter management will be applied to curb the rebound as soon as possible.
There are currently a total of 38 domestic cases reported in the province, with 36 found in Harbin.