Dried-up lake reappears in Dunhuang after more than 300 years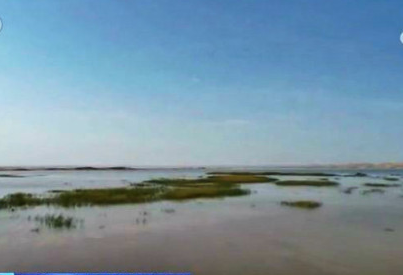 Dunhuang West Lake National Nature Reserve in northwest China's Gansu Province. (Photo: screenshot of CCTV News)
Haraqi Lake at the end of the Shule River has reappeared after drying out for about 300 years, following work in recent years to protect the region's waterways.
The lake, which borders the Kumtag Desert, is in the Dunhuang West Lake National Nature Reserve in northwest China's Gansu Province. It now covers an area of around five square kilometers, and has become a home to several species of wild birds that nest in the rose willows and reeds growing on the banks. It is also playing an important role in preventing desertification.
The lake used to cover an area of around 200 square kilometers, and had about 800 square kilometers of wetlands. But the flow of the Shule River had fallen sharply since the Tang Dynasty (A.D. 618-907) due to desertification and diversions for irrigation. Around 300 years ago, Haraqi Lake disappeared completely when the river dried up.
In 2003, Dunhuang West Lake became a national nature reserve in an effort to preserve the region's wetlands and habitat for rare animals and plants.
In 2011, the State Council approved a plan on water conservation and environmental protection in Dunhuang to solve the problems between supply and demand for water resources and the continuously deteriorating regional environment.
In 2017, the restoration project of the Shule River and Danghe River, which were included in the plan, were completed.
Water returned to Haraqi Lake accidentally in 2017 and 2018. With the continuous replenishment of water flow and increased rainfall, Haraqi Lake has maintained a relatively stable water area for five total months this year.