Embassy helps Chinese passengers searched at Thai airport
Global Times
1579220495000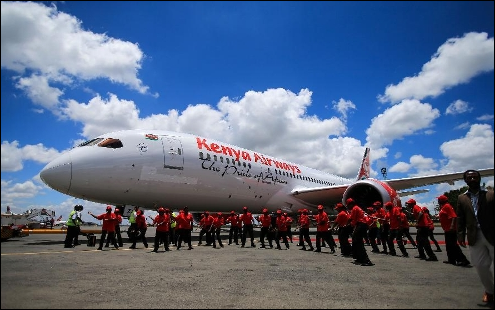 Kenya Airways' first Boeing 787 Dreamliner "Great Rift Valley" is seen at the Jomo Kenyatta International Airport in Nairobi, capital of Kenya, April 5, 2014. (Photo: Xinhua)
The Chinese Embassy in Thailand had taken action to help Chinese passengers who were searched at an airport in Bangkok, Thailand on Tuesday after a passenger of the same flight reported losing $20,000.
A Kenya Airways flight carrying 211 passengers, including 116 Chinese, was flying from Nairobi, capital of Kenya, to Guangzhou, South China's Guangdong Province with a stopover in Bangkok. After a Ugandan reported losing $20,000 during the flight, airport authorities and Thai police boarded the plane and searched the passengers on Tuesday afternoon during the stopover, the airline informed about the incident on Weibo on Thursday.
The embassy statement on Thursday came after an article written by someone who claimed to be one of the Chinese passengers said they were treated rudely and that Thai police did not provide any warrant for such an inspection.
When contacted by the Global Times, Thai police said they have the authority to search anybody according to the rules, and if the person searched did nothing wrong, the police would let him go.
A total of 124 passengers, including 36 Chinese, agreed to the inspection. The embassy asked the Thai side to guarantee Chinese nationals' legitimate rights and avoid discriminatory treatment.
The communication was done over the phone as the passengers were in an enclosed area, the Chinese Embassy said on its WeChat account in response to the previous article, which claimed that the embassy did not offer help.
One Chinese passenger was found with $2,000 cash on the waist and taken for further investigation, with six people accompanying the passenger. Another five passengers, who got emotional during the process, were prevented from boarding the aircraft for safety reasons. The other passengers left Bangkok with the original flight, the embassy said.
Although the Ugandan passenger claimed the cash found on the Chinese passengers had the same characters as his money, Thai police rejected his testimony.
Kenya Airways took care of the 12 passengers who missed the 7 pm flight, and arranged them to take a flight at 10 pm Tuesday night. They had all arrived China safely, according to the airline's Weibo post.