US remarks on China's economic growth are misleading: MFA
People's Daily app
1563280834000
It is totally misleading for the US to suggest China wants a trade deal due to its slowing economic growth, said Ministry of Foreign Affairs (MFA) spokesperson Geng Shuang on Tuesday.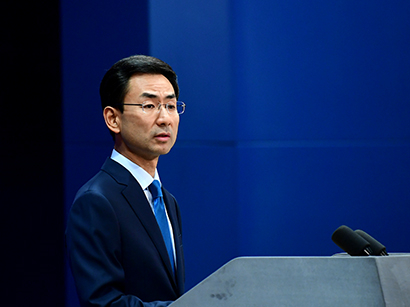 (Photo: fmprc.gov.cn)
During a regular MFA press briefing, Geng made the remarks in response to a tweet by US President Donald Trump saying, "The United States Tariffs are having a major effect on companies wanting to leave China for non-tariffed countries. Thousands of companies are leaving. This is why China wants to make a deal with the US and wishes it had not broken the original deal in the first place."
Geng stressed that reaching a trade deal is by no means a unilateral goal of China. Insightful people from all walks of life in the US and vast numbers of consumers strongly oppose the tariffs on China and the trade war against China.
"I hope that the US will work with China to meet half way and strive for a mutually beneficial agreement through dialogue and consultations on the basis of mutual respect," Geng added. "It serves the interests of both China and the US and is the common aspiration of the international community."
Given the circumstance that global economic growth has slowed and external uncertainties and destabilizing factors have increased, China's gross domestic product (GDP) grew 6.3 percent in the first half of 2019, which is still a good result, leading among the world's major economies.
"China could have adopted a strong stimulus policy to achieve higher economic growth, but we have not done so. We are committed to achieving high-quality economic development, to focusing on economic restructuring and industrial transformation and upgrades, and to keeping our economy stable while making progress by stimulating the vitality of market entities through reform and innovation," he said.
Geng also pointed out that the 6.3 percent growth rate was in line with external expectations of the Chinese economy. "China is the second largest economy in the world and contributes over 30% to global economic growth," he added. "China's steady economic growth is good for the US economy and for the world economy."