Liaison office of China's central gov't in HKSAR condemns US Senate passing bill on HK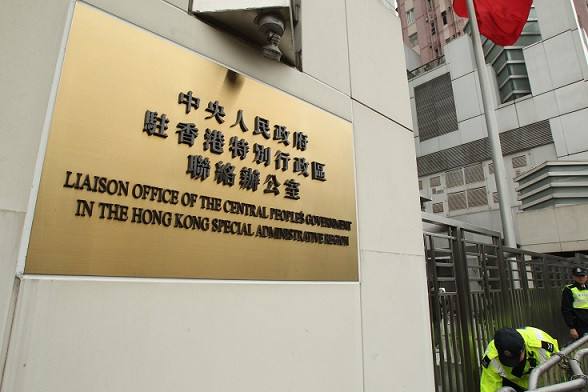 (File photo: social media)
HONG KONG, Nov. 20 (Xinhua) -- The Liaison Office of the Chinese Central People's Government in the Hong Kong Special Administrative Region (HKSAR) on Wednesday expressed strong indignation and condemnation against the passage of the so-called Hong Kong Human Rights and Democracy Act of 2019 by the U.S. Senate.
"Plenty of facts have shown that the collusion between anti-China elements in the United States and the extreme radical forces in Hong Kong is the main driving force behind the prolonged violence and chaos in Hong Kong," the office said in a statement.
While the Hong Kong society is calling for ending violence and chaos and restoring order, the U.S. Congress and some politicians are bolstering up rioters and the forces that are anti-China and creating chaos in Hong Kong, said the statement, adding that these acts have fully exposed their hypocrisy as well as their evil intentions to further push Hong Kong into turmoil and contain China's peaceful development.
"The fully escalating violence and recurring, appalling criminal acts by radicals that struck Hong Kong recently, have caused deaths of innocent civilians, store vandalism, severe traffic disruption and suspension of classes at schools, inflicted severe damage on the fundamental rights and freedoms of residents, which is intolerable in any civilization or society with the rule of law," the statement said.
At this critical moment, however, some Americans are intentionally whitewashing the violent crimes and terror activities, and blatantly betraying the shared belief of justice and conscience of the world, said the statement.
All the Chinese people, including Hong Kong compatriots, resolutely oppose the so-called act, the statement said, adding that a prosperous and stable Hong Kong will also be in the interests of people of the United States and other countries of the world.
China will take strong countermeasures in response to the wrong decision of the United States, resolutely uphold its sovereignty, security and development interests, as well as the "one country, two systems," and firmly oppose any external force in interfering in Hong Kong affairs, the statement said.
The statement urged the U.S. side to immediately stop playing with fire, terminate the follow-up procedures related to the so-called act, and refrain from going further on the wrong path.