Understand prospect and action of China's economy in Xi's words
People's Daily app
1587430797000
China's National Bureau of Statistics announced China's gross domestic product (GDP) in the first quarter on April 17, with the number registering 20.65 trillion yuan, a year-on-year decrease of 6.8 percent.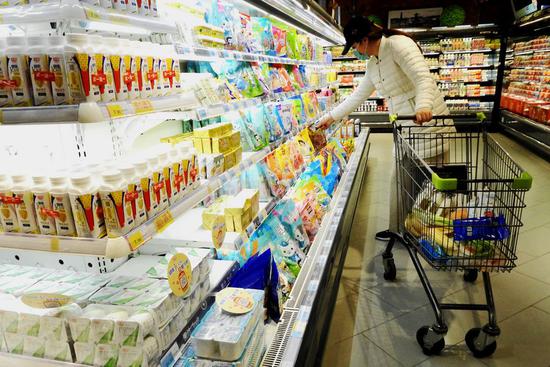 A consumer shops at a supermarket in Haizhou District of Lianyungang, East China's Jiangsu Province, April 10, 2020. (Photo: Xinhua)
However, in the first quarter, crucial industries and products related to the national economy and people's livelihood grew steadily, with people's basic needs satisfied.
Although COVID-19 has inevitably posed a severe test, China's economy has still maintained this significant level of development with epidemic prevention and control gaining positive results. Where is China's economy heading? Chinese President Xi Jinping has provided us with many hints.
Prospect: To expect an orderly and long-term growth
When chairing a leadership meeting on epidemic control on February 3, Xi said that China is a large country with strong resilience, huge potential for development and enough space to keep its economic growth on a firm footing.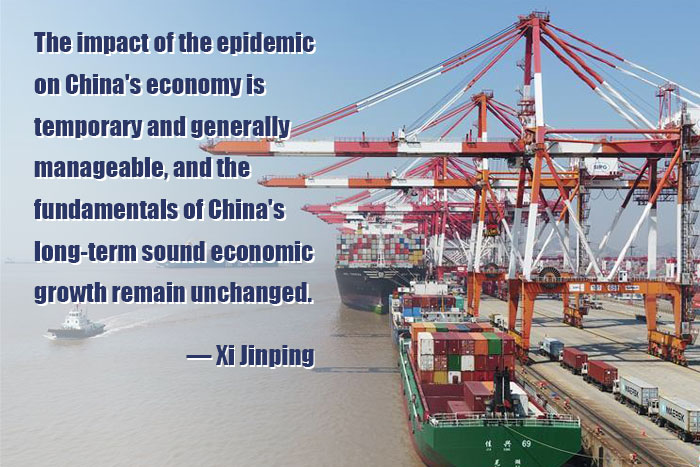 Poster by People's Daily app/Cai Yi
"The impact of the epidemic on China's economy is temporary and generally manageable, and the fundamentals of China's long-term sound economic growth remain unchanged," Xi said.
Today, the phased effectiveness of epidemic prevention and control in China has been further consolidated. Important progress has been made in the resumption of work and production, and the order of economic and social operation has been speeded up. Many enterprises in Wuhan have resumed production orderly.
Xi also pointed out that at such a time it is even more important to view China's development in a comprehensive, dialectical and long-term perspective, and to strengthen and firm up confidence. Xi made the remarks at a meeting in Beijing to advance the work on coordinating the prevention and control of the COVID-19 and economic and social development on February 23.
Actions: To overcome difficulties and seize opportunities
This year, the risks and challenges faced by China are on the rise. Xi commented during an inspection tour in East China's Zhejiang Province in late March that we should vigorously and orderly promote the resumption of production, increase production, and actively crack down on the difficulties in the resumption of production, and promote the linkage of the whole industry chain.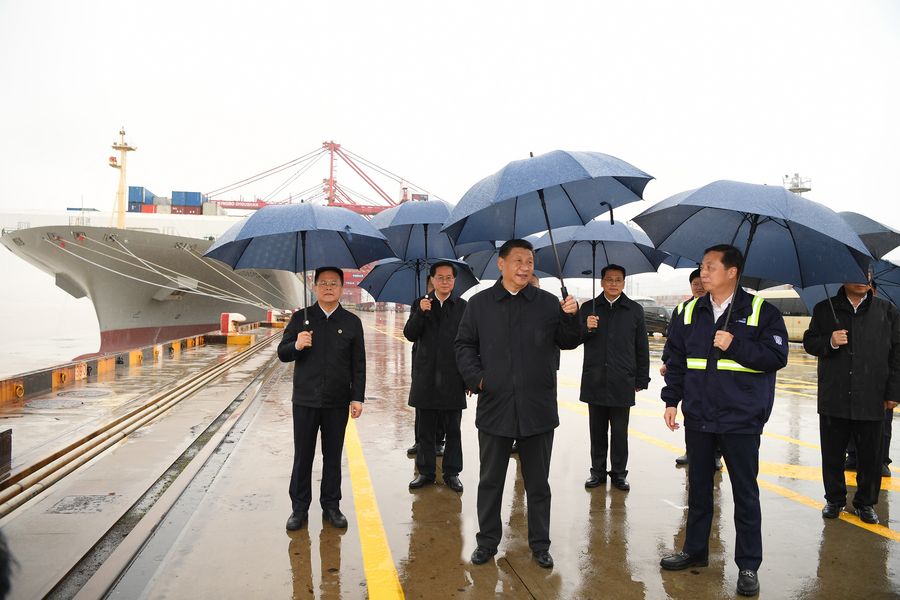 Chinese President Xi Jinping visits the Chuanshan port area of the Ningbo-Zhoushan Port in East China's Zhejiang Province, March 29, 2020. (Photo: Xinhua)
China's Ministry of Commerce, Ministry of Industry and Information Technology, Ministry of Agriculture and the other eight departments responded positively, with more effective cooperation and stricter supervision of relevant industries.
Opportunity always coexists with difficulties. China is now embracing new opportunities to accelerate the development of science and technology and promote the optimization and upgrading of industries.
While seizing the opportunities of industrial digitization and digital industrialization, China also needs to expedite the construction of "new infrastructure" projects such as 5G networks and data centers, and deploy strategic emerging sectors and industries of the future including digital economy, life health services, and new materials, Xi emphasized in Zhejiang.
A leadership meeting on the COVID-19 epidemic chaired by Xi on April 17 noted that China will use stronger macro policy tools to cushion the epidemic fallout while making efforts to ensure that the epidemic will not rebound.
(Compiled by Dong Yujie; Original story from CCTV News)