Carrie Lam: Hong Kong's financial system remains stable and remarkably successful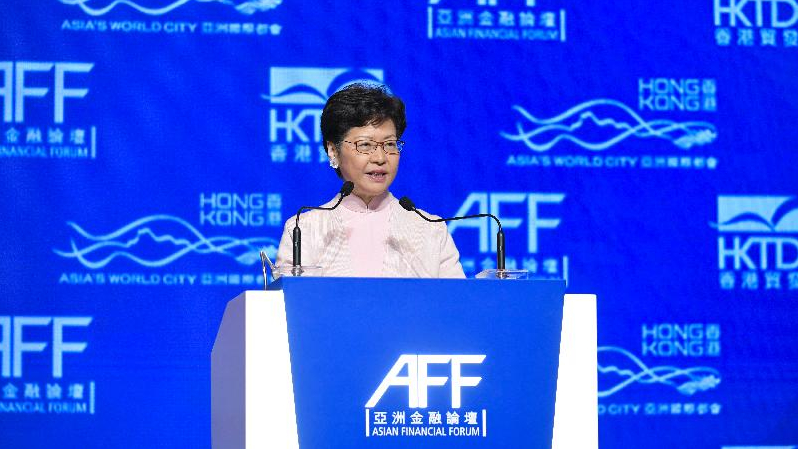 Hong Kong SAR's Chief Executive, Carrie Lam, delivers opening remarks at the 13th Asian Financial Forum at the Hong Kong Convention and Exhibition Centre, January 13, 2020. (Photo: CGTN)
Hong Kong's financial system remained resilient though the city has experienced considerable social unrest and challenges in recent months, said the chief executive of the Special Administrative Region (SAR) on Monday.
Addressing the 13th Asian Financial Forum (AFF), which was attended by thousands of global investors and policymakers, Chief Executive Carrie Lam acknowledged Hong Kong had faced unprecedented challenges over the past two years from the global economic slowdown, trade disputes among major economies, geopolitical uncertainties and local issues.
However, the "strengths and resilience" of the city's financial system "have not been undermined despite [the fact] we have experienced considerable unrest and challenges in recent months," she said.
Regarding the external uncertainties and local unrest, Lam said: "If we cannot direct the wind, we can surely adjust our sails."
According to Lam, Hong Kong has been contributing to the sustainable progress of China, the region and the world, with its role as one of the world's premier financial centers.
The city will work on stabilizing and developing its economy through various plans and opportunities, including the Greater Bay Area Plan and the Belt and Road Initiative, enhancing its role as the business bridge between the Chinese mainland and the rest of the world.
Although the environment is difficult, "through the concerted efforts of the government and the people of Hong Kong, I am confident that we will bridge our divide," Lam said. "We will realize the common goal of a re-united community and a flourishing economy."