Fighting COVID-19 pandemic: China in action
People's Daily app
1586382980000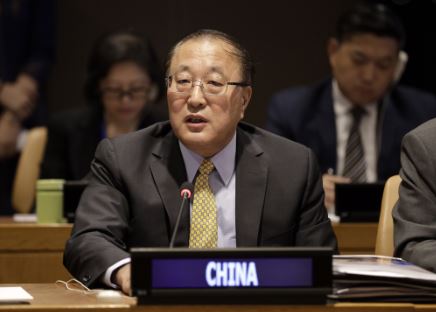 Zhang Jun, China's ambassador to the United Nations. (Photo: China Daily)
United Nations (People's Daily) – A letter from China's ambassador to the United Nations Zhang Jun detailing facts and figures on China's fight against the COVID-19 pandemic and China's cooperation with the international community was presented to the United Nations general assembly on Wednesday in New York.
The letter, addressed to Tijjani Muhammad-Bande, President of the 74th session of the UN general assembly, António Guterres, UN Secretary-General and all permanent representatives and observers to the United Nations, outlines major actions by and important experiences of China in the fight against COVID-19.

Zhang explained that under the strong leadership of President Xi Jinping, the Chinese government has taken the most comprehensive, the strictest and the most thorough prevention and control measures to combat the outbreak.

China has introduced "early detection, early reporting, early isolation and early treatment" as the guidelines for prevention and control and the approach of admitting patients in severe condition to facilities where the best resources and professionals are pooled, the effectiveness of which has been proven, the letter stated.

China has mobilized medical workers across the country to support Hubei Province. A total of 346 medical teams of more than 42,600 medical workers have been sent there.

Two special hospitals were built within 10 days respectively and 16 temporary hospitals converted from public venues were built in Wuhan, demonstrating China's speed and effectiveness, Zhang said in the letter.

With tenacious efforts, zero new confirmed cases in the mainland of China were reported for the first time on March 18.

Under the strong leadership of the Communist Party of China and the Chinese government and with tremendous sacrifice, 1.4 billion Chinese people have united together in the fight against the pandemic and achieved important periodic results in 83 days.

The letter illustrates in detail China's open, transparent and responsible attitude toward the pandemic since the cases of pneumonia of unknown cause were first detected.