US charity groups show support in fight against Covid-19
People's Daily app
1581714780000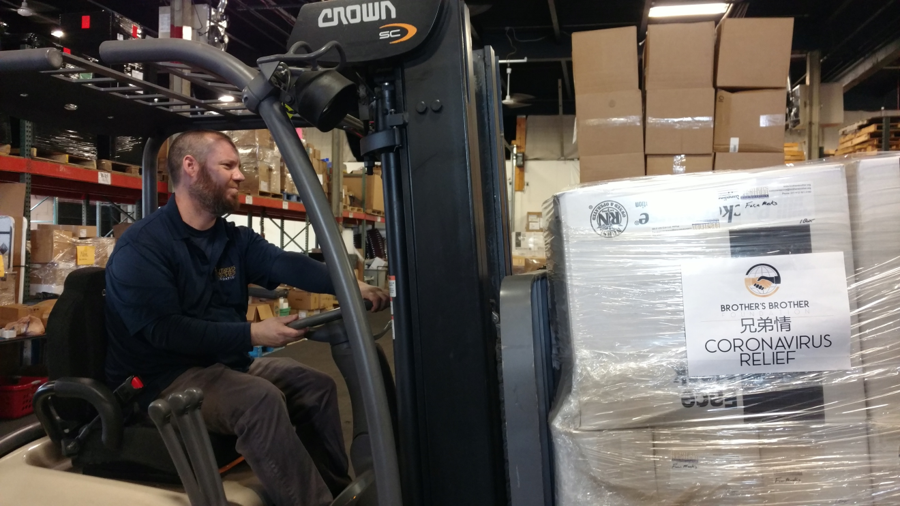 BBF volunteer Paul Babinsak loads face masks onto a truck. (Photo: BBF)
Washington (People's Daily ) - People from all sectors in the US have joined together to send medical supplies to China in the fight against Covid-19.
Pittsburgh, Pennsylvania, sister city to Wuhan, is home to the Brother's Brother Foundation (BBF). The charity recently sent 180,000 medical face masks and protective equipment to China to help fight against the coronavirus outbreak. On January 12, BBF sent its first shipment via Air China from John F. Kennedy Airport.
Assistant Vice President for Disaster Response & Strategic Initiatives of BBF, Sarah Boal, told People's Daily the organization is an international charity and has focused on medical and educational needs worldwide since it was first established in 1958.
"Pittsburg is the sister city of Wuhan, it's especially important for us to able to help as we could," Boal said.
"As long as they need, we will continue to work to make sure we're able to help with China to fight against the novel coronavirus," said BBF President Ozzy Samad, in an interview with People's Daily, and stressed the importance of BBF's relationship with China and the Chinese.
BBF organized efforts among local organizations, including the Chinese Association for Science and Technology – Pittsburgh (CASTP), the mayor's office, the county executive, Sister Cities, and the Idea Foundry to help ensure swift deployment.
"Everyone, especially from China, has been extremely warm and helpful and worked with us closely," Samad said, who is looking forward to visiting Wuhan.
"The Chinese authority and everybody are taking a very active approach, so we are hopeful that the outbreak ends sooner than later," Samad added.
Additionally, the US business community has also sent a shipment of medical supplies to China, including 2 million face masks. The donation was organized by the US-China Business Council (USCBC), the National Committee on US-China Relations and the George H. W. Bush Foundation for US-China Relations.
"At this critical moment, the US private sector stands with and in support with the Chinese people," said Evan Greenberg, the USCBC Chair, Vice Chair of the National Committee and Chief Executive Officer of Chubb.
"In particular, we want to help and to honor the courageous healthcare workers throughout China," said Craig Allen, the US-China Business Council's (USCBC) President.
It is believed that USCBC has donated millions in medical supplies in multiple shipments sent directly to hospitals in the Wuhan region.
"Since our hosting of the Chinese ping pong team in 1972, NCUSCR has stood for strengthening people to people relations between our two great peoples," said NCUSCR President Steve Orlins.
"During this crisis, we are gratified to be able to continue this great tradition by helping to provide urgently needed medical supplies to the Chinese people," said Orlins.
"We are honored and deeply gratified to be one of the organizers of this humanitarian action, a powerful gesture of American friendship and goodwill toward China at this challenging moment," said David Firestein, the inaugural president, and chief executive officer of the George H. W. Bush Foundation for US-China Relations and a founding member of the Foundation's Board of Directors.
Firestein emphasized that "our foundation stands ready to do all in our power to help our Chinese friends fight and defeat this virus."
Most of the donated goods for the upcoming shipment will be rushed to Wuhan hospitals with support from the Chinese People's Association for Friendship with Foreign Countries and China Charity Federation.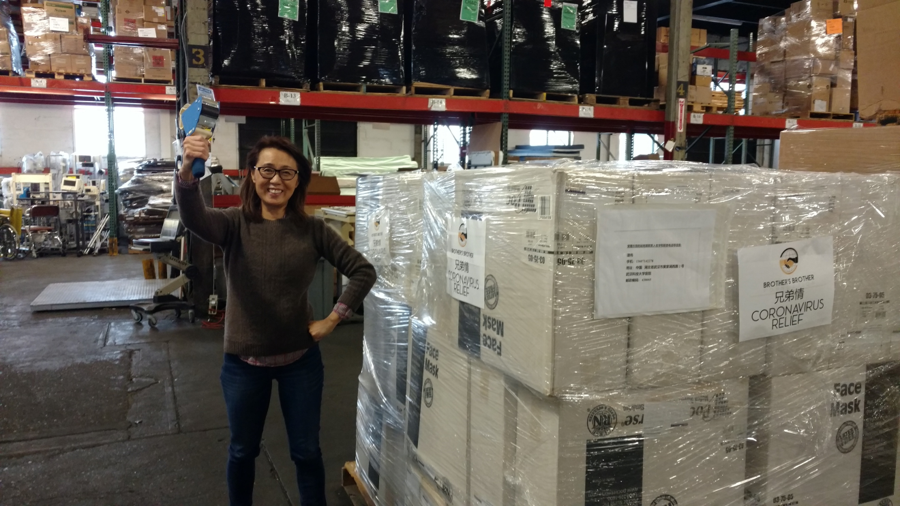 Fang Liu with the Chinese Association for Science & Technology - Pittsburgh Chapter (CAST-P). (Photo: BBF)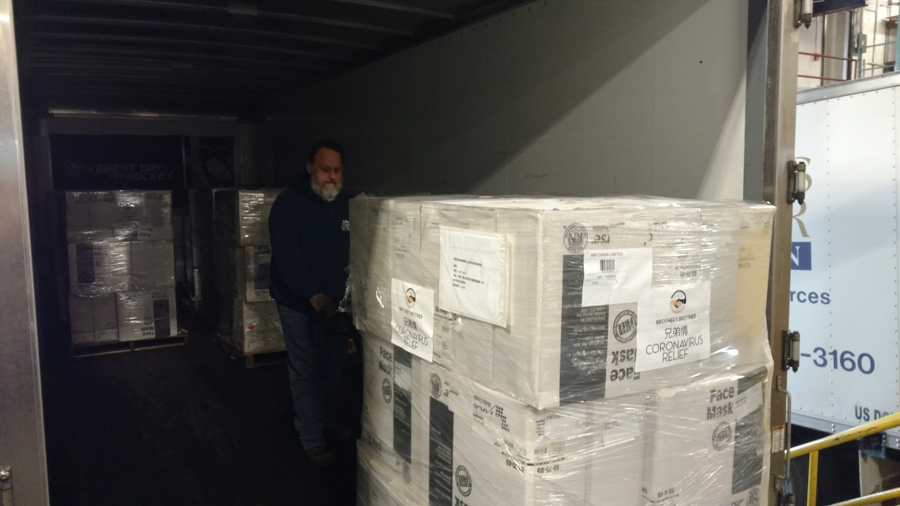 Medical face masks are loaded onto a truck for delivery to JFK Airport in New York. (Photo: BBF)