Penalties heightened for attacks on police
Anyone who attacks a police officer on duty will be given heavier punishment under the law as a new guideline took effect to better protect officers and curb violence against them.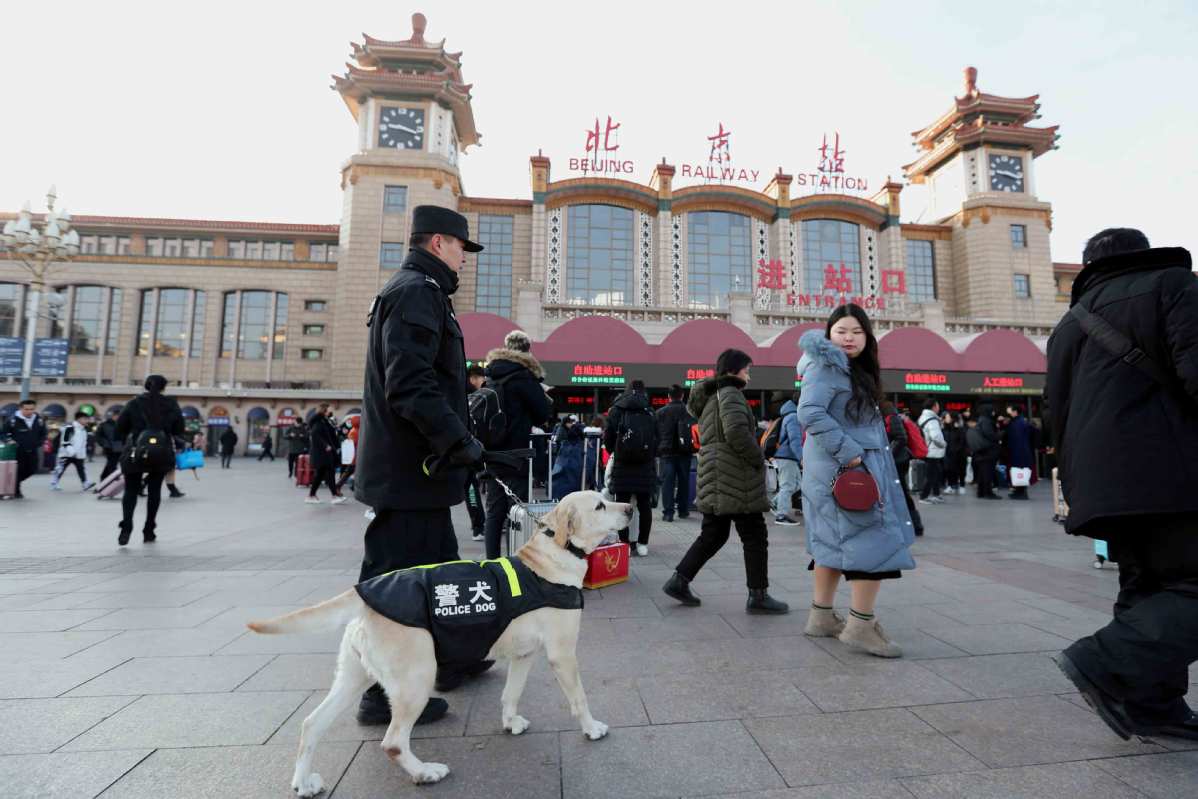 A policeman and a police dog patrol the square in front of Beijing Railway Station on Jan 10. (Photo: China Daily)
If people directly attack police officers or damage a police car or equipment, they will be subject to harsh penalties set for the crime of disrupting public service. If they drive a vehicle and hit or drag a police officer or try to take police weapons, they could be charged with the crime of endangering public security, weapon theft or intentional homicide, depending on the seriousness of the consequences, the guideline provides.
The guideline, jointly issued by the Ministry of Public Security, the Supreme People's Procuratorate and the Supreme People's Court on Dec 27, took effect immediately.
It is the country's first formal rule aimed at punishing those who violently assault police officers in the performance of their lawful duty, ministry spokeswoman Guo Lin said on Friday.
"The police are an important law enforcement force of the country and they perform their duty on behalf of the State," she said at a news conference. "Because of the special nature of the job, police officers are frequently the target of violent attacks, sometimes for revenge, by criminals."
She said attacking the police not only harms the personal interests of the individual officer but also undermines social management and respect for the law.
Sun Ping, deputy director of the ministry's legal affairs bureau, said the guideline explicitly states what kinds of behaviors are subject to criminal punishment and requires tougher punishments in accordance with the law.
She said that, in the past, the absence of unified criteria had resulted in different understandings in legal practice across the country and allowed some criminals to escape punishment or receive lighter penalties.
"The guideline emphasizes protection of police officers in the performance of their lawful special duties ... and can curb frequent attacks," she said.
From 2016 to 2019, prosecutors nationwide charged 79,024 people with obstructing public services.
"Quite a few of those fell in the category of attacking the police," said Gao Jingfeng, an official of the Supreme People's Procuratorate.
While the guideline provides better protection for police officers, Sun said the ministry will continue to push for law enforcement standards and better regulation of police activities so that the public can see justice in every law enforcement action.