HK's new police chief could be 'more decisive' in stopping riots
Global Times
1574188052000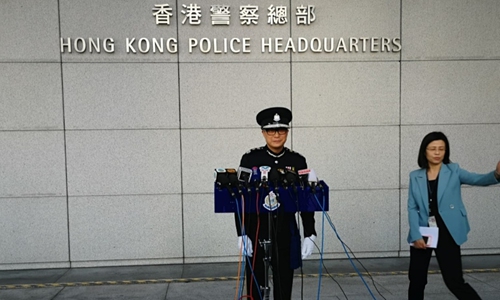 Commissioner of Police of the Hong Kong Special Administrative Region (HKSAR) Tang Ping-keung helds a press conference on Tuesday morning. (Photo: Global Times)
China's State Council on Tuesday appointed Tang Ping-keung as Commissioner of Police of the Hong Kong Special Administrative Region (HKSAR), replacing Lo Wai-chung, as experts and retired senior police officers noted that Tang will likely be more decisive and tougher in helping stop the violence and chaos that has engulfed the city.
The decision was made in accordance with the HKSAR Basic Law, and based on the nomination and suggestion of HKSAR Chief Executive Carrie Lam, the Xinhua News Agency reported on Tuesday.
At Tuesday's press conference at Hong Kong Police Headquarters in Wan Chai, Tang, a 30-year veteran of the force, said it is an honor to be appointed commissioner, but that he is saddened by the unrest over the past five months caused by rioters who have set fires, barricaded roads and assaulted Hong Kong residents, visitors and police.
Hong Kong media reported that Tang is considered more hawkish than his predecessor, suggesting he might take tougher measures to quell the unrest and help restore order. Experts noted that this decision on the new police chief shows that both the central government and the HKSAR government hopes that law-enforcement in the region will be more effective and decisive.
Hong Kong Junior Police Officers' Association (JPOA) Chairman Lam Chi-wai told the Global Times that Tang is a decisive man with strong determination and a very clear mind, and the Hong Kong Police Force in the next stage needs to unite more people from different fields to make joint efforts to stop the violence and chaos.
Joe Chan Cho-kwong, consultant to the JPOA and a retired senior police officer, told the Global Times that "Tang has a good reputation among us, and he is a highly efficient leader. I've known him since the "Occupy Central" incident in 2014, and he also did a good job in dealing with the 2016 Mong Kok riot."
Rioters are holding a grudge against Tang because of his tough stance against rioters in the illegal "Occupy Central" movement and other occasions, and they often fabricated rumors to smear Tang's reputation, such as that he was involved in gangster activities. Tang has dismissed these rumors as unsubstantiated, the People's Daily reported, citing Hong Kong media reports.
Tang was also spotted fighting alongside frontline officers frequently. He was seen in early November clearing away road blocks and garbage, according to media reports.
On Tuesday night, right after he took office, Tang visited Hong Kong Polytechnic University, which has been morphed into the battlefield for three consecutive days.
Tang is a very decisive commander and takes more straightforward tactical action in dealing with rioters who occupied and created chaos at Hong Kong Polytechnic University, Chan said, noting that "we can see Tang's leadership has already started to change the style of police law-enforcement. This could be more effective in stopping the violence and chaos across the city."
Tang said at the press conference that he will take up his new responsibilities in the coming days and will continue to protect all police officers, crack down on rioters' violent crimes and restore social order as soon as possible.
Vowing more support for police, Tang said that while some offenders have been dissatisfied with police operations, most Hong Kong residents stand by their police force.
Tang also said that there is a lot of fake news and false allegations against the police on the internet, and that police will clarify rumors through different channels including press conferences, on social media, and communicating with people from all walks of life to minimize misunderstandings, Hong Kong media reported.
Lam said that Tang has served as a Hong Kong police officer for more than 30 years and has extensive experience in criminal investigations, international liaison, and operational command, China Central Television reported her as saying on Tuesday.
Tang joined the police force in 1987 and was promoted to Deputy Commissioner of Police of HKSAR in November 2018. He has received many awards, including the Distinguished Service Medal, the force's top award, in 2018, reported Hong Kong media.
Lo, who led the city's 30,000-strong police force since 2015, was scheduled to retire in November 2018. However, he was granted another year at that time for hand-over works, according to the spokesperson of HKSAR government.