Chinese Vice Premier Liu He arrives in Washington DC for China-US 'phase one' trade deal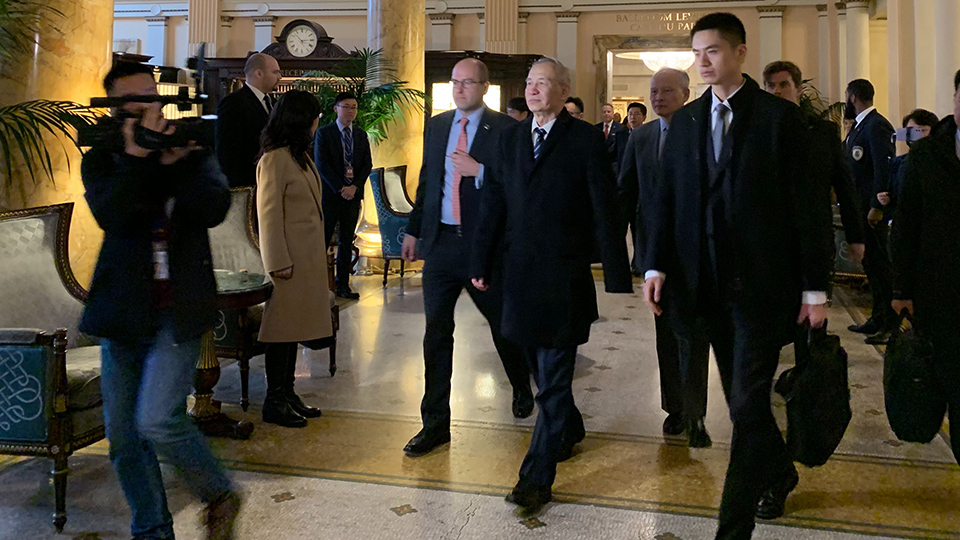 Chinese Vice Premier Liu He arrives at his hotel Monday afternoon in Washington. He is expected to conclude a phase one trade agreement with the US (Photo: CGTN)
At the invitation of the United States, Chinese Vice Premier Liu He - Beijing's chief negotiator for the China-U.S. comprehensive economic dialogue - arrives Monday in Washington to conclude a phase one trade agreement with Washington.
Liu's trip will end on Jan. 15.
China announced on Dec. 13, 2019, that China and the United States agreed on the text for a phase one economic and trade agreement "based on the principle of equality and mutual respect."
The world's two largest economies have spent nearly two years embroiled in a bitter trade dispute that imposed tit-for-tat levies on each other's commodities, mechanical parts and finished goods.
According to the UN, the global economy experienced its slowest expansion in a decade.
The ongoing China-U.S. trade war contributed to conditions pushing the entire global economy to the edge of a possible recession in 2020.
Chinese officials say China and the United States must deal with bilateral economic and trade relations with the "big picture" in mind.
According to Xinhua, "the text includes nine chapters: the preface, intellectual property rights, technology transfer, food and agricultural products, financial services, exchange rate and transparency, trade expansion, bilateral assessment and dispute settlement, and the final terms," according to a statement issued by China last month.
The two sides agreed the U.S. will fulfill commitments to phase out additional tariffs on Chinese products, and change course from raising tariffs to reducing them.
They say reaching the agreement will not only serve the core interests of both countries, but also the world.