Hong Kong police say officer opening fire follows guidelines
HONG KONG, Nov. 13 (Xinhua) - Hong Kong police on Wednesday defended the action of a police officer shooting a rioter two days ago, saying that the officer reacted according to the guidelines.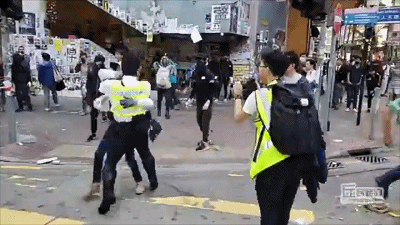 (Photo: haiwainet.cn)
The police have rules and guidelines on the use of firearms, Senior Superintendent of Operations Wong Wai-shun said at a press briefing here on Wednesday.
According to the police's principles on the use of force, police officers will give a warning prior to the use of firearms, then they will use the minimum required force, and stop immediately after using it, Wong said.
Wong said his colleague's shooting in Sai Wan Ho during a dispersal operation on Monday was in response to a life-threatening situation, and the use of firearms was the minimum required force under that circumstance.
After the gunshot, the officer found that no one tried to snatch his gun or harm him again, so he withdrew his gun and arrested the suspect, Wong said, adding that the officer's actions were in line with the principles of using the gun.
The police had said earlier that the personal data of the officer's family members had been leaked unlawfully online, and there had been online threats against his children.