39 people injured in Chinese primary school knife attack
People's Daily
1591289973000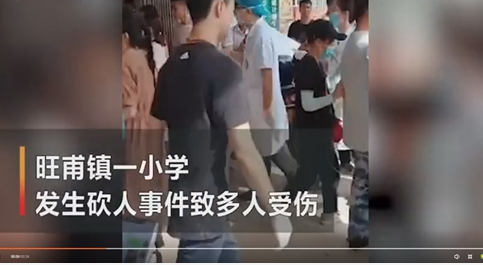 Thirty-nine people, including students and staff members, were injured in a knife attack at Wangfu County Center Primary School in Wangfu, Wuzhou, South China's Guangxi Zhuang Autonomous Region on June 4, 2020. (Photo: Global Times)
Thirty-nine people, including students and staff members, were injured in a knife attack at Wangfu County Center Primary School in Wangfu township, Wuzhou, South China's Guangxi Zhuang Autonomous Region at around 8:30 am on Thursday morning.

An emergency report issued by the local government said that eight ambulances were dispatched to the site and the injured students and staff had been transferred to local hospitals.

The alleged attacker has been identified as a 50-year-old security guard at the school named Li Xiaomin. Police have detained the suspect.

The publicity department of the Cangwu county government, which administers the Wangfu township, told the Global Times on Thursday morning that authorities are focusing on treating the injured victims.

Cangwu government told the Global Times around noon that 37 of the victims suffered from minor injuries and two were badly injured. None of the injuries is life-threatening.

Wangfu local police station told the Global Times that Wuzhou police have taken over the case and the criminal investigation into the incident is ongoing.

The identity of the two badly wounded victims is not yet confirmed, and the government employee said they could not confirm whether they were the school headmaster and a student as mentioned in previous township level government notice.