Spring Festival pork supply boosted by reserves
Several ministry-level departments, including those responsible for commerce, health, and market regulation, have recently responded to issues of public concern.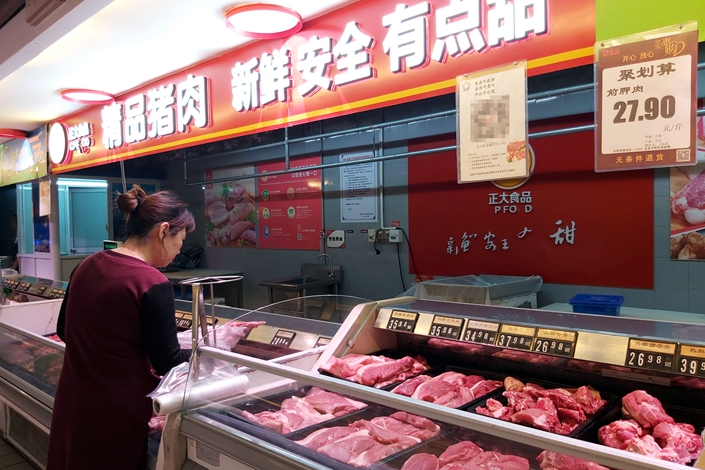 (File photo: VCG)
Ministry says wholesale pork price down 16.3%
The supply of pork will increase significantly for Spring Festival, Xinhua News Agency quoted a Ministry of Commerce official as saying.
The ministry has worked with other departments and made plans to ensure the supply of pork during Spring Festival, and has distributed State pork reserves to the market since mid-December, Wang Bin, deputy director of its department of market operation and consumption promotion, said on Dec 30.
The amount distributed will increase, he said, pointing out that monitoring by the ministry showed that from Dec 16 to 22, the average wholesale price of pork in 36 large and medium-sized cities had dropped by 16.3 percent from early November to 43.76 yuan ($6.28) a kilogram.
The ministry will closely follow the supply and price of pork and other essentials at Spring Festival, he said.
Schools told to operate their own canteens
The General Office of the State Administration for Market Regulation and three other departments have issued a guideline to strengthen food security at schools and kindergartens.
The guideline stipulates that middle and primary schools and kindergartens should operate their canteens themselves, if they can, instead of contracting them out to catering companies.
Also, day schools and kindergartens should not have grocery stores or supermarkets on campus, and those that do should gradually close them.
The decision was made to help students and young children develop healthy dietary habits, and reduce their consumption of snack food, the administration said in an online statement published on Dec 30.
The administration said some caterers outside schools tend to have lax food safety management and focus only on economic gains, which is why the guideline requires schools to cater for students themselves.
Guideline sets standards for care of the elderly
The National Health Commission, the Ministry of Civil Affairs and the National Administration of Traditional Chinese Medicine have issued a guideline for institutions that offer both medical service and elderly care.
It includes basic standards for such institutions, including the kinds of departments and equipment they should have, and the qualifications required for staff members.
It also specifies the kinds of services the institutions should offer, and the standards for such services.
According to the guideline, the institutions should offer at least three kinds of services-basic services that include catering and cleaning, nursing services and psychological support.
Psychological support should be provided by counselors, social workers, and medical workers or nurses who have taken psychology courses.
They should help elderly people familiarize themselves with the environment of the institutions and blend in, follow their mental health and urge third parties, such as the seniors' family members, to pay them regular visits.
Institutions that take in elderly people with dementia should take effective measures to ensure their safety, including installing electronic surveillance in public areas, the guideline says, adding they could also offer cognitive rehabilitation services if they have that capacity.
Website to detail local governments' debts
A website was launched on Dec 31 to share information of local governments' debts, Xinhua News Agency reported.
The China Electronic Local Government Bond Market Access platform (http://www.celma.org.cn) run by the Ministry of Finance will release information including local governments' debt ceilings and outstanding debts and the bonds they have issued.
According to a ministry center that studies and evaluates government debt, the establishment of the platform is an important step to deepen government information disclosure in key areas and respond to public concerns.
The platform will help local governments better manage their debts and fend off and defuse debt risks and promote healthy development of the economy and society, the center said.