HKSAR gov't strongly condemns vandalistic, violent acts of radical protesters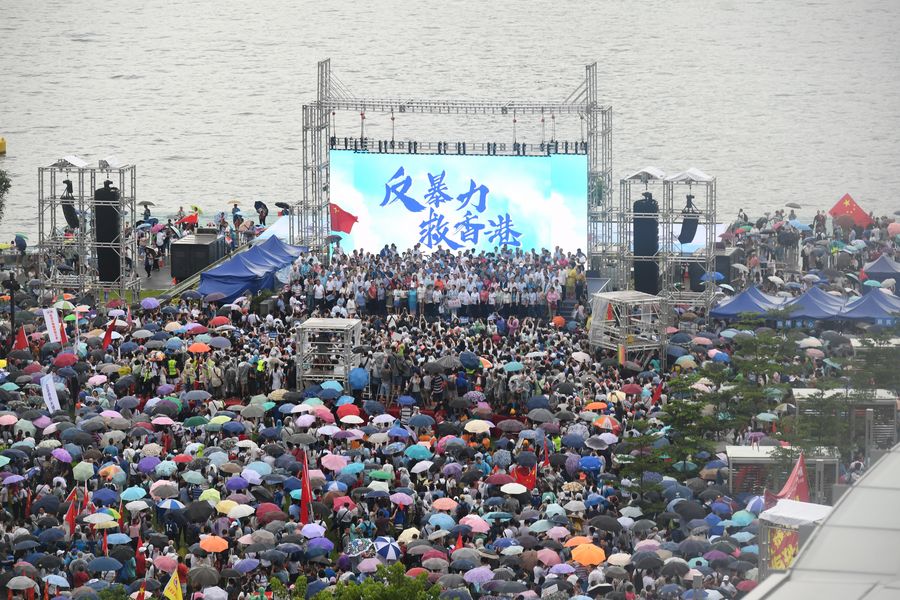 People from all walks of life take part in a rally to voice their opposition to violence and call for restoring social order, expressing the people's common will to protect and save the city at Tamar Park in south China's Hong Kong, Aug.17, 2019. (Photo: Xinhua)
HONG KONG, Aug. 26 (Xinhua) -- Protests turned violent in Tsuen Wan, in the western New Territories of Hong Kong, on Sunday as radical protesters hurled petrol bombs at police officers and brutally assaulted them.
Several police officers were injured after they were attacked by rioters while they were on duty in Tsuen Wan. Hong Kong's Commissioner of Police Lo Wai-chung visited the injured officers in Princess Margaret Hospital on Sunday night.
Lo expressed strong anger and condemnation against the reckless, violent and unlawful acts and said the police force will strive to investigate all violent acts that have caused serious even life-threatening injuries.
Sunday's marches took place in Tsuen Wan and neighboring areas. After the marches ended, violent protesters deviated from their routes to attack police officers.
Some radical protesters hurled bricks and petrol bombs at police officers outside Yeung Uk Road Market in Tsuen Wan. They also aimed strong light beams at the officers and setting up barricades to confront the police.
Masked protesters, armed with poles and hats, escalated their violence in the afternoon and evening. They blocked various roads in Tsuen Wan, paralyzing traffic in the vicinity.
Having given repeated warnings to the protesters in vain, anti-riot officers fired tear gas and used minimum force to disperse them.
At the site, the police repeatedly unfurled signs for the demonstrators to leave, but demonstrators ignored the warning of the police. A police commander at the scene ordered to deploy at least two specialized crowd management vehicles, commonly known as the "water cannon vehicles", to disperse the crowd.
At around 7:30 p.m., many masked demonstrators who had been dispersed gathered again in Yi Pei Square of Tsuen Wan, holding iron bars, wooden sticks and bricks. They smashed doors and windows of several shops and broke some closed-circuit televisions.
About half an hour later, several anti-riot police officers arrived at the scene where shops were vandalized, and were immediately surrounded and assaulted brutally by a large group of masked radicals holding long metal rods.
With only small shields for defense, the police officers tumbled backward along the Sha Tsui Road, with the violent protesters chasing after them. In face of the extremely dangerous situation, a police officer fired a warning shot into the sky.
Superintendent Leung Kwok-wing of the New Territories South Regional Crime Headquarters said the police fired the shot as his life was in danger.