Podcast: Story in the Story (4/17/2020 Fri.)
People's Daily app
1587058333000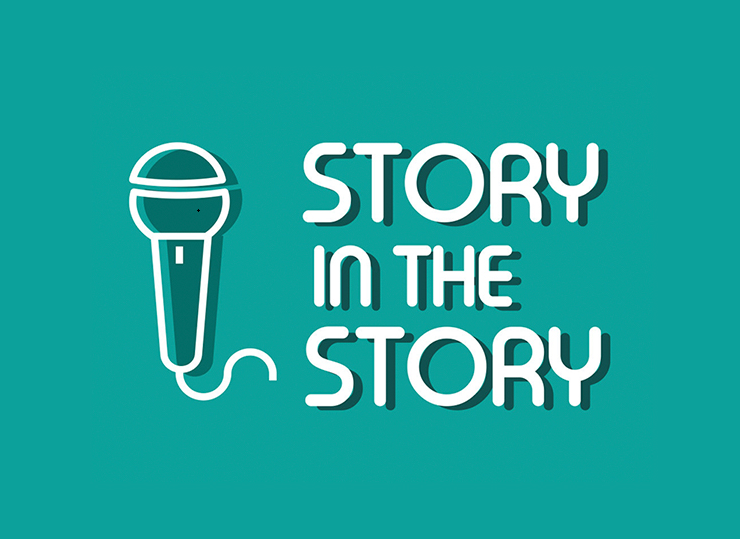 From the People's Daily App.
This is Story in the Story.
Traditional villages in east China's Jiangsu Province are the subject of new moves by provincial authorities to protect them.
Five governmental departments in Jiangsu have published a list of 107 provincial-level traditional villages in a notice and urged localities to formulate plans to protect the villages based on each village's specific condition.
The province has also prioritized passing on traditional craftsmanship by cultivating a new generation of artisans. They encouraged the artisans to join in the protection of the villages.
"Protecting traditional villages involves more than preserving some buildings, wells or trees," said Zhao Qinghong, with the provincial department of housing and urban-rural development. "We need to protect the villages' traditional layout, their history and the natural environment."
Today's Story in the Story looks at the core elements of protecting traditional villages while also empowering women in villages.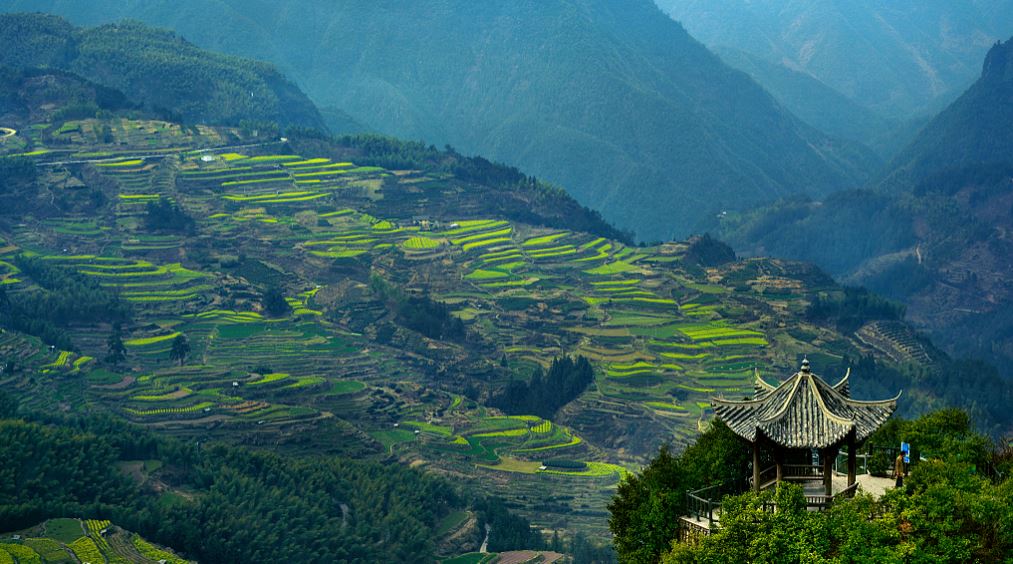 Nanjianyan scenic spot, Lishui City, Zhejiang Province, China. (Photo: VCG)
Legislative measures have been taken to protect the largest traditional village cluster in Lishui City, east China's Zhejiang Province.
Lishui boasts the largest traditional village cluster in east China, with 158 traditional villages, accounting for 39.4 percent of the total in the province.
Traditional architecture is a core element in the preservation of the traditional villages, for which the regulation has created a list to clarify the standards when it comes to reconstruction and renovation of the architecture.
Residents in traditional villages are encouraged to live and work in their hometowns, developing rural tourism, exhibiting local culture, agricultural production, education and vocational training, as well as modern service industries.
At the same time, there's a movement going on in Guangdong Province to research and empower women in rural areas to help them discover themselves and promote their development.
They are often a neglected group when it comes to gender equality and female empowerment and many rural women, mostly between 45 and 60, are not well-educated.
Zou Weiquan, with the Rural Women Development Foundation of Guangdong province, has been carrying out various programs for the non-governmental organization since 2013.
"Sexual discrimination is a traditional issue rooted in history and culture, which cannot be easily changed", said Zou, who has a doctoral degree in anthropology.
She added that the situation is more pervasive and severe in rural areas as women there might not even realize that they are treated unequally.
"So, we hope to mobilize them to do more things that could benefit the development of the village. And when they engage in the process, their voice will increase, which will help them achieve self-development to promote gender equality in rural areas," she added.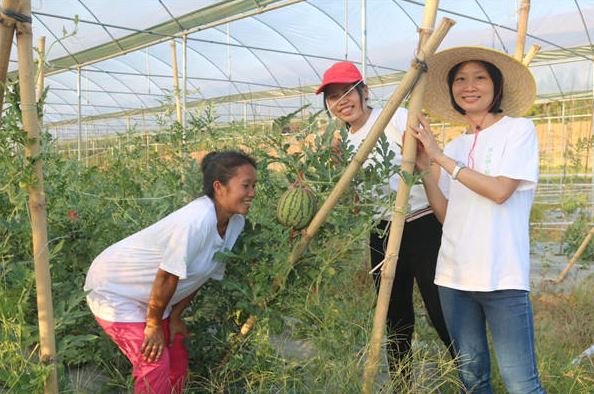 Zou Weiquan (right), who works to promote rural women's development, visits an ecological farming base with the villagers she's trying to help in Shixing county, Guangdong province. (Photo: China Daily)
Zou worked for three years in a village, Leming, in north Guangdong province. It is isolated due to poor transportation links, lacking adequate resources, special agricultural products and social networks, Zou said, adding that these are the areas where NGOs can play a vital role.
Zou also reckons that helping rural women is not just about finding them a way to make a living, but also trying to satisfy their mental needs.
Wu Xiulan is one of the key players in a local community.
Knowing the Rural Women Development Foundation of Guangdong focuses on providing help to rural women, Wu registered a local social work center in her county in 2016 to help those in difficulties.
"I found that rural women lack understanding about the outside world, and most of them were left behind. I was poor and low-educated when I was young, but now I want to do something for them," she said.
Speaking of her impressions of Zou, Wu said that "she is very tender-hearted, considerate, and she is capable of seeing and solving problems and could also tolerate us."
Zou believes that rural women are an important part of rural vitalization. She noted that rural vitalization often lacks a gender perspective, focusing only on industries and building facilities, but ignores mobilizing local communities.
"Only by uniting people can we improve the quality of rural vitalization," she said.
(Produced by Nancy Yan Xu, Brian Lowe, Lance Crayon and Da Hang. Music by bensound.com. Text from Xinhua, China Daily and CGTN.)