Hong Kong police says will not use force if not attacked by protesters
Global Times
1566063596000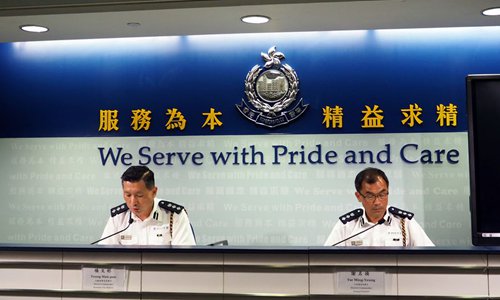 Yeung Man-pun (L), commander of Kowloon City District and Tse Ming-yeung (R), commander of Central District, in a press conference held by Hong Kong police, August 16, 2019 shows . (Photo: Xinhua)
A senior Hong Kong police officer said on Friday that the police will not use force if they do not face violent attacks by protesters.
Yeung Man-pun, commander of Kowloon City District, made the remarks at a press briefing when replying a question concerning the police's handling of the protests in the past two months.
When asked if the police force bears any responsibility for the increasing violence, Yeung said, "I think you have to set your logic correct. We are responsive. If there are no violent charging at our check lines, no one attacking us, attacking our police station, we are not gonna use force to stop it."
Responding to another question, Yeung said, "We (the police force) all face tremendous pressure, long working hours, and arduous working conditions."
He also expressed confidence that the police is capable of maintaining law and order in Hong Kong.
The Hong Kong police said on Thursday that they have arrested 748 people during a series of violent protests since June 9. Among the arrested, 115 people have been charged with various offensives.
During the operations, 177 police personnel have sustained injuries, including 11 policewomen.