China refutes Pompeo's George Floyd death propaganda accusation
People's Daily
1591620306000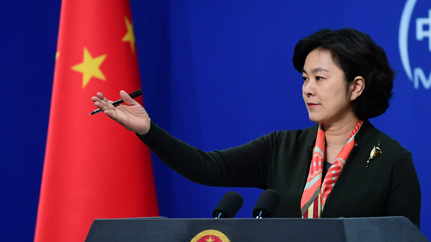 File photo of Foreign Ministry spokesperson Hua Chunying. (Photo: CGTN)
U.S. Secretary of State Mike Pompeo's accusation that China has used George Floyd's death for propaganda purposes has been criticized as "immoral" by the Chinese Foreign Ministry.
Foreign Ministry spokesperson Hua Chunying made the comments at a news briefing on Monday.
Noting that the U.S. is suffering from both the COVID-19 pandemic, with over 1.9 million confirmed cases and a death toll of over 110,000, and ongoing protests sparked by the police killing of Floyd, Hua said she is truly saddened for the U.S. people and hopes they can get through the current difficulties.
"It's sad Mr. Pompeo kept lying and slandering under the current situation," she added.
Americans from all walks of life agreed that racism is a systematic problem and reality in the U.S. that needs reflection, the spokesperson said.
Non-interference in other countries' internal affairs is a consistent basic principle of China's diplomacy, Hua added, before saying she hoped all countries, including the U.S. can also follow this path.
She added U.S. politicians need to listen to people's voices instead of wasting time by trying to shift blame to China.