Five million people left Wuhan before the lockdown, where did they go?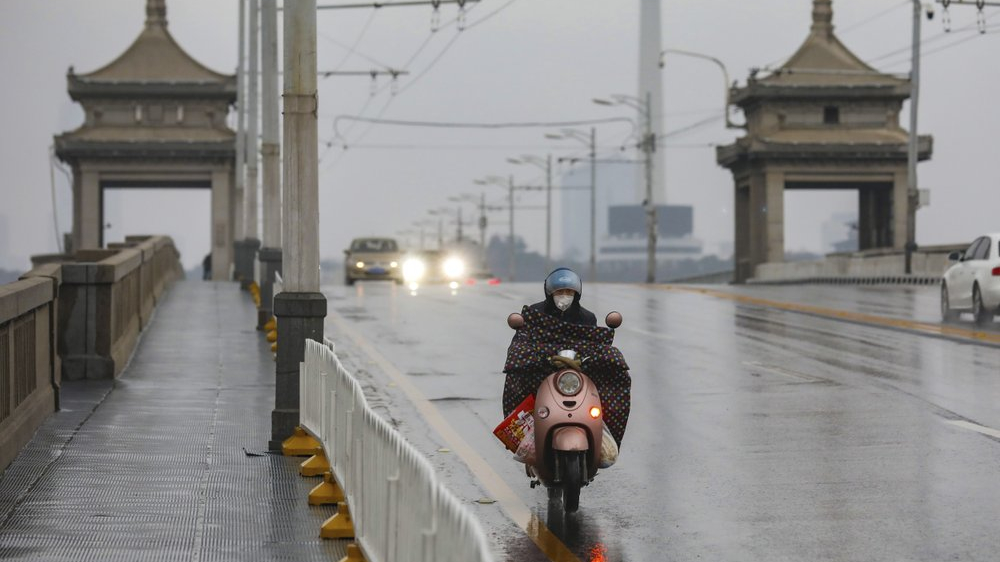 A motorcyclist rides across a bridge in Wuhan in central China's Hubei province, January 25, 2020. (Photo: AP)
About five million residents left Wuhan, before the lockdown due to the novel coronavirus epidemic and the Spring Festival holiday, mayor Zhou Xianwang revealed on January 26 at a press conference.
Wuhan and several cities in Hubei Province shut down all inbound and outbound transportation on January 23 hoping to stop the new virus from spreading to other parts of the country. However, many had already left the city for the holiday, while others rushed out after the lockdown was announced on Wednesday night.
Where did they go to?
Wuhan is the hub of industry and commerce in central China, home to Hubei Province's biggest airport, deep-water port and one of the giant internal migration cities in China, so it's not rare to see many people leaving for the Lunar New Year. According to data released by Wuhan Municipal Bureau of culture and tourism, about 2.4 million people left Wuhan during the Spring Festival travel rush in 2018.
According to Baidu's Big Data Lab, the biggest migrant population in Wuhan is from Xinyang, a prefecture-level city in central China's Henan Province, followed by Chongqing, the largest municipality in southwest China and near Wuhan, accounting for 1.54 percent and 1.4 percent respectively. Wuhan's migrant population is also from Nanyang, Zhumadian, Guangzhou, Zhoukou, Beijing, Shangqiu, Shenzhen and Changsha, five of which are in Henan Province.
As a result, many of the people who left Wuhan returned to their hometown, especially the above cities.
Baidu Map also reveals that before the lockdown, 60-70 percent of the people who set out from Wuhan went to other cities in Hubei Province, followed by Henan Province, Hunan Province, Anhui Province, Chongqing Municipality and Jiangxi Province.
Inside Hubei Province, Xiaogan and Huanggang are the two cities that saw the highest proportion of return passenger flow from Wuhan. From January 10 to 22 this year, people left Wuhan to reach Xiaogan and Huanggang accounted for 13.03 percent and 12.64 percent of the daily average.
Wuhan is also popular among tourists for its architecture, spicy noodles and proximity to the Yangtze River. According to domestic departure data released by Flight Master, a leading travel platform in China, Beijing, Shanghai, Guangzhou, Chengdu, Haikou, Kunming, Xiamen, Shenzhen, Sanya, and Nanning were the top 10 cities for which people left Wuhan airport from December 30 to January 22.
In the 20 days before the lockdown, more than 60,000 people flew from Wuhan to Beijing, and more than 50,000 people flew from Wuhan to Shanghai (Hongqiao Airport and Pudong Airport), Guangzhou and Chengdu respectively.
In terms of Hong Kong, Macao, and Taiwan, Hong Kong ranks first of outbound flights from Wuhan, but the passenger's flow is no more than 10,000 respectively.
The primary destination for outbound flights from Wuhan was Bangkok, Thailand with a maximum of 10,000 passengers from December 30 to January 22. Singapore was second in the number of outbound flights and Japan's Tokyo was third.