Xi's stories: 'Talent is fundamental to economic development'
People's Daily app
1581817671000
"Talent is fundamental to economic development, and it should be taken as a strategic priority. Without talent, the people cannot get rich, the county cannot prosper," Xi Jinping said during the term he served as deputy secretary and then secretary of the CPC Zhengding County Committee from 1982 to 1985.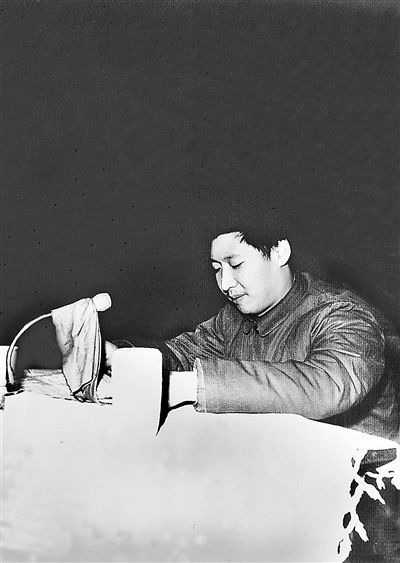 Xi Jinping, then secretary of the CPC Zhengding County Committee, delivers a speech at a meeting on developing commodity production on December 22, 1983. (File Photo)
In Zhengding, Xi attached great importance to the recruitment and use of talent.
Under Xi's proposal, Zhengding built a directory of talent in 1982. More than 2,300 people with technical skills in the county were listed and classified according to their major, specialty and work experience.
In 1983, Zhengding sent out a recruitment notice written by Xi to talented people across the country. The regulations detailing the preferential treatment the county was offering were published as the lead of Hebei Daily's front page on March 29. The news stirred nationwide attention. That year, Zhengding attracted 46 talented people from all walks of life and 257 scientific and technological skilled workers a year later.
To build an economic advisory body for Zhengding, Xi sent more than 100 letters to experts and scholars all over the country. A total of 53 people readily accepted the invitation. Among them were top experts from all walks of life, including mathematician Hua Luogeng and economist Yu Guangyuan. By imparting scientific knowledge, helping set up research laboratories, offering medical care and so on, they had made great contributions to the county's development.
Qiu Binchang did well in corporate management in Wuxi, East China's Jiangsu Province. Xi met him during a business trip to Wuxi in 1984, and managed to persuade him to run a fuel injection equipment factory in Zhengding which was on the verge of closing down, with a deficit of 500,000 yuan ($71,460).
Qiu sold all the overstocked products in the factory the next day after he became director of the factory. Within a year, the output value of the factory had doubled. He worked there for more than 10 years until he retired.
Another story about Xi's seeking an expert was even more impressive. Wu Baoxin worked in a machine tool accessory factory in Shijiazhuang, the capital of Hebei. But his expertise was in another field — cosmeceutical research and development. The face lotions he developed sold well throughout the country at that time. However, his employer had complaints about his avocation.
Wu then sent a message to Zhengding, expressing his desire to work in the county. After learning this, Xi, along with his colleagues, went to Shijiazhuang to invite him. It was around 10 pm when they arrived at the community where Wu lived. But they didn't have Wu's address, so they inquired door-to-door, but no one knew the exact location of Wu's apartment.
Xi had an idea. He shouted out loudly Wu's name downstairs in the community. Wu came out after hearing the call and they had a long and candid talk till dawn.
Wu accepted Xi's invitation the night, and took to Zhengding his cosmetic project, which helped make a profit of over 300,000 yuan for the county within a year.
The importance Xi laid on talent boosted the economy of Zhengding. In 1983, the total yield of industry and agriculture in the county totaled 277.81 million yuan, 63.3 percent higher than in 1979.
(Compiled by Huang Jingjing and Cao Mengqi; Source: Xi Jinping in Zhengding County, a book about Xi's experience as a county official. Featuring interviews mainly with Xi's colleagues at that time, the book was published by the Party School of the Central Committee of CPC publishing house in March 2019.)