'Fang Cang' shelter hospitals adopt heating methods in Wuhan
People's Daily app
1581780224000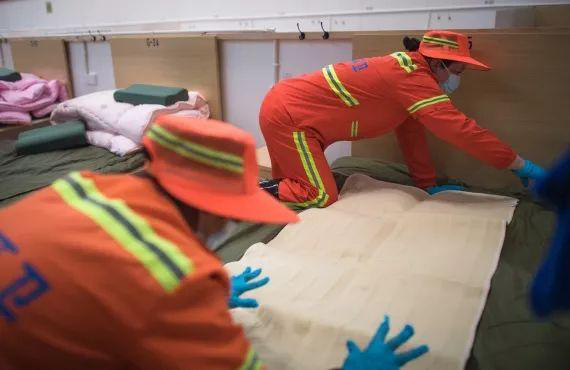 Workers lay electric blankets for patients. (Photos: social media)
Wuhan (People's Daily) - Rain and snow began to fall in Wuhan on February 14. The temporarily-built "Fang Cang" shelter hospitals adopt a variety of heating methods to help medical staff and patients withstand the cold weather.
In the afternoon that day, the Huangbei shelter hospital urgently purchased 130 quilts and distributed down jackets for all medical staff and patients.
Small electric heaters.
The Jiangan shelter hospital also provided an additional 300 quilts. The Qiaokou shelter hospital purchased more than 400 down jackets, and the Qingshan shelter hospital distributed thick socks and long down jackets.
On February 15, four electric heating boilers purchased by the Jianghan shelter hospital arrived in Wuhan. The staff will try to put them into use on the evening of February 16.
Wuchang, Hanyang and Jianghan shelter hospitals distributed electric blankets to each patient when they were admitted. The Jianghan shelter hospital also distributed 50 electric heaters, and the indoor temperature reached above 10 degrees Celsius, which was the same as the temperature in the hospital before cooling.