China sees COVID-19 vaccine partners Cambodia, UAE achieve highest inoculation rates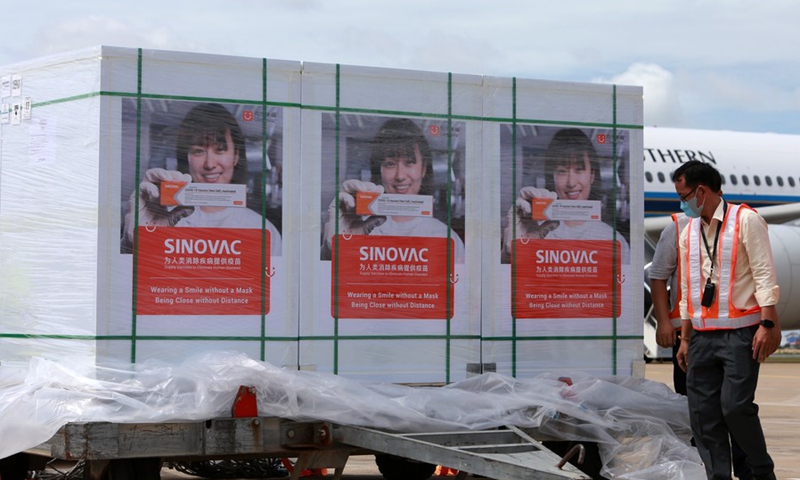 With close connection with China on COVID-19 vaccines, Phnom Penh in Cambodia has become the capital city with the highest vaccination rate in the world, while the United Arab Emirates now has the highest rate in the world.
With China being the main source of vaccines, Cambodia has made its capital city Phnom Penh become the most vaccinated capital in the world with around 99 percent of adults fully vaccinated, according to Mekong Strategic Partners, an advisory firm headquartered in Cambodia.
China's another close partner in COVID-19 vaccine development, the UAE, has the highest fully vaccination rate of 77.1 percent in the world as of Tuesday, according to statistics from Our World in Data of the Oxford University.
On Saturday, another 2.5 million doses of the Sinovac COVID-19 vaccine arrived in Cambodia, of which two million were purchased and 500,000 donated by the Chinese pharmaceutical firm and facilitated by the Chinese government, reported Phnom Penh Post.
Cambodia was among the first batch of countries that received COVID-19 vaccine aid from the Chinese military at the beginning of 2021.
The Southeast Asian country has received nearly 30 million vaccine doses through purchase and donation as of Saturday and China has been the main source of vaccines for Cambodia, said Cambodian Prime Minister Hun Sen.
Cambodia is expected to complete its vaccine program eight months ahead of plan and up to 12 months before its neighboring countries, reported Cambodia media Khmer Times.
The UAE has been running the world's fastest vaccination campaign for most of the past six months that started with a vaccine developed by Sinopharm.
The Middle East country was the world's first country to offer Chinese-developed COVID-19 vaccines to all citizens and residents for free in December 2020.
The country also has the world's earliest overseas production line of China's COVID-19 vaccines, and is also the gulf region's first production base for COVID-19 vaccines.
According to a report by the South China Morning Post on Tuesday, the UAE has approved the therapeutic use human trials of a Chinese COVID-19 vaccine developed by Beijing-based YishengBio, with efficacy studies on mild to moderate COVID-19 infections to be carried out first.
On August 29, the COVID-19 neutralizing antibody detection kit (ELISA) produced by Shanghai Geneodx, a subsidiary of Sinopharm, received approval for public use from UAE's Ministry of Health and Prevention.