Beijing hospital back to normal after plague scare
Global Times
1573647477000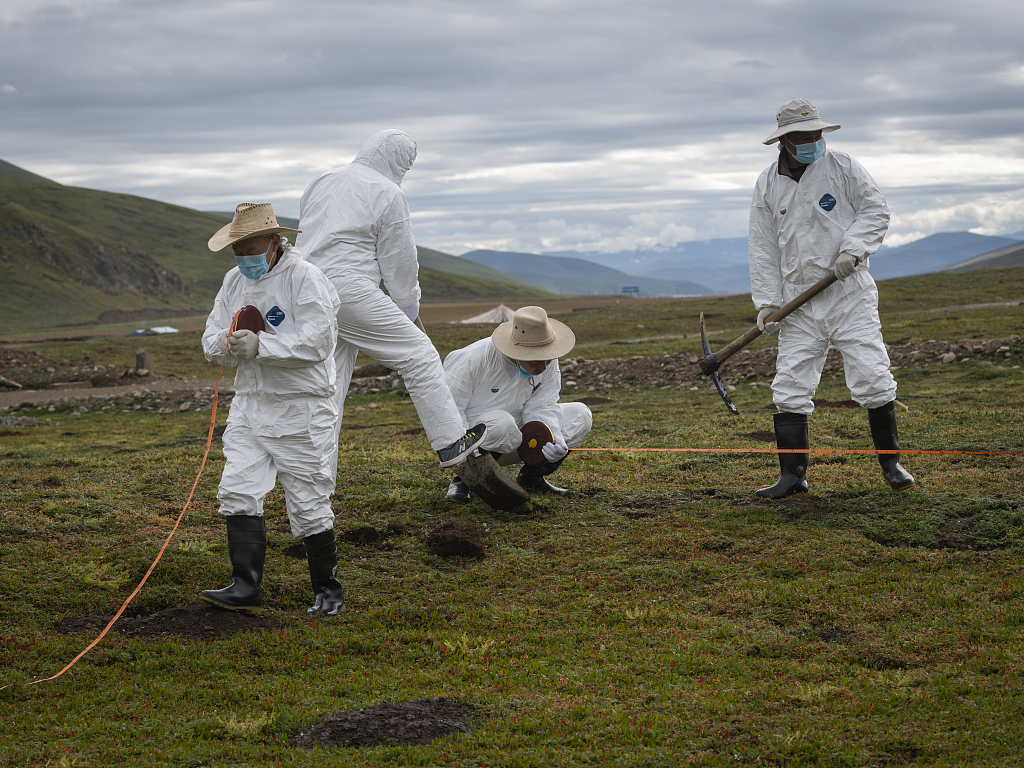 Mice control team works in Ganzi, Southwest China's Sichuan Province to examine the population of the rodent and test whether they carry plague bacteria in September 2019. (Photo: VCG)
The emergency department of Chaoyang Hospital in Beijing returned to normal operation on Wednesday after a temporary shutdown on Tuesday reportedly due to two patients confirmed to have been infected with plague.
Both routine departments and the emergency room are running normally, an employee from Chaoyang Hospital told the Global Times on Wednesday morning.
The patients from Xilin Gol League, North China's Inner Mongolia Autonomous Region, were confirmed on Tuesday to have been infected with pneumonic plague. Prevention and control measures have been taken, the health commission from Xilin Gol League and Beijing's Chaoyang district jointly confirmed, after rumors about the two patients caused panic among some residents in the capital.
The emergency department at Chaoyang Hospital had changed its chairs, and a medical intern at the hospital said they were asked not to go to the emergency department and shorten their stay in the hospital, Caixin Media reported on Tuesday night.
Plague is characterized by rapid onset, short duration, strong infectivity, high mortality and rapid spread, reminding people of SARS (Severe Acute Respiratory Syndrome), which caused a global epidemic and took the lives of hundreds of people in China.
Zhou Zijun, a professor at Peking University's School of Public Health, noted that residents should not be too worried about the disease.
The two patients reportedly arrived in Beijing last week. Considering the short incubation period, which usually lasts for three to five days, if they had caused epidemic, more cases should have broken out already, Zhou said.
Pneumonic plague is caused by bacteria, which Zhou noted is less contagious than SARS, which was caused by a virus.
The disease can be treated with antibiotics, and its rareness means many current antibiotics would be effective, Zhou said.
Beijing has been monitoring plague for years and found no case of mice carrying Yersinia pestis, the bacteria that causes plague.
But the microbe has been found in wild rodents such as marmots in China, with 11 infectious regions in Southwest China's Tibet Autonomous Region and Northwest China's Qinghai and Gansu provinces and Xinjiang Uyghur Autonomous Region among others.
The bacteria are existent in these areas and some local herders practice the tradition of hunting field mice and marmots, causing the high possibility of contact with bacteria carriers, media reported.
Human infection cases and deaths have occasionally been reported in China. There were three cases in 2014, and one each in 2016, 2017 and 2019 of plague-caused death, according to statistics from the National Health Commission.
A 38-year-old man in Gansu Province died of pneumonic plague in 2014. More than 150 people who were in contact with the man were quarantined, the Xinhua News Agency reported.
In 2009, three people died from the disease and 332 close contacts were quarantined in Qinghai Province. The first victim died after burying his dog, which was suspected of eating an infected marmot.
Zhou advised people to avoid crowds or traveling to infected regions.
Zhou also suggested that the relevant authorities give up to date information to the public promptly to dispel concerns. Such information will help ordinary people understand the situation and take necessary measures, he said.
Pneumonic plague, if untreated, has a fatality rate of 30 to 100 percent. The disease was called Black Death and infamous for killing millions of people in Europe during the Middle Ages. Another epidemic lasting from the 19th century to the mid-20th century also claimed millions of lives globally.