China's resort island Hainan opens door wider to the world
HAIKOU, Nov. 16 (Xinhua) -- A new air route connecting the city of Busan, the Republic of Korea and Haikou, capital of China's southernmost province of Hainan, will begin running on November 27, Hainan's Meilan International Airport confirmed.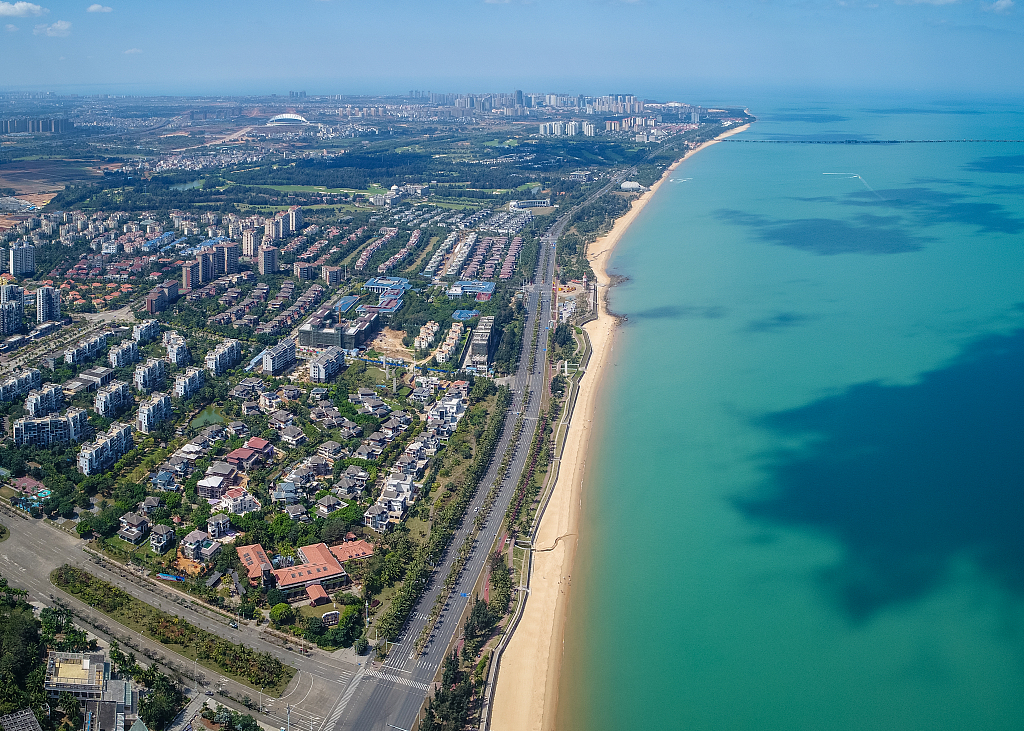 File photo: VCG
Operated by Air Busan, the flight will be carried out twice a week. It is one of the 24 international air routes newly opened in Hainan this year.
Hainan, once an isolated and backward island, has stepped up efforts to launch more overseas air routes to reinforce its connection with the world.
So far, the province has 98 overseas air routes, according to the provincial transport authority.
Hainan aims to enable people to have trips between the island and 21 countries and regions in Asia within four hours and 59 countries and regions spanning across Asia, Australia, Europe and Africa within eight hours.
From January to October, a total of 17,000 overseas flights took off and landed in Hainan, up 23.3 percent from a year earlier. Passenger throughput also saw a rise by 28.7 percent year on year to 2.1 million during the period, the provincial transport authority said.
"Since last year, more and more international airlines and air charter companies have sought to open air routes to Hainan," said Lin Shan, who works in the marketing division of Haikou Meilan International Airport.
China aims to build Hainan into a globally influential tourism and consumption destination by 2035. New flights are expected to bring more international travelers to enjoy the beautiful scenery, beaches and sea.
Sun Dahai, an official of the Hainan Provincial Committee of the Communist Party of China, said Hainan has rolled out more favorable policies for inbound and outbound trips.
Peter Sudbeck never expected traveling to China would be so convenient.
"It was really easy to get to China," said Sudbeck, director of a national park in Germany who came to Haikou for an academic seminar on environmental protection of the coast.
Thanks to the visa-free policy, Sudbeck only needed to offer a report from the travel agency, the invitation from the seminar's organizer and his passport.
Hainan adopted a visa-free policy for 59 foreign countries in May 2018 and offered greater visa-free access for foreigners in July, as a move to support the construction of the Hainan pilot free trade zone (FTZ) and a free trade port with Chinese characteristics.
Hainan was approved in April 2018 to build an FTZ, the 12th and largest among its peers.
Under the new policy, foreigners are allowed to enter Hainan visa-free for a wider range of purposes including business, tourism, visiting relatives, medical treatment, exhibition and sports.
Apart from the expanded air transport network and more friendly entry policy, Hainan is also striving to open the sea gateway and strengthen its connection with the world.
After years of development, Hainan has seen an international maritime transport and trade hub taking shape in Yangpu Port, which is located at the Yangpu economic development zone in the southwest of Hainan.
By July, the port has opened six container shipping routes for foreign trade, linking southeastern Asian countries such as Vietnam, Singapore, Malaysia and Myanmar.
From January to September, the cargo handling capacity of the Yangpu Port increased by 22.3 percent year on year to over 37 million tonnes.
As an important hub along the New International Land-Sea Corridor, Yangpu Port is expected to improve the business environment of Hainan and push forward the building of the FTZ and the free trade port, said the transport and oceanic authority of Yangpu.