BRICS summit to focus on Afghan issues, counter-terrorism after interim govt announcement
Global Times
1631153381000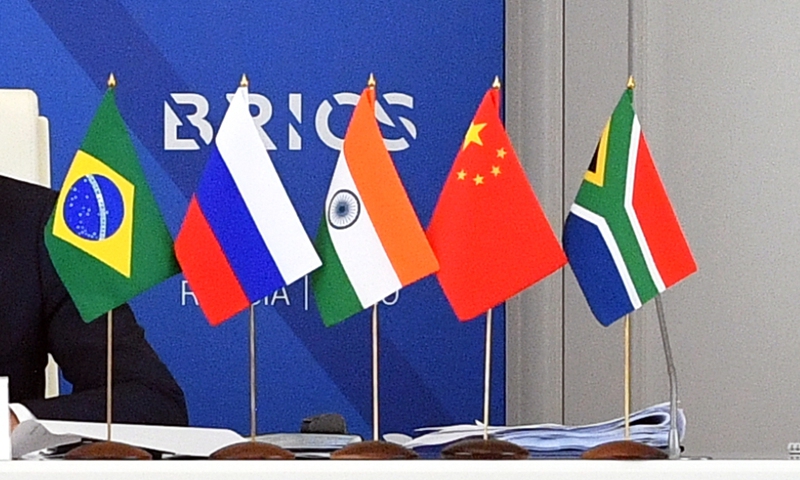 Leaders of BRICS countries will meet virtually on Thursday chaired by India, with Chinese analysts predicting Afghanistan and relevant topics could top the agenda, as it closely concerns three member states. Yet they believe New Delhi's attempt to retrieve its losses and regain a say on this topic will be in vain, due to its past strategy on Afghanistan.
Chinese President Xi Jinping will attend the 13th BRICS summit on Thursday via video link in Beijing at the invitation of Indian Prime Minister Narendra Modi, Chinese Foreign Ministry spokesperson Hua Chunying announced Wednesday.
Russian President Vladimir Putin, South African President Cyril Ramaphosa and Brazilian President Jair Bolsonaro will also attend the summit.
The theme of the summit will be "Intra-BRICS cooperation for continuity, consolidation and consensus," and India outlined areas of priority including counter-terrorism, using digital and technological tools for achieving sustainable development goals (SDGs) and enhancing people-to-people exchanges.
The situation in Afghanistan and the pandemic will be on the agenda, India media cited its foreign ministry as saying.
As the Afghanistan situation evolves with the Taliban announcing an interim government on Tuesday, experts predicted the leaders' meeting will be focused on this topic.
The Afghan issue will also be on the agenda as "three of the BRICS countries, China, Russia and India, are Afghan neighbors and key regional countries," Qian Feng, director of the research department at the National Strategy Institute at Tsinghua University, told the Global Times on Wednesday.
China and Russia have been communicating closely on the Afghan issue, and Xi and Putin had a phone conversation in late August to enhance bilateral coordination on the topic.
India's National Security Advisor Ajit Doval and Secretary of the Security Council of the Russian Federation General Nikolay Patrushev on Wednesday held consultations on Afghanistan hours after the Taliban announced major members of its interim government, the Indian Express reported.
Qian said that many problems about Afghanistan, including drugs and terrorism, concern China and Russia, while India, which had followed the US too closely and invested a lot in the US-backed Afghan government, is anxious about the situation and wants to amplify its voice on the BRICS platform, the expert said.
Wang Yiwei, director of the institute of international affairs at Renmin University of China in Beijing, also noted that India was one of the biggest losers in the Afghan power transition and is in haste to retrieve the losses.
India's past strategy has pushed itself into embarrassment. It cannot make a U-turn in its Afghan policies, nor can it cast aside the geopolitical influence of the US and its Western allies, experts said, noting that India's attempt to regain influence in Afghanistan by chairing the meeting or other means may end in vain.
Yet experts said that the platform was scheduled after China-India border disputes and the pandemic, with the shadow of the US' anti-China strategy. China and India encountered many difficulties in diplomatic and trade ties over the past years and Qian said BRICS could serve as a platform for the two countries to ease tensions.
BRICS, traditionally a bloc of emerging markets to discuss economy and trade, is getting international politics into its agenda. But discussions on jointly fighting the COVID-19 pandemic, distribution of vaccines and industrial innovation to overcome the economic recession remain relevant for all members, experts said.
Though the pandemic dealt a huge blow to the global economy and BRICS, except China, the bloc has remained active and dynamic, and can achieve more growth through close cooperation and innovation, experts said.
On Tuesday, the BRICS Forum on Partnership on New Industrial Revolution was held in Xiamen, an East China city in Fujian Province, and where a new industrial innovation center was founded.
On Tuesday, contracts of 28 cooperation projects between BRICS countries were signed and the investment totaled 13.4 billion yuan ($2.07 billion).