Graphics: Inside China's all-out effort to contain the coronavirus
In 2020, most countries are no stranger to turbulence and economic downturn caused by the coronavirus, some bore the brunt early and gravely. The coronavirus broke out in Wuhan City and spread quickly within China when the country was preparing to celebrate the traditional Spring Festival in late January.

To cut off the transmission, the Chinese government on January 23 shut down the epicenter of Wuhan, a transportation hub with a population of 11 million.
Rapidly rising numbers of infected cases put the local health care system under tremendous stress, and an unprecedented prevention and control mission and nationwide battle against the epidemic began.
Under the principle of putting people's lives as the top priority, the epidemic response was the top agenda in a series of Communist Party of China (CPC) leadership meetings.
On January 20, Chinese President Xi Jinping urged relevant departments to take effective measures to stem the spread of the virus, make all efforts to cure the infected and find out the origin of the virus. Five days later, Chinese Premier Li Keqiang began heading a central leading group on the epidemic response, and the country initiated an inter-agency mechanism. Daily announcements were made on the number of diagnosed and suspected patients in each city. Vice Premier Sun Chunlan was in Hubei to oversee work on the ground.
Within two weeks, China built Huoshenshan Hospital with 1,000 beds and Leishenshan Hospital with 1,600 beds. After the total confirmed cases in Wuhan surpassed 5,000 in early February, Wuhan authorities began converting gymnasiums and exhibition centers into temporary hospitals. The 16 hospitals provided over 13,000 beds for patients with mild symptoms. At its peak, Wuhan designated 86 hospitals to treat the disease.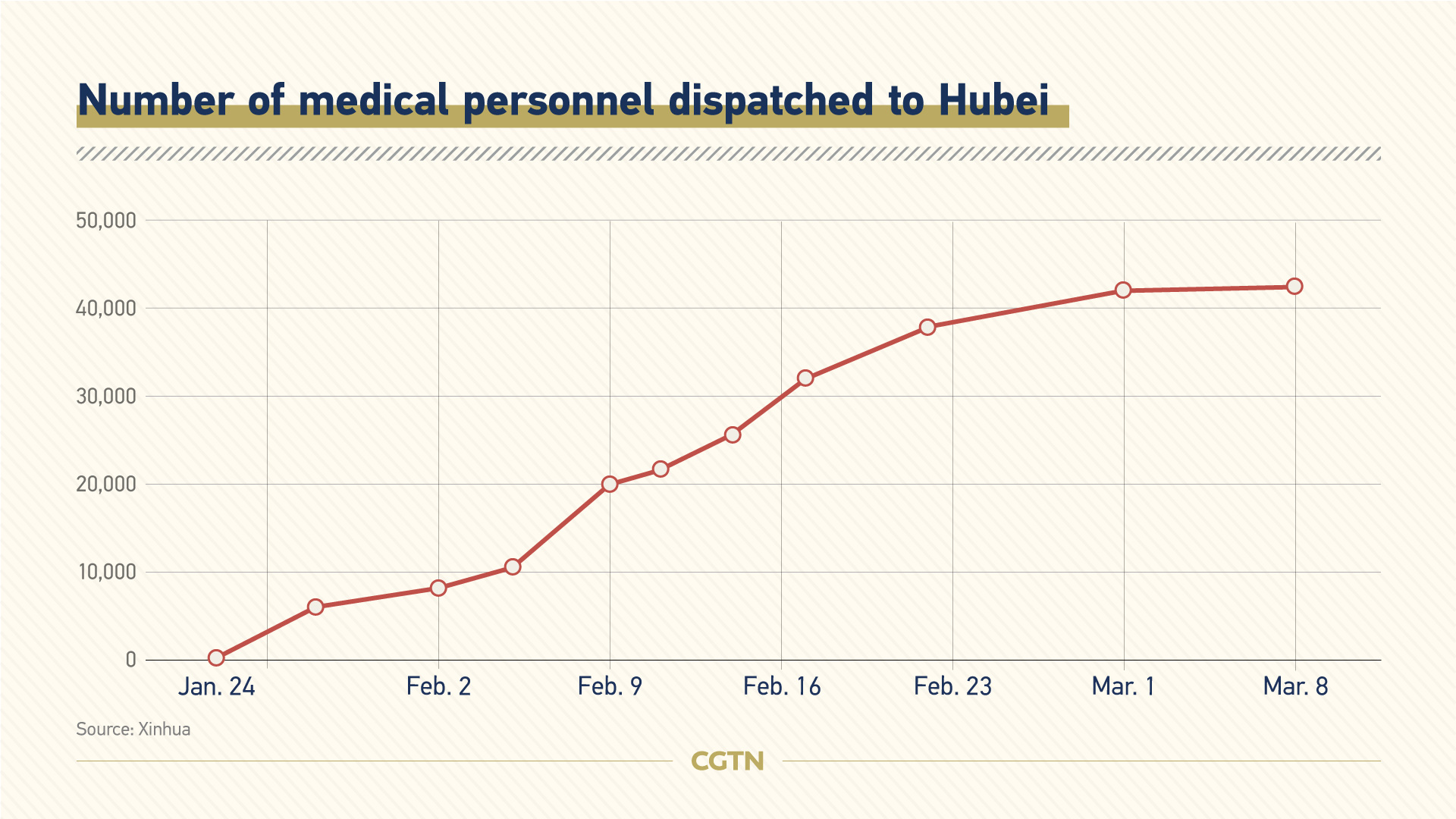 To mitigate the shortage of medics and save more lives in Hubei, especially in embattled Wuhan, 450 military medics arrived in the city a day after the lockdown. The Chinese government also called on another 19 provincial-level regions to send medics to affected cities in Hubei. And 10 percent of Intensive Care Unit (ICU) specialists in China were dispatched to Hubei to treat critically-ill patients.
More medical staff continued to arrive as backup. According to official data, from January 24 to March 8, a total of more than 42, 600 medics and 900 heath workers, including the military, were dispatched to Hubei to aid the anti-virus battle.
During the early stages of the outbreak, medics faced a dire shortage of protective suits, masks and other medical supplies.To plug the hole, manufacturers from various industries that previously made garments, plastics, and cellphones, were quickly mobilized, shifting to produce medical supplies.
According to the Ministry of Industry and Information Technology, China's daily output of N95 masks and non-N95 masks were 130,000 and 5.86 million respectively in the beginning of the outbreak. The output then surged to over five million and 200 million per day in April.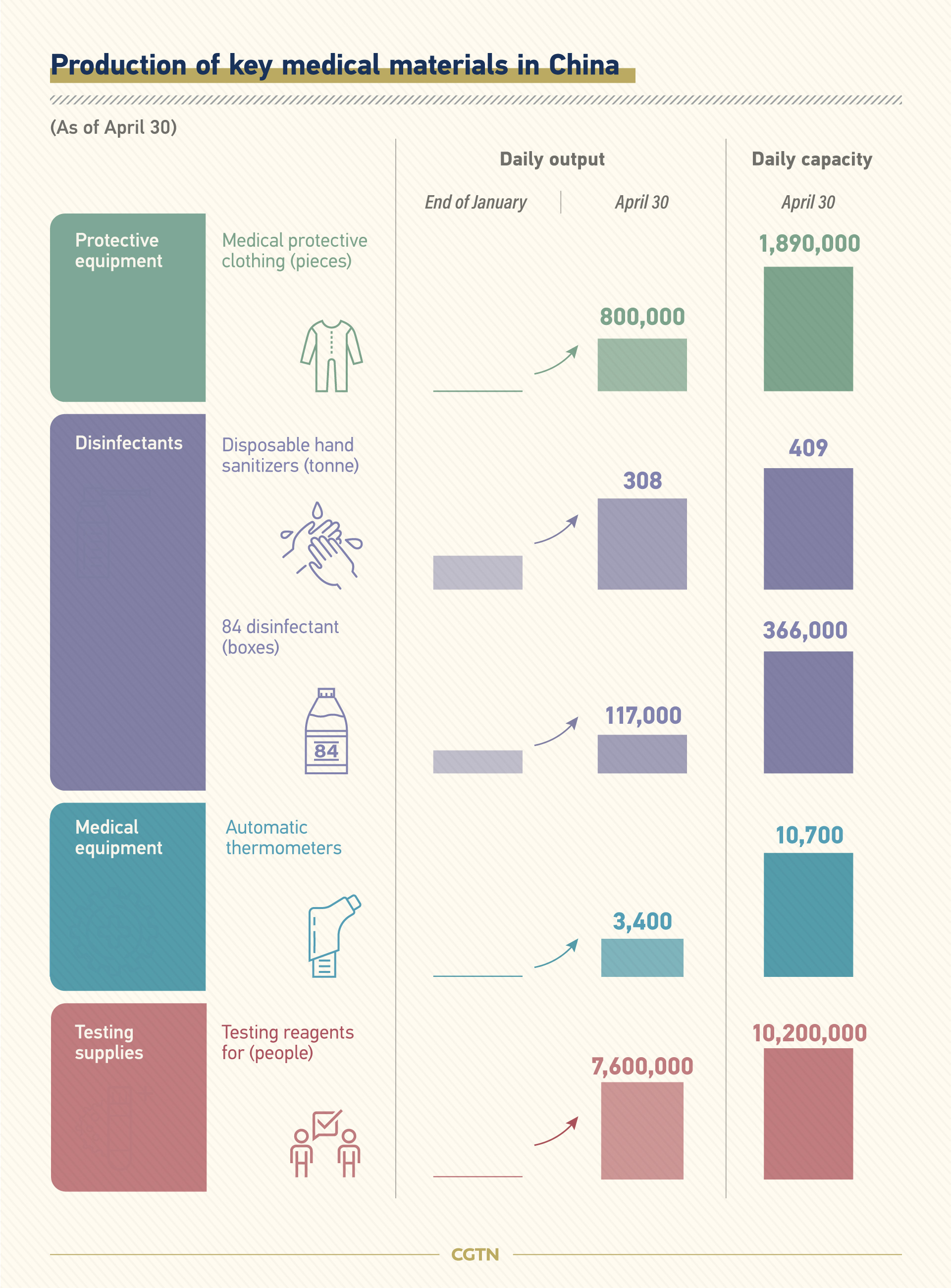 When medics worked around the clock to save lives and medical supplies were in severe shortage, the life of millions of Wuhan residents was also severely disrupted by the abrupt lockdown. Under the strictest lockdown measures, people were asked to stay at home, refrain from any gathering and even going out to buy groceries and medicine.
Following this, the Chinese government ramped up contingency plans. Over 500 companies based in nine provinces provided daily necessities including meat, rice and cooking oil to Wuhan to keep stocks sufficient. Official data show 928,800 tonnes of medical supplies and daily necessities were sent to Hubei from January 27 to March 19.
With residents confined at home, the Wuhan government delivered supplies and ran errands for families as a public service. When the goods arrived in Wuhan and were dispatched to stores in each district, community workers and volunteers went shopping for families who are in need.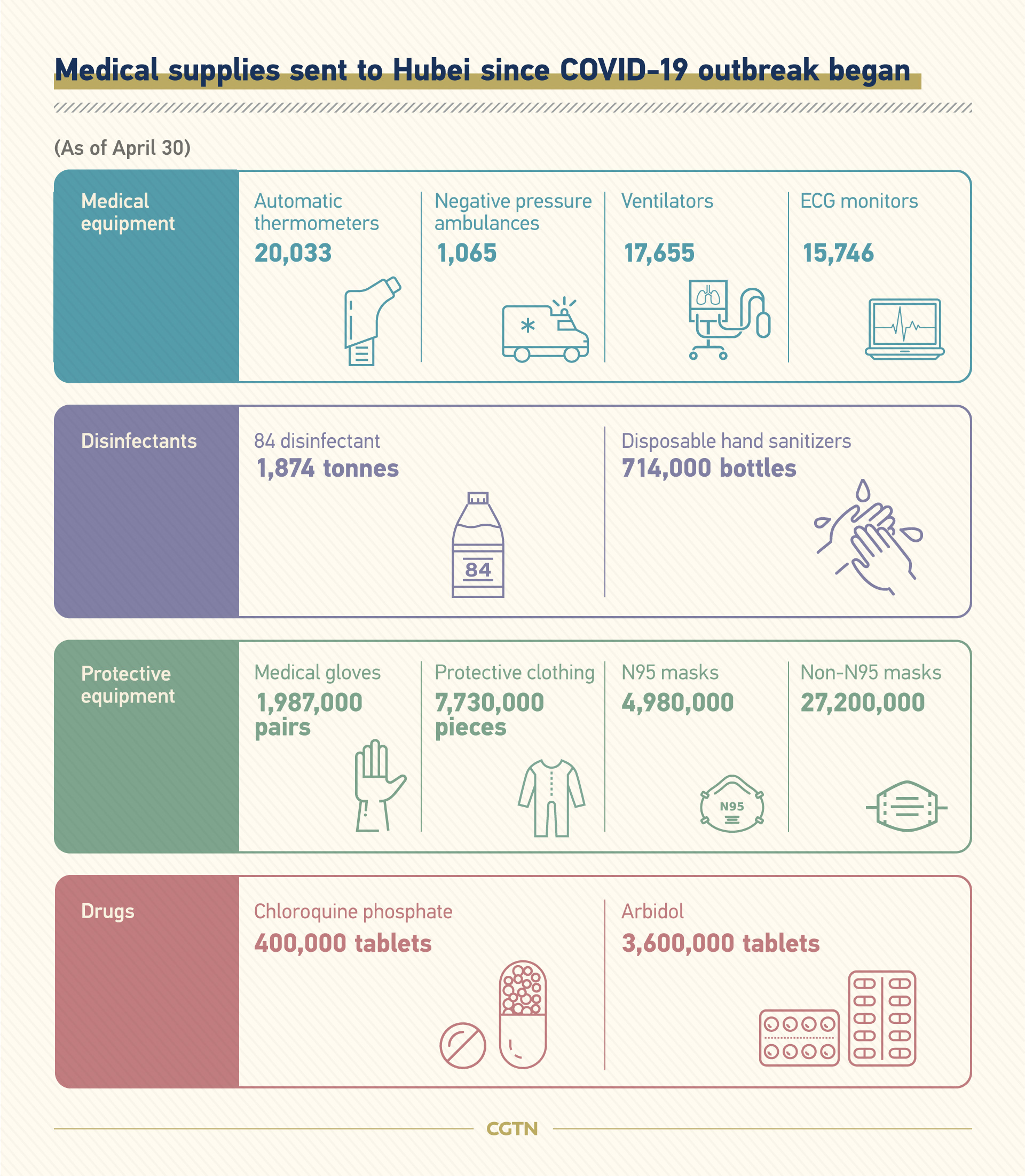 Aside from government efforts, Chinese people are acting to offer help to fight against the virus. As of April 30, the Red Cross Society of China and other charity organizations received nearly 40 billion yuan and nearly one billion pieces of supplies from the whole of society to help Hubei Province.
Across China, large-scale body temperature testing is being conducted in workplaces, public venues and residential communities. All Chinese followed government rules, quarantined themselves for 14 days after cross-region travel and kept to the correct social distance to maintain public health.
With the unprecedented national mobilization and all the sacrifices made by Chinese people, new confirmed cases in Wuhan started to decline by late February, in line with a nationwide downward trend of new infections.
On March 18, no new infections of the novel coronavirus were reported in Wuhan, marking a notable first in the city's months-long battle with the deadly virus.