Beijing, Hubei stick to top-level response to COVID-19 outbreak as Wuhan lockdown ends
Global Times
1586471759000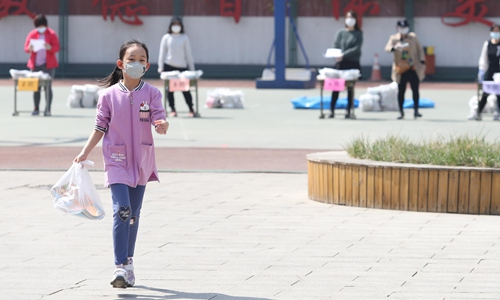 A girl walks with textbooks she received from the Chuiyangliu Center Primary School in Chaoyang district, Beijing, on Monday. The Beijing education authorities announced that students in the city's primary and middle schools will take online courses starting from April 13, and all textbooks should be distributed before then. (Photo: Global Times)
Beijing has been keeping guard up and will stick to the highest level emergency response measures to the coronavirus outbreak despite Wuhan, the virus hardest-hit city in the country, has lifted months-long lockdown to cut off the virus spread.

China has a four-tier response system for public health emergencies that determines what measures it will implement, with level one being the most serious.

Beijing initiated the level one emergency response on January 24 when the capital city had confirmed 29 cases of coronavirus infection.

At Thursday's routine press conference, in response to a question on how to establish a sound and regular mechanism for epidemic control, Chen Bei, deputy secretary general of the Beijing municipal government, said that strict prevention and control measures must be taken.

Therefore, despite the overall improvement of epidemic prevention and control work in the capital, Beijing will still maintain level one emergency response measures.

Liu Xiaofeng, deputy director of the Beijing Center for Diseases Control and Prevention, stressed social distancing, saying that bars and other restaurants should adjust their table spacing to ensure that they are at least one meter apart.

On Tuesday, one day before Wuhan lifted its 76-day lockdown, Hubei authorities announced that the province will continue to maintain the highest level emergency response measures, stressing that zero new growth [of confirmed COVID-19 cases] does not mean zero risk, and lifting controls on transport routes does not mean ending prevention and control measures, and opening city gates does not mean opening doors.

Hubei raised its response to major public health emergencies from level two to level one on January 24.

Other provinces, regions and municipalities that are also maintaining the highest level response system include Tianjin and Hebei.

Since late January, 31 provincial-level regions have launched the highest level emergency response to the crisis. In late February, some provinces, autonomous regions and municipalities began to lower their response levels.