Taking wing amid turbulence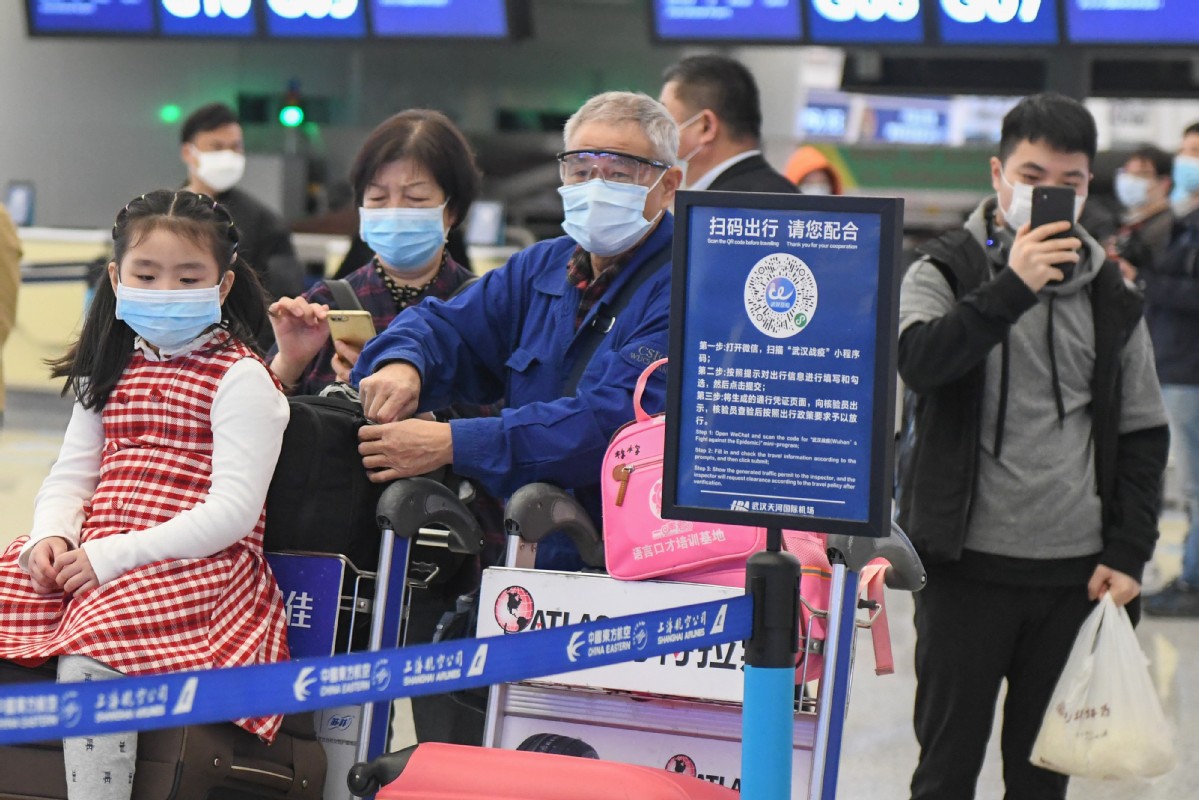 Passengers line up to check-in at Wuhan Tianhe International Airport in Wuhan, Hubei province, on April 8. (Photo: CHINA DAILY)
COVID-savaged airlines pin hopes on lifting of travel curbs, cargo, new biz
China's domestic air travel market is gradually picking up after being ravaged for months by the vagaries of the COVID-19 pandemic.
With the novel coronavirus gradually coming under control in China, pandemic-time travel restrictions are being lifted in a phased manner in most parts of the country.
In response, Chinese carriers are taking measures to stay viable and overcome problems posed by the crisis, civil aviation industry insiders said.
On May 5, when the week-long Labor Day holiday ended, there were 8,361 domestic flights, accounting for 70 percent of the volume recorded on May 4 last year, according to aviation data provider VariFlight.
After the break, China is expected to see more leisure and business travel and higher demand for flights, it predicted.
The air travel market started its summer and fall flying season in China on May 3. The 11 airlines under HNA Group will launch 134 new flights, including 19 flights that connect tourist hot spot Hainan province with other regions.
The group also launched four flights that connect Hubei province, the area hit hardest by the epidemic, and other cities, to help with its work and production reboot.
Meanwhile, the global spread of the contagion has led to a rising demand for air cargo, and a number of Chinese carriers have arranged chartered flights to transport medical supplies and other goods overseas.
Despite bearing significant financial pressures, Hainan Airlines has carried out more than 100 cargo flights to transport over 2,000 metric tons of goods to Ireland, Austria, Australia and 20 other countries.
Earlier, major Chinese airlines had issued epidemic prevention and control bonds to raise funds and save themselves financially. So far this year, Shanghai-based China Eastern Airlines and its affiliates have issued short-term bonds at least 10 times, and raised 21.5 billion yuan ($3 billion) in all.
Industry experts said the negative impact of COVID-19 has been far worse than that of SARS in 2003 and the 9-11 terrorist attacks on the United States in 2001. Governments, carriers, and other stakeholders will have to work together to face the challenge, they said.
In April, the number of flights worldwide dropped 80 percent year-on-year. This year, passenger revenues of airlines are expected to drop by a staggering 55 percent, or $314 billion, according to a forecast by the International Air Transport Association.
From the third quarter of this year, domestic markets globally could see the start of an upturn in demand as the first stage of lifting of travel restrictions kicks in. International markets, however, will be slower to resume as governments will likely retain travel restrictions longer, the IATA said.
"The industry's outlook is getting darker by the day. The scale of the crisis makes a sharp V-shaped recovery unlikely. Realistically, it will be a U-shaped recovery. Several governments have stepped up with new or expanded financial relief measures, but the situation remains critical. Without urgent relief, many airlines will not survive to lead the economic recovery," said Alexandre de Juniac, director-general and CEO of the IATA.
Globally, more than 65 million people work for the aviation and tourism industry. If the strict travel restrictions last for three months or longer, 25 million related jobs would be under threat, the IATA said.
Now, each Chinese carrier operates only one international flight to one country once a week, according to the requirement of the Civil Aviation Administration of China.
With their international flight capacities having been cut to a fraction of their normal level, Chinese carriers are expected to face their first annual loss since 2008, and it is just a matter of the extent of the loss that remains to be seen, industry experts predicted.
"With most industries experiencing a slowing revenue growth or loss, they are likely to control the business travel costs of their employees. This will result in declining demand, and carriers will have to offer highly competitive flight ticket prices," said Yu Zhanfu, partner and vice-president of consultancy Roland Berger China.
"In addition, most employees have been familiar with work-from-home and digital communications, and people have increasingly acknowledged remote working technologies. It could irreversibly cut down some business travel demand in the long term," he said.
"The aviation sector will fluctuate along with the economic cycles, geopolitics and major global events. Risk confrontation is the long-term theme of the aviation industry."
As the most severe crisis for the aviation sector in modern history, the outbreak may catalyze new patterns of business among industry players. Less competitive carriers will be easy pickings for the stronger players. But ultimately, with the alleviation of overcapacity, it will benefit those who survive and ride out the crisis, consultancy Roland Berger said in a report.
Woo Kee-hong, president of Korean Air Lines, the largest carrier of South Korea, said the situation could get worse at any time, and it could threaten its survival. Korean Air said since mid-April, more than 70 percent of its staff started to take a half-year furlough. They will receive 70 percent of the regular salary, and most of the funds come as part of South Korean government's financial aid or bailout package.
Flybe, Europe's largest regional airlines with a history of 41 years, has recently gone bankrupt. Scandinavian Airlines has temporarily laid off 10,000 employees, or 90 percent of its total workforce.
Elsewhere, global airlines are endeavoring to stay afloat by maximizing cargo freight transport operations using commercial aircraft, since the passenger and cargo markets are polarized in terms of performance. Most passenger aircraft have been grounded and freighters have been busy.
The epidemic has reduced about 90 percent of flight capacity between Europe and Asia, and caused a major shortage of cargo capacity. COVID-19 has also prompted an increasing demand for medical equipment that necessitated cargo flights connecting the United States, Europe and China.
United Airlines is adding its cargoonly flights between China and the US, to ensure vital goods reach those who need them. This month alone, United plans to operate 289 cargoonly flights between the two countries, taking the total number of flights since April to more than 400.
The cargo-only services connecting Chinese cities like Beijing, Chengdu, Shanghai, and Hong Kong with US cities like Chicago, Los Angeles, San Francisco and Washington DC are operated using Boeing 777-300 and 787-9 aircraft from United's fleet.
US carrier Delta Air Lines restarted its regular flights between Shanghai and Detroit with cargo-only services, as demand for medical supplies continues to grow in the US.
Since late March, KLM Royal Dutch Airlines started to operate two weekly cargo flights to Beijing and three weekly cargo flights to Shanghai, using Boeing 787s and 777s.
"We are seeing an enormous increase in healthcare shipments. In a number of other sectors such as automotive, fashion and flowers, we are seeing a sharp decline, but that decrease is not as fast as the extreme capacity reduction. Stories that there would be an extreme peak in air freight transport are not correct," said Adriaan den Heijer, executive vice-president of Air France KLM Martinair Cargo.
Lin Zhijie, an aviation industry analyst and a columnist at Carnoc, one of China's largest civil aviation websites, said usually, 70 percent of cargo shipments are done using the belly-hold operations of passenger flights globally, and the corresponding figure for China is 82 percent.
"In fact, the transport volumes of both passenger and cargo markets went down, but the decline of the cargo market is much less. Transporting medical supplies will help carriers to make some profits, but the limited number of flights and transporting volumes won't help much to lift their revenues," he said.