Xi's stories: The women President Xi calls 'Dajie'
People's Daily app
1565840365000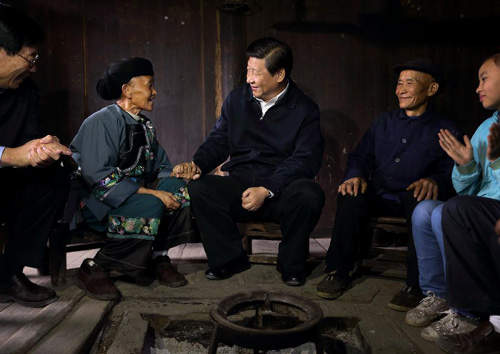 On November 3, 2013, while visiting an impoverished family in Shibadong, a poverty-stricken Miao minority village in Central China's Hunan Province, President Xi Jinping held the hands of villager Shi Pazhuan and called her "Dajie"(known in Chinese as elder sister)after being told she was 64.
This is not the first time Xi sincerely addressed a woman slightly older than himself as "Dajie". Xi has always been approachable, affectionate towards the people he has met, creating an art out of knowing and bestowing appellation.
When Xi was vice mayor of Xiamen, Fujian Province, Lyu Gongnan, then vice director of Xiamen Municipal Commission of Development and Reform, was impressed by him.
"He is modest, gentle, and respectful to others. Whoever the person is, he always addresses him or her according to local customs, which makes people feel warm," Lyu said.
Xi was very easygoing, and made good friends with local farmers, recalled Zhang Weipang, who worked with Xi in Liangjiahe, a small village in Yan'an, north China's Shaanxi Province.
Shi Pazhuan still remembers the time Xi came to her home in 2014. "A lot of officials came that day, but I don't really know who they were. At that time there was no TV at home. Unexpectedly, among them there was the general secretary. "
Shi's house in Shibadong has changed since 2013. When stepping into the room, a picture of Xi talking with her and other villagers will come into sight. The family now has a TV and every time she turns on the TV, she would search for Xi's reports.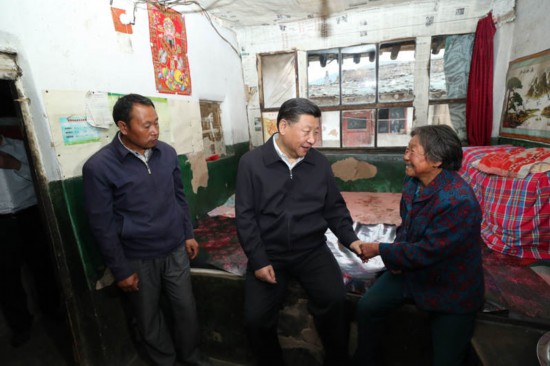 On June 21, 2017, Xi came to Zhaojiawa Village of Shanxi Province. He walked into Wang Sannyu's home, and knowing she was 68 years old, Xi called her "Dajie". Holding Xi's hand, Wang said that "We are so touched that you came to see us."
In June 2018, Xi visited many places in Shandong Province after the Shanghai Cooperation Organization summit in Qingdao. While inspecting a residential community in Qingdao, Xi walked into the residents who were exercising, shook hands with them and greeted them. After asking some residents about their ages, he smiled and said, "You are all my elder brothers and sisters."
Lyu Yulan was recognized as a model worker of the country in the 1960s. Xi worked in Zhengding for several years when Lyu served as deputy secretary of the county Party committee. She supported Xi in his work and cared about Xi in life and had been regarded as an elder sister by Xi.
In 1994, on the first anniversary of Lyu's death, Xi, then the secretary of the Fuzhou Municipal Party Committee, wrote an article to memorialize her:
"Like an elder sister, Yulan often advised me to exercise regularly, not to wear out the body. I will never forget her care and help for me. "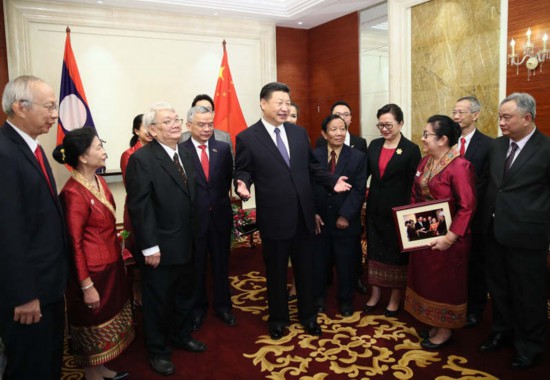 In the 1960s, some children of former Laos Foreign Minister Guining Pholsena, including Kaiyun Pholsena, studied with Xi at the Bayi School, beginning a friendship across the decades. On November 14, 2017, during his state visit to Laos, Xi took time to meet with the family. When he saw Kaiyun Pholsena, he said, "Kaiyun Dajie, you are in good health."
"I am very glad to meet with old classmates and friends and to see you all are in good health and happy. I've been missing you," Xi said.
In Laos, on the desk of the fifth daughter of Guining Pholsena, Kaimarnie, there is a note written in Chinese, which says "approachable and affectionate". "These words are my family's impressions of Xi. He shoulders heavy responsibility, but he has always cared about the old alumni, which touches us a lot."
"He is such a person, who understands the concerns of people, gets close to them and integrates with them," said Chen Zengguang, then an official in Ningde, when Xi was secretary of Ningde Prefectural Party Committee.
(Compiled by intern Cui Chunhui)