Podcast: Story in the Story (1/1/2020 Wed.)
People's Daily app
1577816928000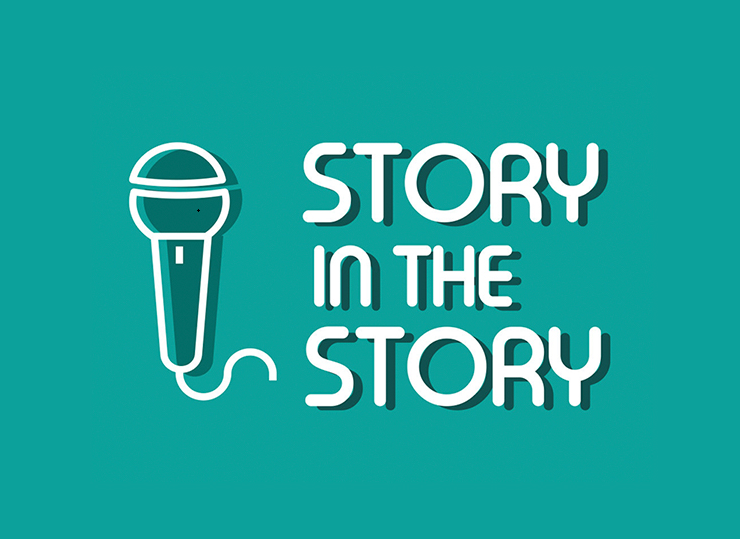 From the People's Daily App.
This is Story in the Story.
Letterpress, a centuries-old printing technique, is making an elegant comeback in China as designers, artists, and consumers are rediscovering the beauty and craftsmanship behind it.
A kind of movable type printing, letterpress is a technique of relief printing that came into being in the mid-15th century in Europe where it flourished for five centuries. However, the printing style had already been active in China for over 500 years.
"Movable type printing is our heritage. It was invented by Bi Sheng in the Northern Song Dynasty (960-1127) and then spread to the West some 400 years later," said Peng Junzhang, founder of China's first letterpress art festival.
In China, letterpress had remained as the mainstay of the printing industry until Chinese scientist Wang Xuan invented a Chinese character laser-photo-typesetting system in 1974 that brought printing into the digital age.
After nearly three decades in oblivion, letterpress came back from the dead.
Today's Story in the Story looks at the ancient Chinese letterpress as an international revival of the printing style is underway.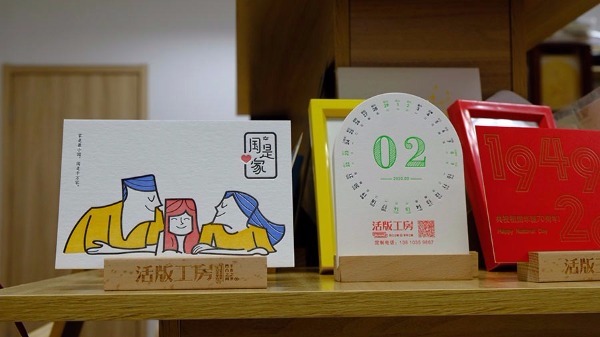 Letterpress printed items such as postcards and calendars are displayed at Peng Junzhang's workshop in Beijing on Nov 1, 2019. (Photo: China Daily)
"I've been to Japan multiple times and learned that there are over 110 letterpress studios in the country," said Peng Zhunghang.
"So far, there are no more than 20 letterpress studios in China," Peng noted. "The printing technique is still under the radar in China."
"People in the cultural and creative industries have found that letterpress is highly valuable to their creations and businesses," said Sun Yang, founder of iloovee, a Beijing-based letterpress studio known for its wedding invites.
In traditional letterpress printing, founding is the very first step of the whole laborious process followed by checking, typesetting, printing, and folding; the revived technique is technologically upgraded and thus less laborious.
The process yields a solid impression on the paper that is stunning to see and feel.
"The revival of letterpress lies in its marriage with ideal ink and paper, creating an irresistible quality. That's what attracts designers and consumers essentially," noted Liang, who is planning to introduce letterpress to her students aside from teaching them mainstream printing techniques such as lithography.
Featuring letterpress cards with original designs, custom design services, and courses on letterpress printing, a workshop called Wu Fen Shu in East China's Hangzhou has fared well since its opening in June, according to Zhou Zi, the workshop's co-owner.
Zhou is one of the entrepreneurs who are eyeing the market of letterpress workshops that focus on customizing letterpress products and offering hands-on experience on a manual press.
Zhou, a fresh graduate of visual communication design, decided to open such a shop upon graduation with two of her college buddies who are also fascinated with letterpress thanks partly to what used to trouble them back in college.
"We used to commission printing factories to get our designs printed in small numbers, but more often than not, we were rejected as they only took orders requiring at least hundreds of copies," the young designer said.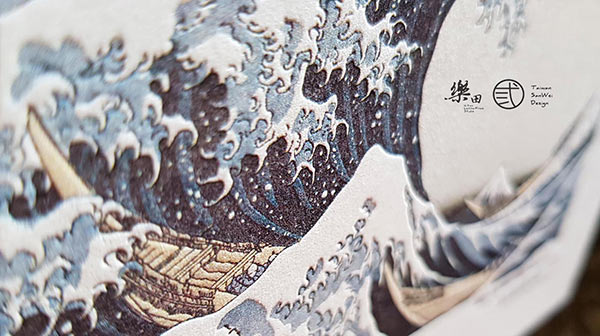 A letterpress printed replica of The Great Wave off Kanagawa by 19th-century Japanese artist Katsushika Hokusai, is made by LeTian LetterPress Studio from Taichung. (Photo: China Daily)
Noting that many more design majors like them have been beset by such a headache, Zhou and her buddies thought about creating a workshop that takes small orders to create convenience for students who are of weak spending power.
In addition to serving students, the 110-square-meter workshop also attracts many who are eager to try their hands at an ancient letterpress machine to DIY their own letterpress items, each paying about $30 to $70.
Despite the high price, it seems more people are being drawn to this kind of ancient printing technique.
The endeavors of artisans and designers have borne fruit as letterpress-printed products are winning more and more consumers in China.
"The beauty and elegance inherent in letterpress have kept drawing people to know about it, and pay higher prices for letterpress products," said Peng, a letterpress enthusiast, better known as the king of high-end business cards in China.
Peng, who remolded the letterpress machine to make it less demanding and more efficient, applied the printing technique to business card making, which turned out to be a huge success.
"Although the need for exchanging business cards is shrinking in the age of social media, upscale ones, each priced at $42 or more, are in greater demand than those priced at around $4," Peng noted.
Although the popularity of letterpress printing is in the offing, "good designs are urgently needed for domestic letterpress studios. Many of them are imitating, if not pirating, designs from their foreign counterparts," Peng said.
(Produced by Nancy Yan Xu, Lance Crayon, Brian Lowe and Paris Yelu Xu. Music by: bensound.com. Text from China Daily.)