HK riot leader denounces violence, secessionism due to new security law
Global Times
1591705710000
It seems that one of Hong Kong riots' mastermind Martin Lee Chu-ming, dubbed as "modern-day traitor" has made a U-turn in his attitude to Article 23 of Hong Kong's Basic Law and tried to distance himself from Hong Kong secessionists, after China's top legislature approved the decision to make the national security law for Hong Kong.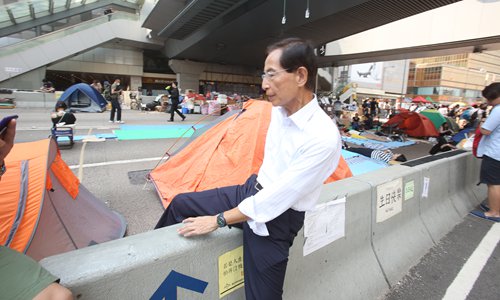 Martin Lee Chu-ming, chairman of the United Democrats of Hong Kong (Photo: AFP)
In recent interviews with media, Lee, also co-founder of the Hong Kong opposition camp, reportedly claimed that he could not support "Hong Kong independence" and the Democratic Party will back Article 23 as long as it does not harm "human rights and freedom," Hong Kong media reported.
Analysts believed this sudden change of tone showed that the national security legislation for Hong Kong is very reasonable and necessary, and has a deterrent effect on opposition forces in Hong Kong. But as an opportunist, Lee's recent claims do not prove he has changed completely, nor that other pan-democratic group members will follow suit or back his view.
Lee, a member of the "Gang of Four" along with Anson Chan Fang On-sang, Jimmy Lai Chee-ying and Albert Ho Chun-yan, who have been criticized for using freedom and democracy as a front to split Hong Kong, brushed off claims that pan-democratic groups should take responsibility for the failure to legislate Article 23 in a recent interview with Hong Kong media, saying the responsibility lays with the pro-establishment camp and the Hong Kong government.
He claimed he opposed the legislation of Article 23 in 2003 because it could harm Hongkongers' "freedom of speech," and the pan-democratic groups would back it as long as it guaranteed that no harm would be done to "human rights and freedom," according to media reports.
Apart from softening his tone against the legislation on Article 23, he also tried to distance himself from "Hong Kong secessionists" by claiming he could not support secessionism at his age or engage in violence. When asked by a Hong Kong TVB reporter on whether Hong Kong's current situation was the result of pan-democratic groups' incitement of young people, Lee said that young people just did not listen to the principles of "peace, rationality, non-violence and non-profanity," according to Hong Kong media.
However, his claims have met with a backlash from Hong Kong residents. Some Hong Kong netizens ridiculed him for deceiving himself by attempting to turn everything into something that was none of his business.
"Lee claimed that if the pro-establishment camp or the chief executive had the intention to legislate Article 23, it could have been passed a long time ago, as the pan-democratic camp has only had a minority in LegCo since Hong Kong's return. The pan-democratic camp's target was to secure at least 35 seats [out of the total 70 seats], but democrats never said they will legislate to safeguard national security according to the Basic Law after taking the majority," former Hong Kong chief executive CY Leung said, refuting Lee's claims on his Facebook page.
Tian Feilong, a Hong Kong affairs expert and associate professor at the Beihang University in Beijing, told the Global Times on Tuesday that Lee tried to distance himself from violence and secessionism when his referendum campaign suffered a setback, which showed him to be an opportunist and also demonstrated the deterrent effect of the national security legislation to Hong Kong's opposition forces.
Further observation of Lee's actions are needed to see whether he has changed, but it did give the pan-democratic group an opportunity to rethink their relationship with foreign interference under the national security law, as interfering in the affairs of Hong Kong by foreign forces is one of the four criminal activities that will be punished by the law, Tian said.
Under the national security law, the rule of law in Hong Kong can be consolidated, democratic politics in Hong Kong can be purified, and the relationship between the pan-democratic groups in Hong Kong and external intervention forces can be regulated, Tian said.