East China ups guard amid upcoming landfall of Typhoon Chanthu, suspends traffic and schools
Global Times
1631507731000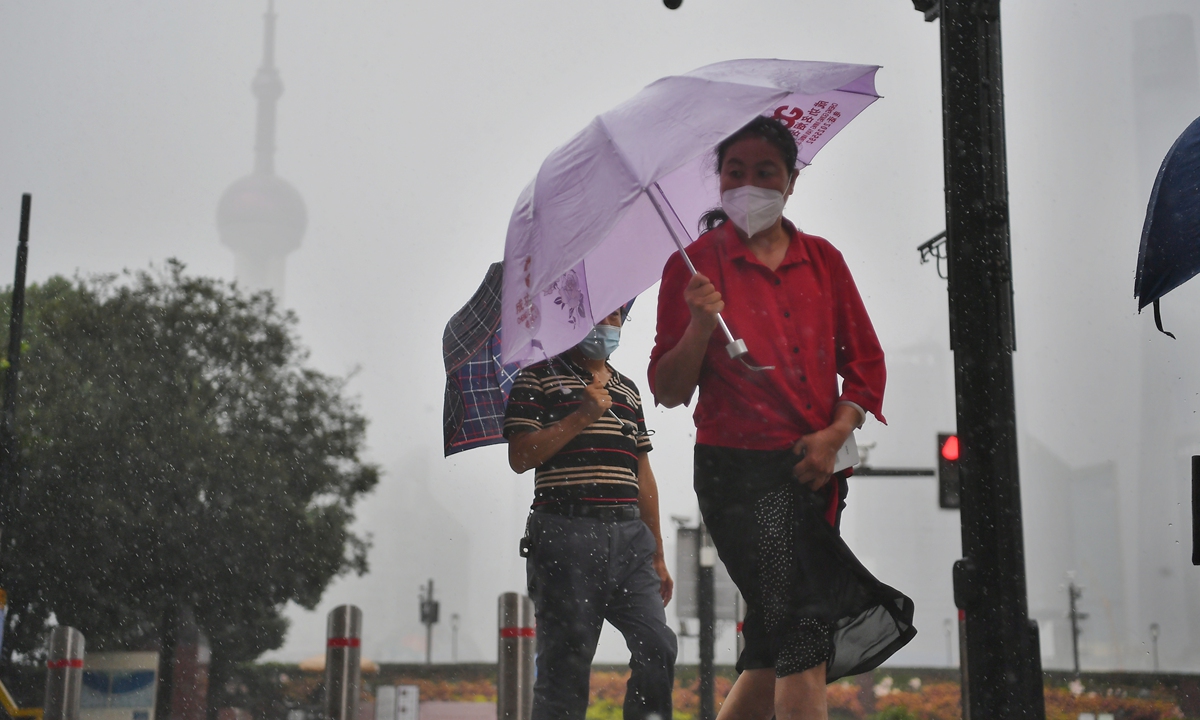 Suspending air and railway transports, halting ports operations, canceling school classes … East China's Zhejiang Province and Shanghai municipality move to minimize the impacts of Typhoon Chanthu, which is expected to make landfall in China's eastern coasts in Shanghai or Jiangsu on Monday evening, likely bringing gale-force winds and rainstorms to regions including Shanghai, Zhejiang, Jiangsu, Fujian and the island of Taiwan.

Typhoon Chanthu, the 14th typhoon of 2021, is approaching China's eastern coasts, sounding double red alerts for storm-tide and waves on Monday morning, according to the National Marine Environmental Forecasting Center.
The super typhoon was downgraded to a strong typhoon on Sunday night, and was located in the sea about 150 kilometers southeast of East China's Zhejiang Province at 8 am Monday morning.
Affected by the typhoon, six to nine meters of wild waves were observed in the East China Sea from Sunday night to Monday morning, and 2.5 to 3.5 meters of large waves appeared at Zhejiang near-shore waters.
Heavy storm rainfall of 50 to 110 centimeters has hit Zhejiang's city of Ningbo and its neighboring Jiangsu Province as of press time.
The National Meteorological Centre forecasts that the typhoon is likely to land in the coastal areas of Shanghai's Pudong to Jiangsu's Qidong on Monday evening, or it may hover around Hangzhou Bay before starting to move northeast on Thursday with a decreased intensity.
Typhoon Chanthu was 300 kilometers away from Shanghai at 6 am Monday, Wu Rui, chief service officer at the Shanghai Meteorological Bureau told the Global Times on Monday. Its wind force is expected to decrease gradually to a range between 15 and 20 kilometers per hour, and moving toward north by west. It is expected to go through Zhoushan islands in Zhejiang Province around noon on Monday, and scrape through or land on eastern parts of Shanghai in the evening, according to Wu.
Zhejiang and Shanghai's preventive measures are in full swing to prepare for the upcoming typhoon. Zhejiang has upgraded its emergency response to level I starting at 6:30 pm Sunday, local authorities said. The coastal passenger transport lines in Zhejiang and water engineering projects have all been suspended, as well as the province's port operations.
Zhejiang has sent geological disasters and mountain torrent alerts, and traffic control will also be conducted.
Shanghai also upgraded the typhoon alert to yellow at 6 pm on Sunday. The city's Pudong International Airport will cancel all flights after 11 am on Monday, while the other airport, Hongqiao International Airport, will cancel all flights in and out after 3 pm, according to an announcement of the Shanghai Airport Authority on Sunday night. Due to the impact of Chanthu, some 80 percent of passenger flights will be cancelled on Monday.
Train services in the Yangtze River Delta region have also been canceled between 12 pm on Monday to 12 am Wednesday to avoid the impact of Chanthu.
In Zhejiang, parts of coastal cities including Ningbo, Zhoushan and Taizhou all announced to suspend classes for primary and secondary schools and kindergartens on Monday and Tuesday. All primary and secondary schools and kindergartens in Shanghai will also suspend classes on Monday afternoon and Tuesday.