Army medical team joins the battle against coronavirus outbreak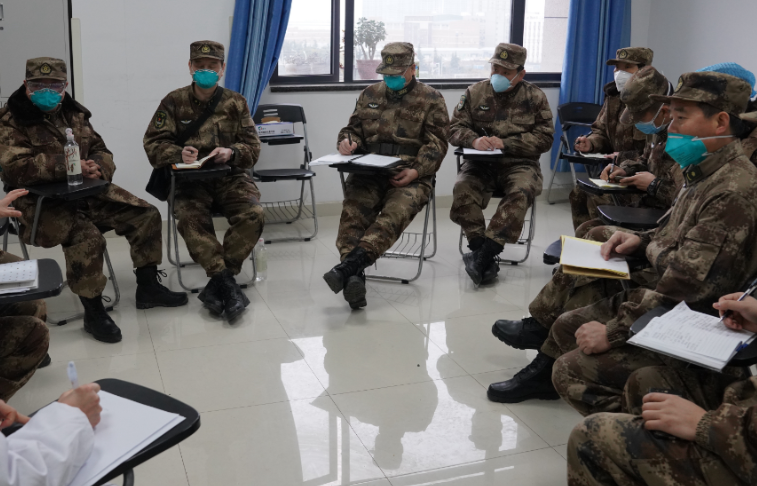 Army medical team holds discussion over the novel coronavirus. (Photo: CGTN)
There is no fear for us in fighting the coronavirus, said a senior army medical staff member.
Just six hours after a Chinese military medical team confirmed its mission to Wuhan, 150 members departed from their base in the southwestern city of Chongqing and joined the battle against the spreading coronavirus in central China's Wuhan.
Among them, 55-year-old Ren Xiaobao experienced SARS back in 2003, Eloba and the aftermath of earthquakes.
He said he is the one that brings young medical workers experience and confidence. "Everyone is supporting each other to win this battle," he said.
So far, at the city's major hospital, the team has received 71 patients, including some medical workers from other hospitals.
"Many patients are in critical condition, so there is a lack of medical staff who can take care of them," Xu Dixiong, leader of the army medical team, told CGTN. "One shift often takes four to five hours, and is exhausting."
Xu referred to the rehabilitation ward which is under construction, noting relevant conditions, such as medical equipment, have not been put in place yet.
Many hospitals in Wuhan share the same situation in response to the outbreak. Thus, medical staff are literally exposed to the contagion.
To ensure "none of the team get infected," Xu says strict surveillance and medical training are a must. But there are always touching moments.
"Some medical staff got infected as they carried out diagnosis and treatment," Ren said. "They receive treatment as patients, but are also providing comfort and reassurance for other patients as medical professionals."