Founder of Quanjian sentenced to 9 years in prison for organizing pyramid scheme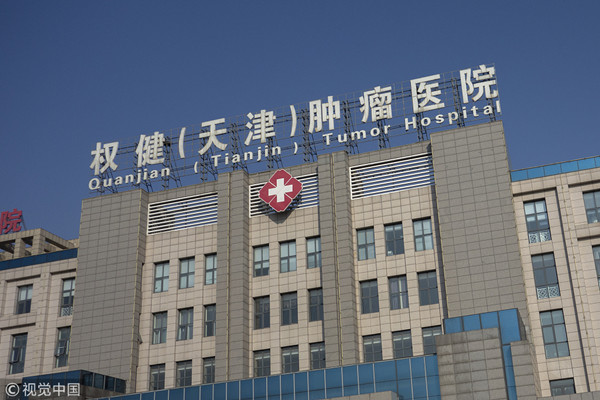 File photo: VCG
Shu Yuhui, the former chairman and founder of Tianjin-based health product manufacturer Quanjian Nature Medicine Technology Development Co, was sentenced to nine years for organizing and leading a pyramid scheme.
Shu, 51, was also fined 50 million yuan ($7.2 million), according to the Tianjin Wuqing District People's Court on Wednesday. Shu pleaded guilty.
The court also sentenced 11 others from the company for three to six years and imposed fines for organizing and leading a pyramid scheme.
Sixteen people, including Shu, were arrested by Tianjin prosecutors in January last year after local authorities launched an investigation into Quanjian's participation in a pyramid scheme and false advertising of a purported anticancer product.
Quanjian's scandal began on Dec 25, 2018, when popular healthcare information sharing platform Dingxiang Doctor recounted the story of Zhou Yang, a 4-year-old girl with cancer, who died in December 2015 after taking herbal products from Quanjian that were advertised as cancer cures.
In 2012, Zhou was diagnosed with a rare condition known as sacrococcygeal teratoma, or a tumor at the base of her tailbone. She had undergone numerous surgeries and chemotherapy, but the recovery was slow and painful and the treatment bankrupted her family.
After media reported on Zhou's struggles, a Quanjian representative contacted her father, Zhou Erli, and brought him to meet with Shu. Shu told Zhou Erli that his company had found a cure for cancer and persuaded him to buy some powder and herbal drinks for 5,000 yuan ($714), Zhou told Dingxiang Doctor, an online platform offering health related articles.
After taking the herbal remedy for two months, Zhou's condition deteriorated drastically.
As his daughter lay dying on her sickbed, Zhou Erli discovered that Quanjian had been using her image to advertise the "anticancer" product. Zhou tried suing the company for false advertising but lost the case.
Founded in 2004, Quanjian was a Chinese health product conglomerate that brought in annual revenue of 19.2 billion yuan at its peak. It also owned hospitals, hotels, a traditional Chinese medicine theme park and a professional soccer club.
But the Quanjian empire was built on touting dubious products like magnetic insoles, negative-ion sanitary pads and the infamous fire therapy, which involved placing a towel on a patient's skin and lighting it on fire. The company claimed this therapy could cure everything from nearsightedness to brain shrinkage.
Before Zhou's case was made public, there had been a laundry list of false advertising complaints and lawsuits against Quanjian. People also accused the company of being a pyramid scheme, where an individual dealer can pay 7,500 yuan or more to join the business and earn dividends of up to 50,000 yuan per week for each new member they bring in, according to Dingxiang Doctor.
In 2012, four people from Quanjian's branch franchise in Jilin province were sentenced to two to three years in prison for organizing and running a pyramid scheme.