Wuhan offering more than 50,000 coronavirus tests a day
Checkups help people return to work, travel elsewhere as normal life resumes
Health institutions in Wuhan are offering various checkup services related to the novel coronavirus, including nucleic acid and antibody tests, to meet growing public demand.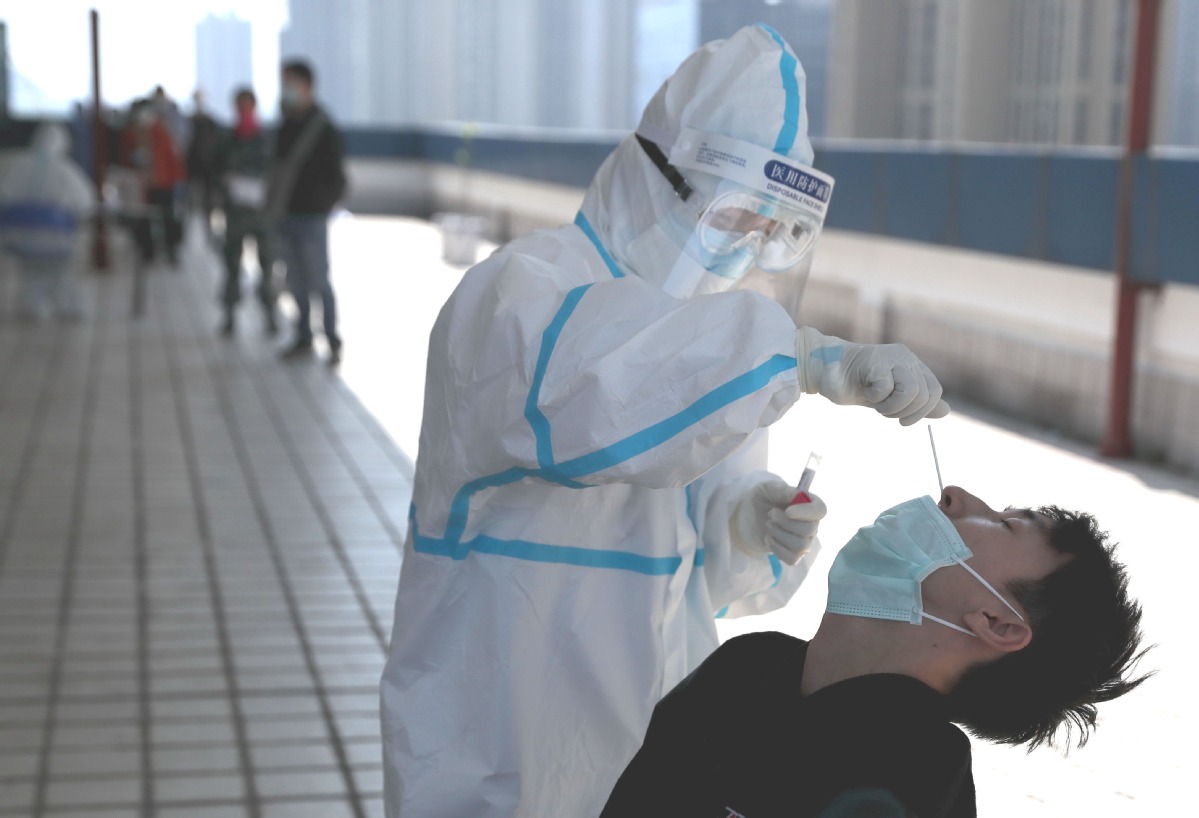 A man is tested for the novel coronavirus at a hospital in Wuhan, Hubei province, on April 16, 2020. (Photo: China Daily)
As more people are being tested, local epidemic control and prevention authorities are also gaining a better understanding of the asymptomatic infection situation in Wuhan, the city hit hardest by the outbreak in China, according to the city's health commission.
Since the lockdown of Wuhan has been lifted, social life is gradually returning to normal and people are going back to work. But there's a precondition for those people-they have to take a nucleic acid test.
Fifty-five medical facilities in Wuhan now provide coronavirus checkups. The full package, including nucleic acid and antibody tests as well as a chest CT scan, costs 913 yuan ($129). The nucleic acid test costs 260 yuan, and the antibody test costs 180.
People can access their results on the Wuhan health commission's mini program on WeChat, a popular messaging app, between 24 and 72 hours after they take their tests. They can also collect the results on paper, which is required by some other cities before they allow people from Wuhan to return to work.
People who go for the checkups must present their "green code"-an indication they are symptom-free-on a health code app on their phones and have their temperature checked before they can start.
Liu Xiaomin, 28, went for a nucleic acid test at the Wuhan Hospital of Traditional Chinese Medicine on Thursday. He followed a sign showing where he should go to have his throat swab sample taken and ended up on the balcony on the fifth floor, where he saw a nurse in full protective gear.
"To minimize the chance of infection via aerosol particles, we decided to set up the collection point outdoors," said Zhang Li, who is in charge of the hospital's physical examination service.
Liu works for an information technology company in Wuhan and his employer required all employees to receive checkups before allowing them to return to work.
"I would have come voluntarily because it's the responsible thing to do for myself and my colleagues," he said.
"The company paid for the full checkup package to be 100 percent sure that we are healthy," he said while waiting in line to have his blood drawn to check for antibodies after having his throat swabbed for the nucleic acid test.
Liu received the results of the checkup on Saturday, testing negative for the virus.
"I will be back to the office on Monday for the first time since the lockdown," he said on Sunday."There is a lot of catching up to do."
Zhang said many people choose to take both the nucleic acid and antibody tests.
"We can provide checkups for up to 300 people a day, and services have become increasingly popular because more and more people are returning to work," she said.
Zhang said facilities providing health check services are required to report anyone who tests positive for the virus to Wuhan epidemic control and prevention authorities within two hours.
"We also had a contingency plan ready before launching the services to make sure there is no loophole in the city's epidemic control, which is still the top priority," she said.
The health check services were launched in mid-March. Currently, the city can test more than 50,000 people a day, which meets public demand. Medics, teachers and public transportation workers are particularly encouraged to take the tests, according to the city health commission.
Of the 275,400 people who were tested for the virus from April 8 to April 15, 182 were asymptomatic, equivalent to 6.6 asymptomatic cases per 10,000 people. Most of those tested were preparing to return to work or travel elsewhere, the commission said.
According to the Wuhan Third Hospital, about 50 percent of the people receiving coronavirus checkups are returning to cities like Beijing and Shanghai. Another 30 percent were tested during sessions booked by their employers in Wuhan. The rest had checks just to be sure of their health status after cases were confirmed in nearby communities.