Man executed for multiple murders
BEIJING, July 17 (Xinhua) -- Zhang Koukou, a convict of multiple murders, was executed in northwest China's Shaanxi Province Wednesday morning, according to the Supreme People's Court (SPC).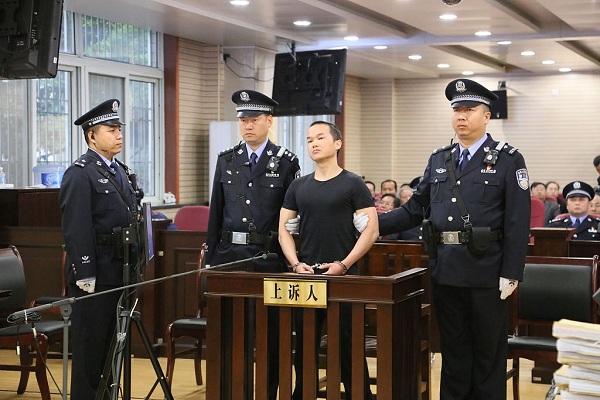 (Photo: VCG)
After his death sentence was approved by the SPC recently, the Intermediate People's Court of Hanzhong announced and delivered the SPC decision to Zhang, said an SPC statement.
Zhang met his family before the execution, and the execution was carried out in the presence of procuratorate officers.
Zhang was convicted of killing three members of a neighborhood family -- Wang Zhengjun, his older brother and their father -- in 2018, by the Hanzhong court in January this year, and sentenced to death and deprivation of political rights for life.
Zhang appealed, but the provincial higher people's court upheld his death sentence on April 11 and submitted the death-sentence verdict to the SPC for review.
After re-examination, the SPC confirmed that on Aug. 27, 1996, Zhang's mother died from intentional injuries caused by Wang Zhengjun, who was 17 at the time, during a dispute. Wang was found guilty of intentional injury and sentenced to seven years in prison by a county court later that year.
On Feb. 15, 2018, the day before the Chinese Lunar New Year, Zhang sought revenge and stabbed the brothers to death on their way back from sweeping tombs. He then rushed to Wang's home and killed their father before setting fire to a car belonging to Wang's brother and fleeing the scene.
Zhang should face a tough penalty since he committed very serious crimes with strong intent and through very cruel means, causing extremely severe results, the SPC said.
The SPC hold that, although Zhang surrendered himself to the police two days after the murder, he should not be given lenient punishment based on the severe nature of his crime.
The verdicts of the first and second trials were accurate and the sentence was appropriate, the statement said, adding that the death sentence should therefore be approved.