Chinese mainland reports 16 new confirmed COVID-19 cases, 44 new asymptomatic cases
People's Daily app
1587258762000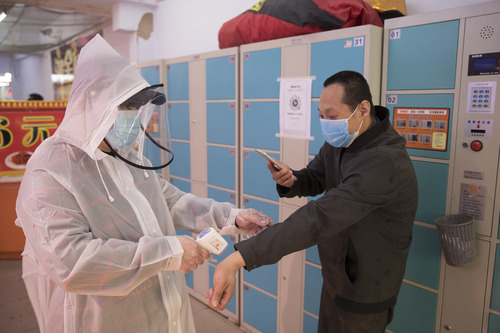 Photo: A man receives health code and temperature check at the entrance of a supermarket in Suifenhe, northeast China's Heilongjiang Province, April 17, 2020. /Xinhua
Chinese health authority said Sunday that it received reports of 16 new confirmed COVID-19 cases on the mainland Saturday, of which 9 were imported.
The other 7 new cases were domestically transmitted, the National Health Commission said in a daily report, noting that six cases were reported in Heilongjiang Province and one in Guangdong Province.
No death was reported Saturday on the mainland. Two new suspected cases, one imported and one domestic case in Inner Mongolia Autonomous Region, were also reported.
Also on Saturday, 44 new asymptomatic COVID-19 cases were reported on the mainland, including three imported ones.